Ever fancied yourself as a bit of a D'Artagnan? The London Fencing Club may bring the musketeer out in you and introduce you to a cultured, elegant sport; one you might not have previously considered. We spoke to sabre coach Alex Bela.
Fencing schools can be dated back to the 12th century with the French, Spanish and Italian schools traditionally associated with its early development and to this day still producing excellent fencers. English fencing came to prominence during the Renaissance when scientific methods were applied to the use of the rapier. This country's earliest fencing school was Angelo's School of Arms in Soho, London and established by Domenico Angelo in 1763. At that time it only admitted aristocrats who previously had to travel to the European Latin nations of Italy, Spain and France. Today fencing is for anyone regardless of class or social standing and there's a London fencing club within easy reach of Old Street station.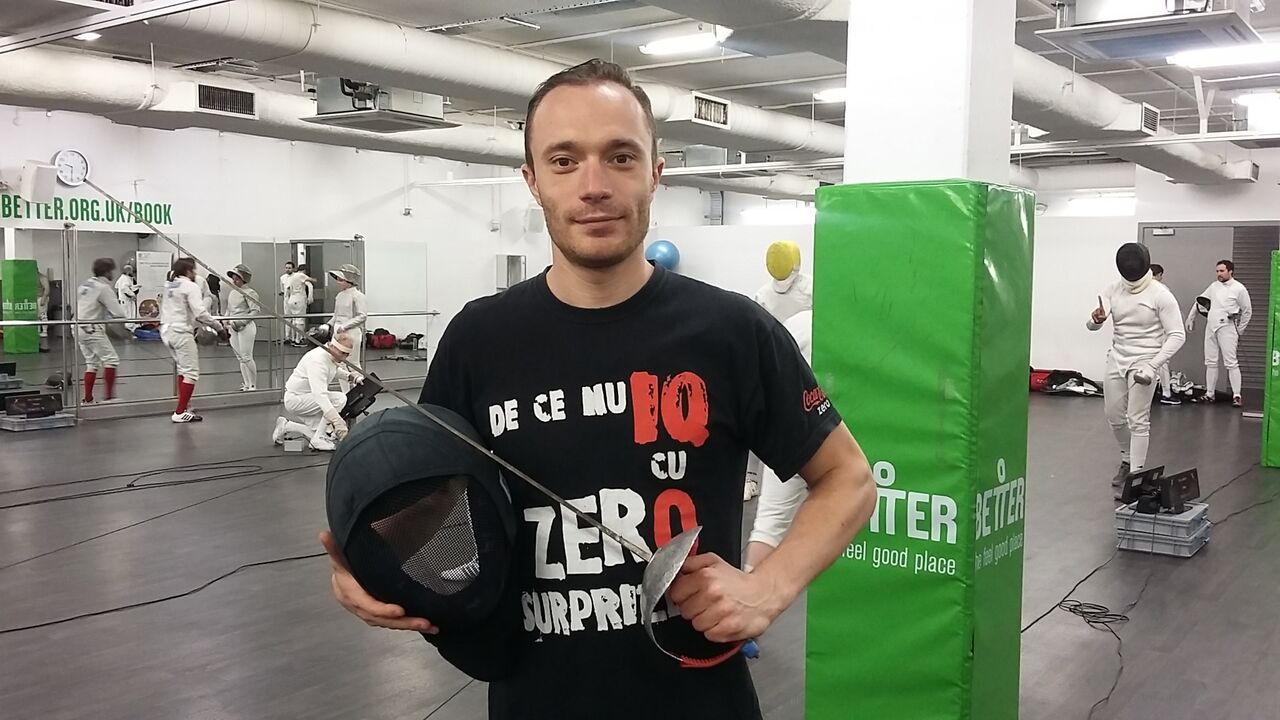 Sabre coach Alex Bela
This prestigious fencing club is also London's most popular with 300 members and providing beginners', intermediate and advanced level courses for children and adults. They also cover private lessons and groups. What's Hot London? spoke to Fencing Master and sabre coach Alex Bela who took us through some introductory lessons and gave a breakdown of the gentlemanly culture and code of conduct in the sport. Foul-mouthed types be warned because that can get you a black card – a sending off. Like football, there are yellow and red cards; yellow for minor infractions and reds for major naughties. Having represented Romania at European and World level as well as coaching Britain's elite fencers of all ages, he is in a position to share this vast well of knowledge. He has also steered Cambridge University to three consecutive fencing championships, so when he says he has experience at all levels he can certainly back it up.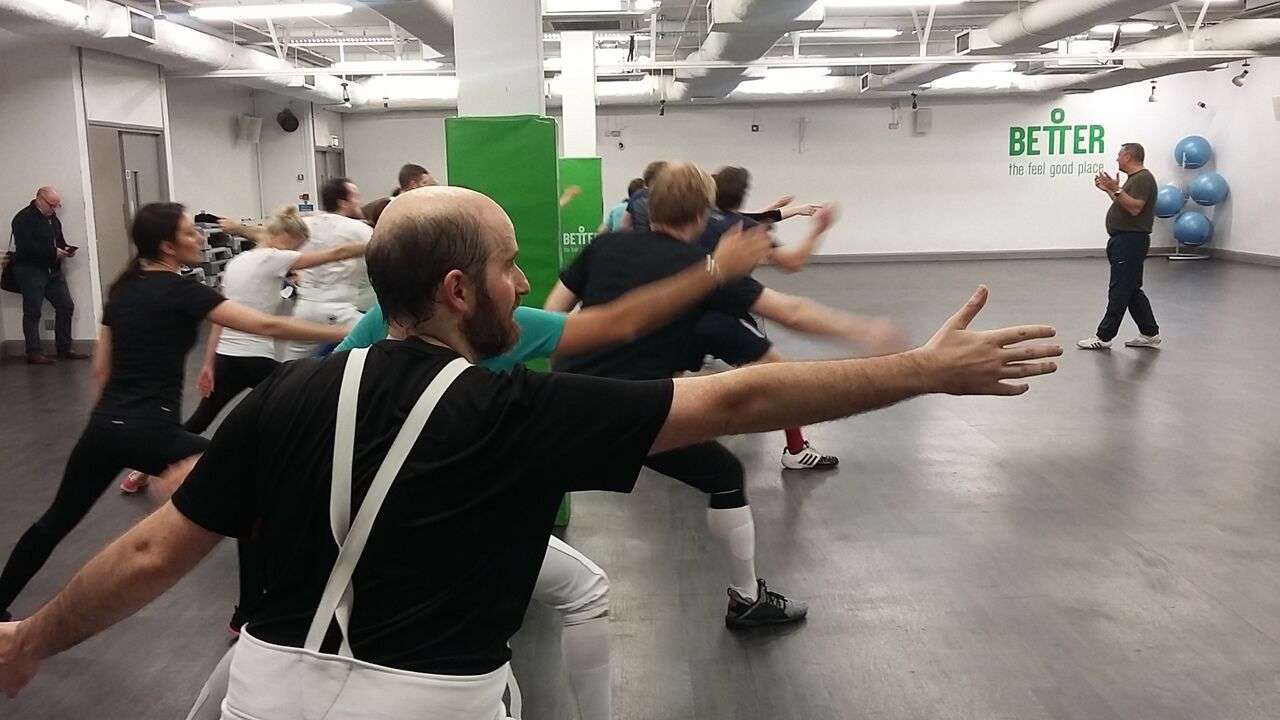 Warm up routines before the class starts
And if you're expecting to turn into a swashbuckling D'Artagnan overnight it isn't going to happen. It's a glamorous but intricate sport which requires patient attention to the required steps before you learn to thrust, parry and riposte with defensive grace and point—scoring accuracy. Alex showed us some basic steps starting with the intial stance with feet touching at the heels at a 90 degree angle and then 'En Garde!' you take a small step forward, back leg still in position and leading arm lunging. Exactly how you lunge with your sword will depend on whether it's an epee, foil or sabre. An epee fencer can hit their opponent anywhere on the body and tend to be patient, picky fencers. Foil fencers can aim on the upper torso but not on the arms or head. They wear a distinctive silver sleeveless jersey to mark out these target areas. Sabre fencers can hit anywhere on the upper torso including the head and tend to be more dynamic, action-orientated fencers – the direct opposite of epee fencers. And it seems D'Artagnan of three musketeers fame was an epee fencer according to Alex. Good to know.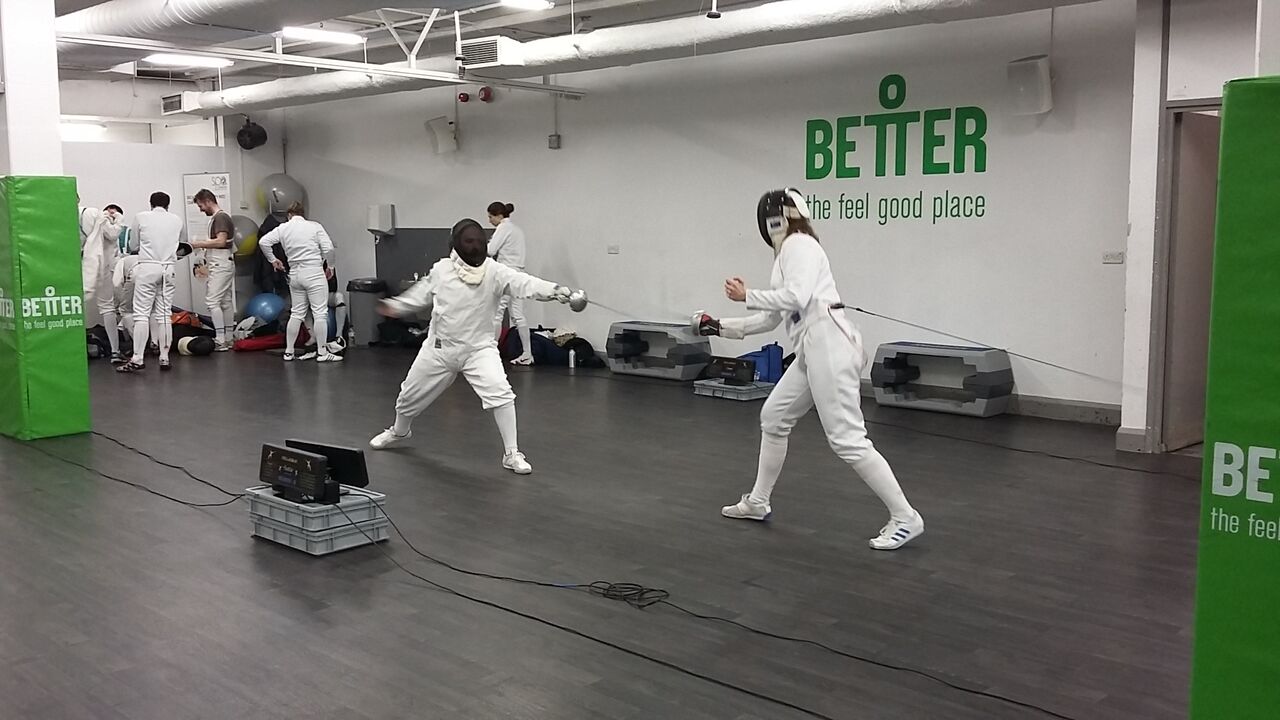 "En garde!" Fencing starts and electronic sensors mark when you hit the target
Alex informs us that fencing is thriving in London even though the GB sporting authorities decided to cut funding after the 2012 Olympics, despite the fact the team performed well. London Fencing Club is an amateur club but there are concerns that there are no financial incentives for fencers who progress through the ranks and seek to pursue their development by attending overseas tournaments which require expensive travelling. Bear in mind the Russian and Romanians do have professional fencers and full funding and have therefore caught up with the French and Italian fencers who have traditionally dominated the sport. So if you're still inspired and want to try out the most gentlemanly of sports, one steeped in history and culture, then remember London has it's very own fencing club a few minutes from Old Street Station. London Fencing Club Finsbury Leisure Centre, Norman Street,London, EC1V 3PU