It's the 20th anniversary of FrightFest, the UK's biggest horror and fantasy film festival and it promises an entertaining selection of features and short films from home and international talent. There'll be 78 films over five days, with legendary director Dario Argento attending for the guest of honour screening of his 1982 movie Tenebrae.
FrightFest diehards will always have a place in their hearts for the Prince Charles Cinema, for this was where it all began. The festival was launched back in the 1980s with just a single screen in the Prince Charles and decades later it is still a festival screening venue. One of the films being shown here is the UK premiere of Girl On The Third Floor, the debut feature by US director Travis Steven.
Fans of US wrestling will recognise the movie's star Phil 'CM Punk' Brooks, the sixth longest reigning WWE Champion of all-time. He'll need all those famed mixed martial arts and wrestling skills to outmuscle the ghoulish dangers awaiting him in this perfectly-paced, heart-pumping movie. He plays Dan Koch a fradulent bad boy trying to mend his philandering ways with his hard-working wife Liz (Trieste Kelly Dunn) about to give birth.
He begins renovating a rundown Victorian mansion hidden away in the Illinois suburbs, which they've recently bought as part of their rehabilitation as a couple. But any dreams of a peaceful life are dashed when an unwelcome visitor arrives. As with many effective elements of this film, you're not given any reason to doubt the good intentions of seductive stranger Sarah (Sarah Brooks) when she offers to lend a hand with the decorating. But he does not bank on the type of DIY skills which will eventually have him fighting for his life… not to mention his sanity.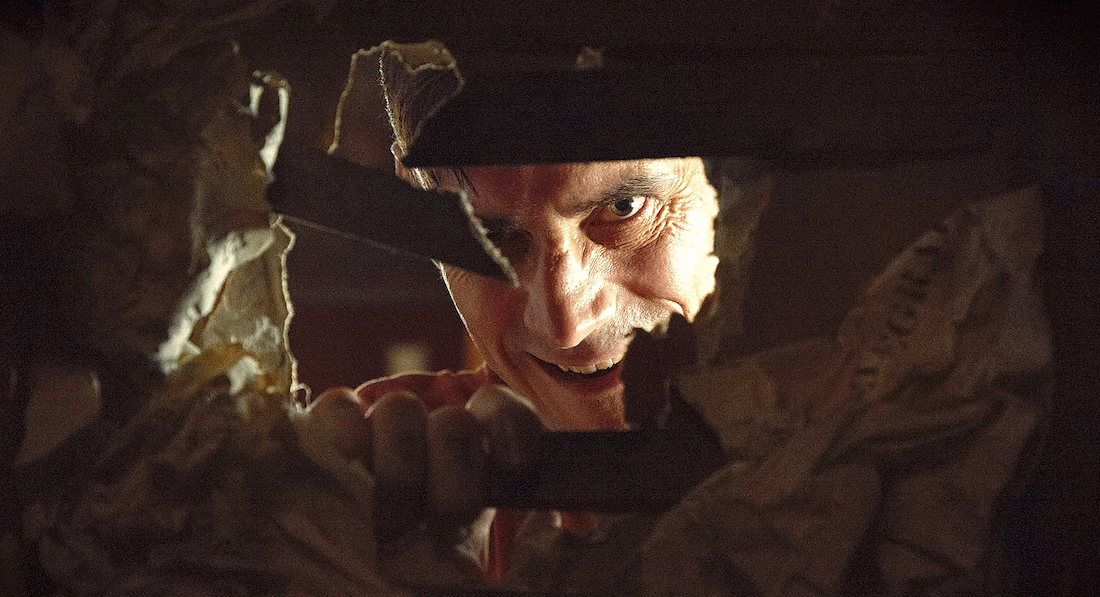 The creeping restraint is also apparent in the measured start of the movie where little happens yet the offish hue of the colour grading, dated art décor architecture and furnishing, not to mention the sprinkling of grating violins in the film score, tells you something is not quite right about this house. Dan only has a dog for company, and large and powerful though it is, we soon realise that Dan is still not protected. His growling pet is there solely to heighten our sense of foreboding, when we see it scurrying off chasing shadows so early in the movie and whimpering at every hint that Dan's returning to his bad old ways.
There's more than one uninvited neighbour curious about the new couple moving into the neighbourhood. Protestant pastor Ellie Mueller (Karen Woditsch) offers the type of earnest support we've come to trust when we recognise it in the film language of our favourite movies. We expect her to be the good shoulder to lean on and she is. It's the less forthcoming, gorier types lurking behind those fluid-leaking walls and pipes that we find ourselves looking out for.
Talking about fluid, the blood, goo, oil and slime busting out of the guttering and brickwork are an effective and disgusting reference to the former function of the property. And what was that? Now revealing that, would definitely give the plot away. It would be a shame to do so, when it's been so carefully layered to intrigue without revelation. There are some familiar horror movie tropes here and there but this movie always keeps you guessing.