Shoreditch's  showy Queen of Hoxton bar was never likely to go for a modest festive makeover so their garish Wizard of Oz-themed rooftop bar was no surprise despite the stairway to the rooftop painted the cheery colour of the yellow brick road from the movie and the rest of the bar decked out in bright green to match the colours of the Emerald City. And by everything, we mean everything! Walls, ceiling, Kansas City décor – even the toilets are green.
Wizard of Oz Quote: "I think you are wrong to want a heart. It makes most people unhappy. If you only knew it, you are in luck not to have a heart." ― L. Frank Baum, author of The Wonderful Wizard of Oz

And did we mention that the cocktails are green too? A wicked choice of their Green Lady mix of egg white, gin, lemon, orange liqueur or their Emerald Bellini, a winter-warming blend of vodka, passionfruit, orange and Prosecco with salted caramel and popping candy decorating the glass's rim. And if you want a real winter-warmer there's a selection of hot chocolates: The Wicked Green Hot Chocolate and the Witch I'm Melting Hot Chocolate all have generous stirs of chocolate liqueur, orange liqueur and Cognac. Unfortunately, none of the hot chocolates were available on the night we visited, which was a bit of a downer given the titillating ingredients.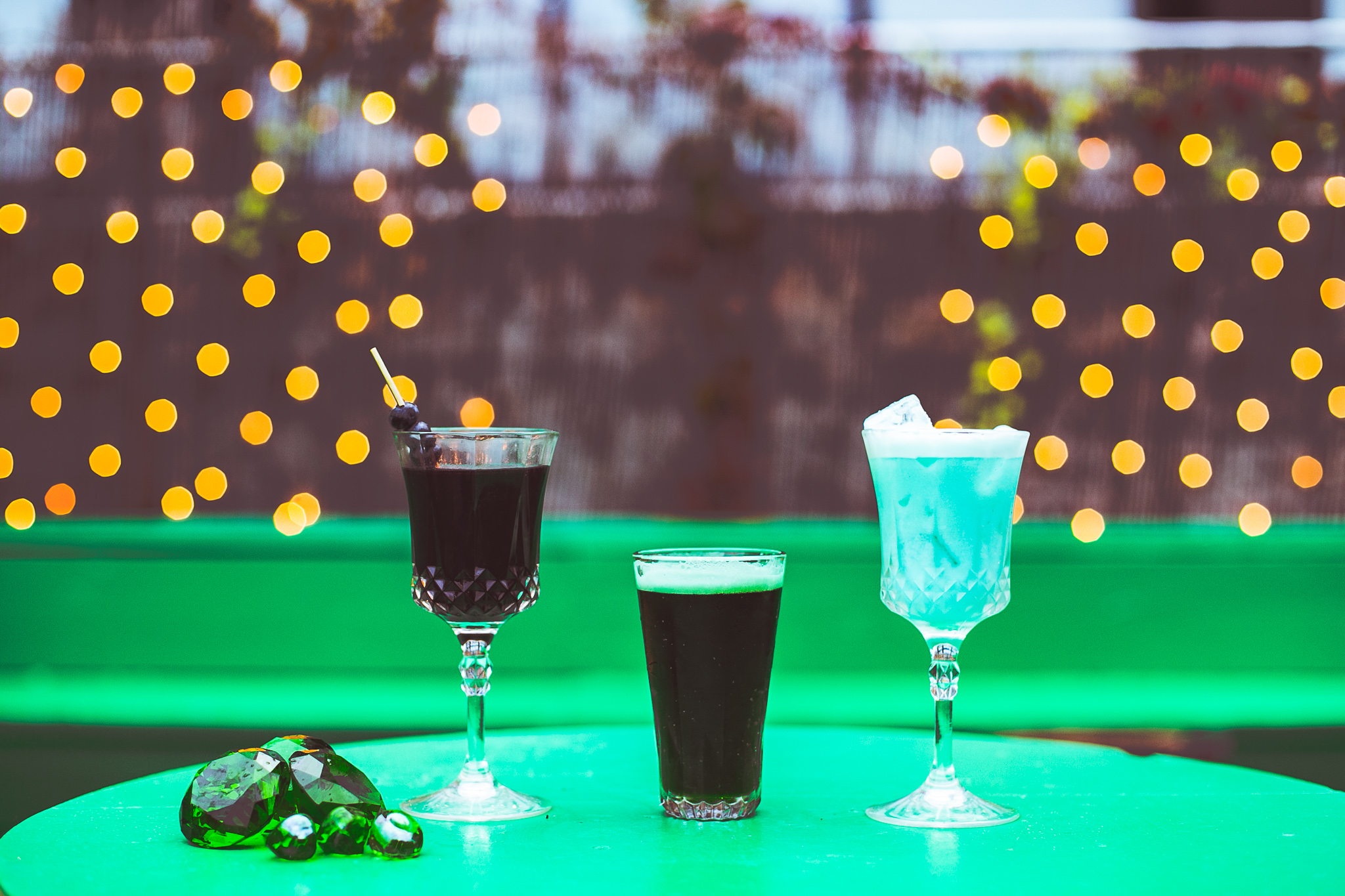 Green Lady and Emerald Bellini cocktails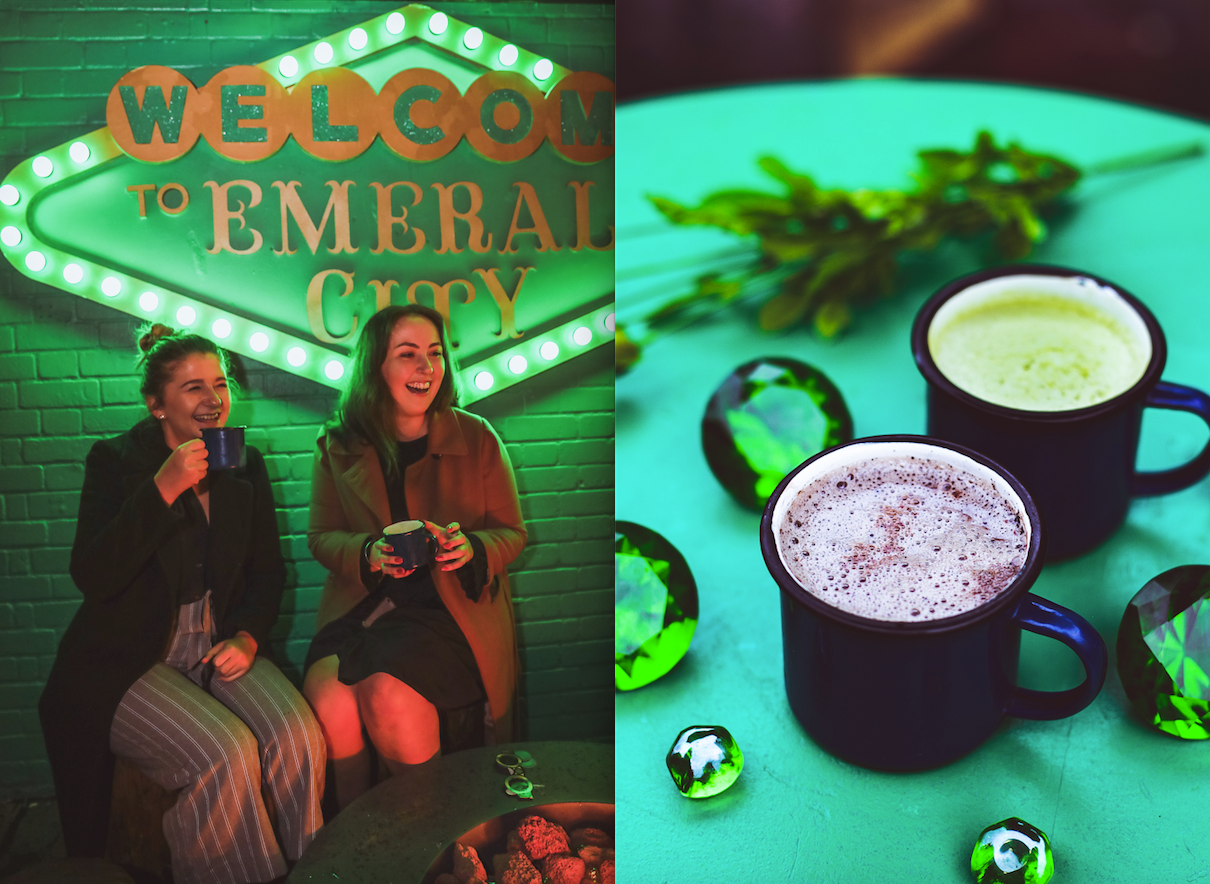 The Wicked Green Hot Chocolate and the Witch I'm Melting Hot Chocolate
Peckish? Get in the festive Oz mood and grab yourself a taste of Kansas with their delightfully titled Munchkin Pumpkin Pot Roast. And yes, the Queen of Hoxton have been inventive in the culinary department as well. It's a thumbs up if you are a fan of pumpkin and root veg. Also collard greens and sunflower seeded bread to mop up the vegetarian gravy.
(Left) Munchkin Pumpkin Pot Roast (Right) Kansas Burgers
Their charcoal burnt Kansas Burgers are just that! Although you fear they'll crack in your mouth like burnt toast, they're actually scrumptious beef patty, fried chestnut mushrooms, Swiss cheese and lettuce stuffed into the sesame seed black charcoal bun.
In the centre of the bar you'll find a ramshackle hut dressed up as Dorothy's Kansas home after being hit by the tornado, but inside it's a cosy seated area with framed photos of the movie's characters. And yes, the lighting is bright green and matches your Emerald City Cocktail, Wicked Green Hot Chocolate and everything else!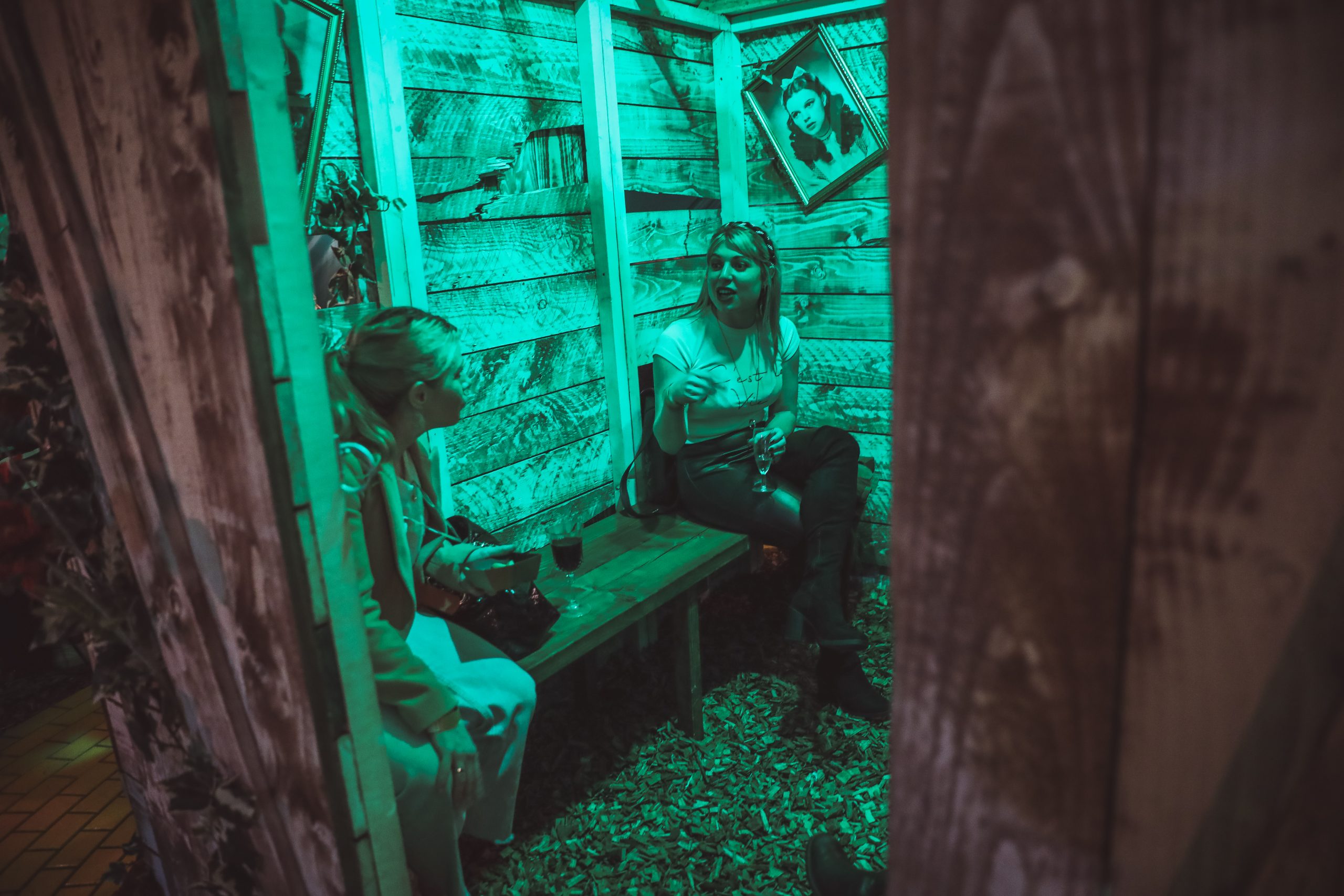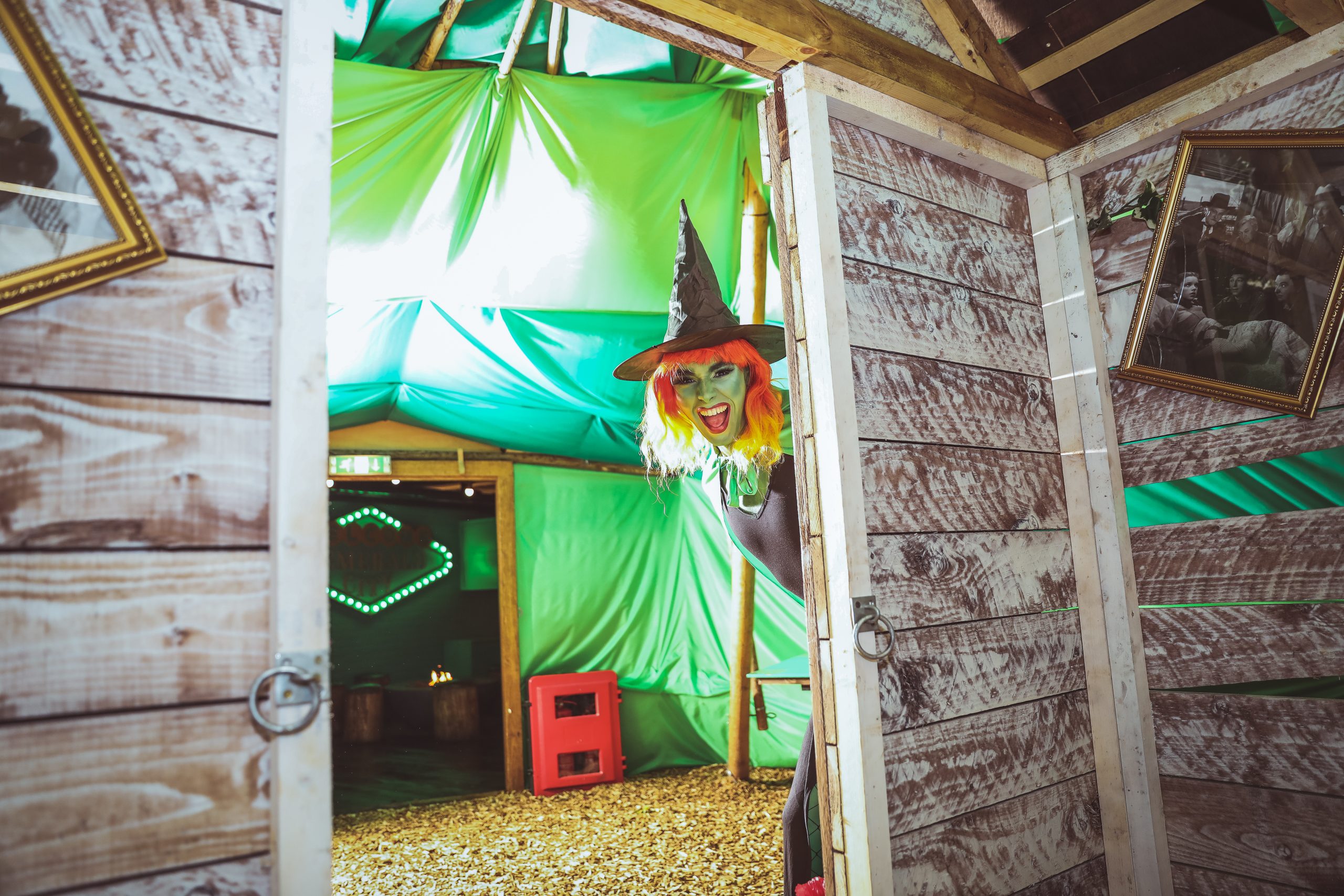 However, a snug shut out isn't necessary, as there is super-powerful rooftop heating which is felt even in the areas unsheltered from the harsh winter elements. Also, there's an outdoor open fire where you can warm chestnuts to give you that much needed festive glow when the bitter winds do manage to cut through the heating.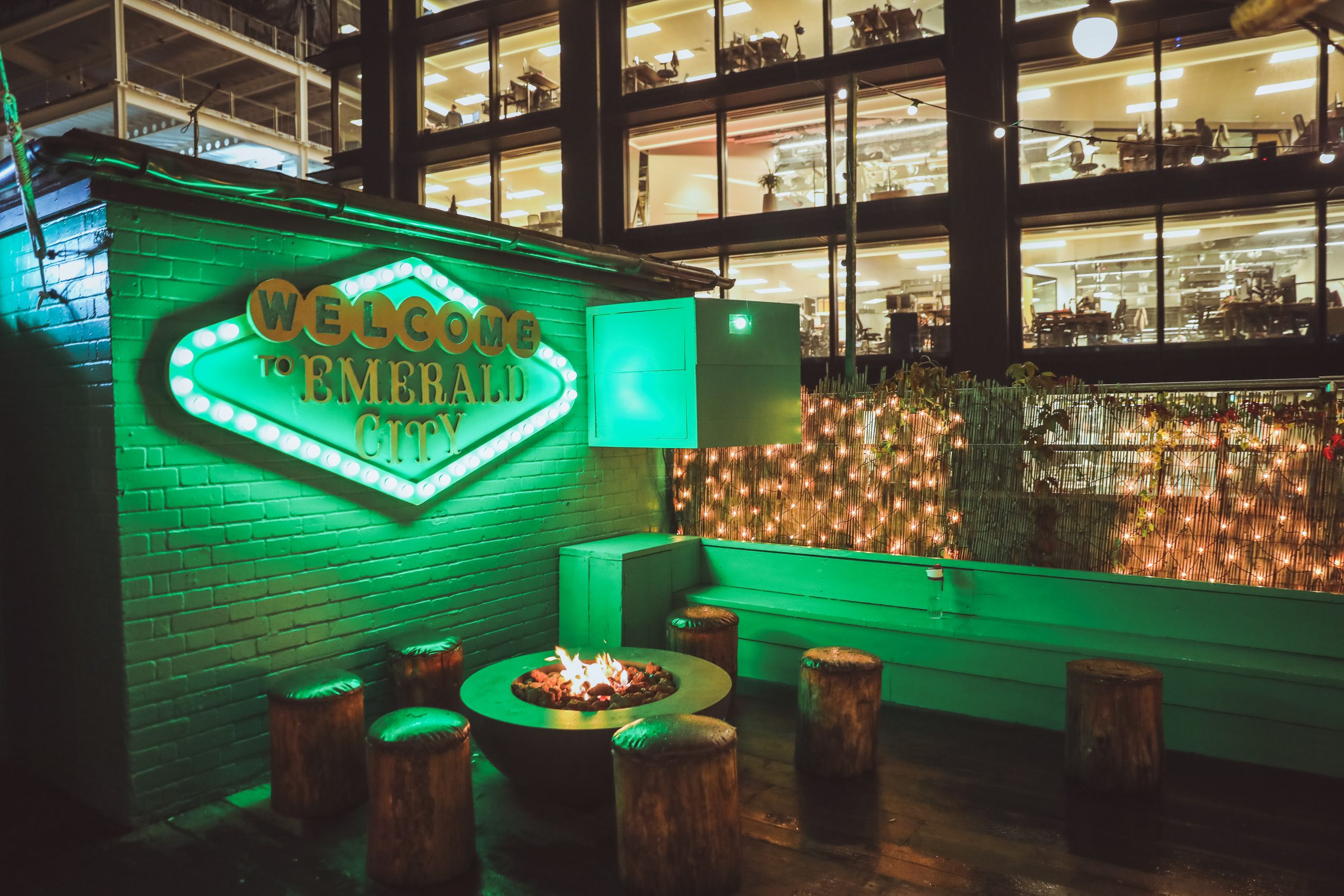 Queen of Hoxton rooftop bar open fire.
The Queen of Hoxton Emerald City Winter Rooftop, 1-5 Curtain Road, EC2A 3JX