For those who know little about great American author F. Scott Fitzgerald, his novels are set in Prohibition-era US with all the flamboyance of the Roaring Twenties. The Great Gatsby depicts the wealth, excess and dazzling society parties hosted by his lead character millionaire Jay Gatsby.
This immersive theatre and dining experience starts with a three-course meal at the Gatsby Mansion, near Bond Street station. Host F. Scott Fitzgerald, played by Oliver Towse, welcomes you into his not so humble abode, decorated in the Art Deco splendour of the 1920s. The set design is true to the period and the dominant brown-hued interior evokes an almost sepia-tinted nostalgia. The American author drifts from table to table as you're tucking into your salmon and caviar starter and is positively bubbling over about his new novel, which he's halfway through, and updating you on its progress. He throws a few title suggestions your way. As he chucks in Trimalchio, (which was one of Scott Fitzgerald's working titles for the book) and asks your opinion you're tempted to suggest: "How about The Great Gatsby? That sounds like a better title to me."
However, the degree of audience participation in this immersive theatre experience is entirely down to you. But hey, you'll want to play the game! The jazz tunes coming from the authentic-looking gramophone player in the corner, the light-dimmed ambience and the clinking of glasses draws you into the privileged environment of society parties in the Roaring Twenties. The audience-guests-participants are encouraged to dress in glamorous jazz-era style and the rhinestone beaded headbands and skullcaps, feather boas and straw boaters are the dazzling uniforms of hedonism.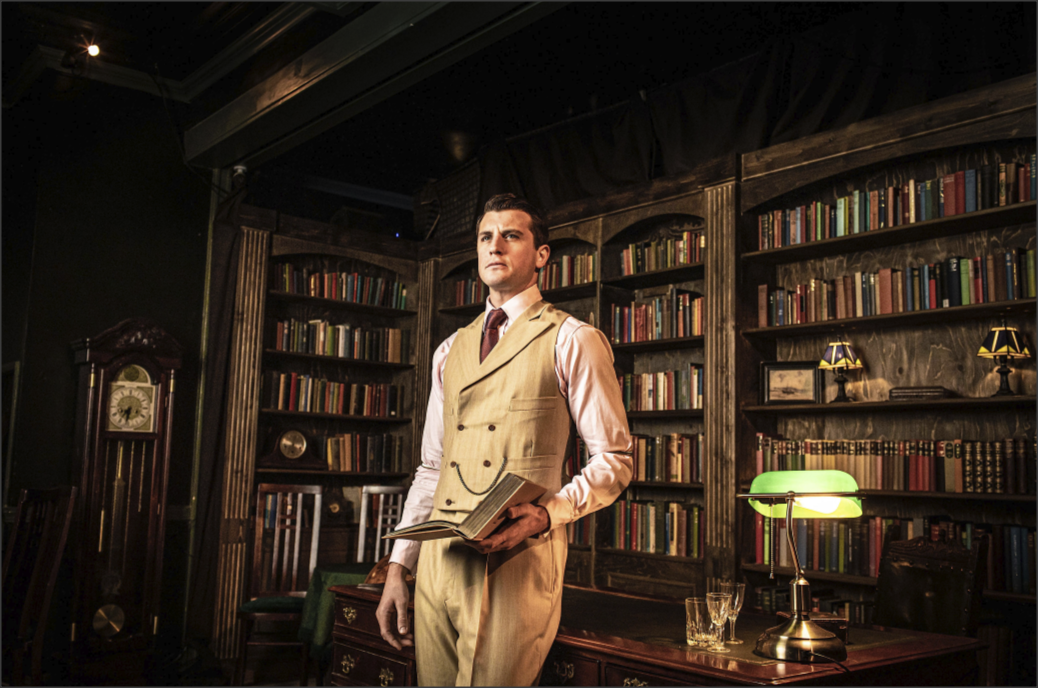 Oliver Towse as Jay Gatsby
Actor Oliver Towse is the central figure, playing both F. Scott Fitzgerald and the eponymous Jay Gatsby, a New York oil magnate whose fortune may have a shadier origin. His charismatic energy translates seamlessly from the excited author about to publish his Magnus opus, to the philandering Jay. Having him play both, gives the audience a powerful visual reference if ever the swirl of new characters gets confusing. As the scenes unfold, you get an understanding of the author who shared many characteristics with his lead character: such as Ivy League school background and being rejected by society beauties for being lower class. Once we're whisked into Gatsby's society parties in the next scene, he is now 'new money' and a more attractive catch for socialite Daisy Buchanan, played by Lucinda Turner.
Director Alexander Wright creates the right blend of audience interaction and stand-back drama. It's a whirlwind of jazz clubs with high-energy dancing, which the audience are encouraged to participate in. Flapper girl Jordan Baker (Jessie Hern) is the life and soul of the party and is literally getting audience members on their feet. Hern's skills as an actress highlighted by the trajectory of events that bring the jazz club highs to the lows which come from being tied to best friend Daisy's messy love life. And her own isn't so pristine.
One of the stand out performances is Louis Sparks' portrayal of barrel-chested, alpha male Tom Buchanan, a former football player. He makes his presence felt in noisy, jazz parties without saying a word – and when he does speak his Chicago drawl has you ducking expecting a right-hander- unfortunately, when the punch does come it's aimed at his lover Myrtle Wilson. You want to call the wild-living Myrtle Wilson a floosy, but actress Hannah Edwards' handling of those relationship conflicts gives the character deeper layers. Myrtle's red-hot exchanges with Tom and rows with her husband show she is a woman who often bares her soul (and maybe a lot more).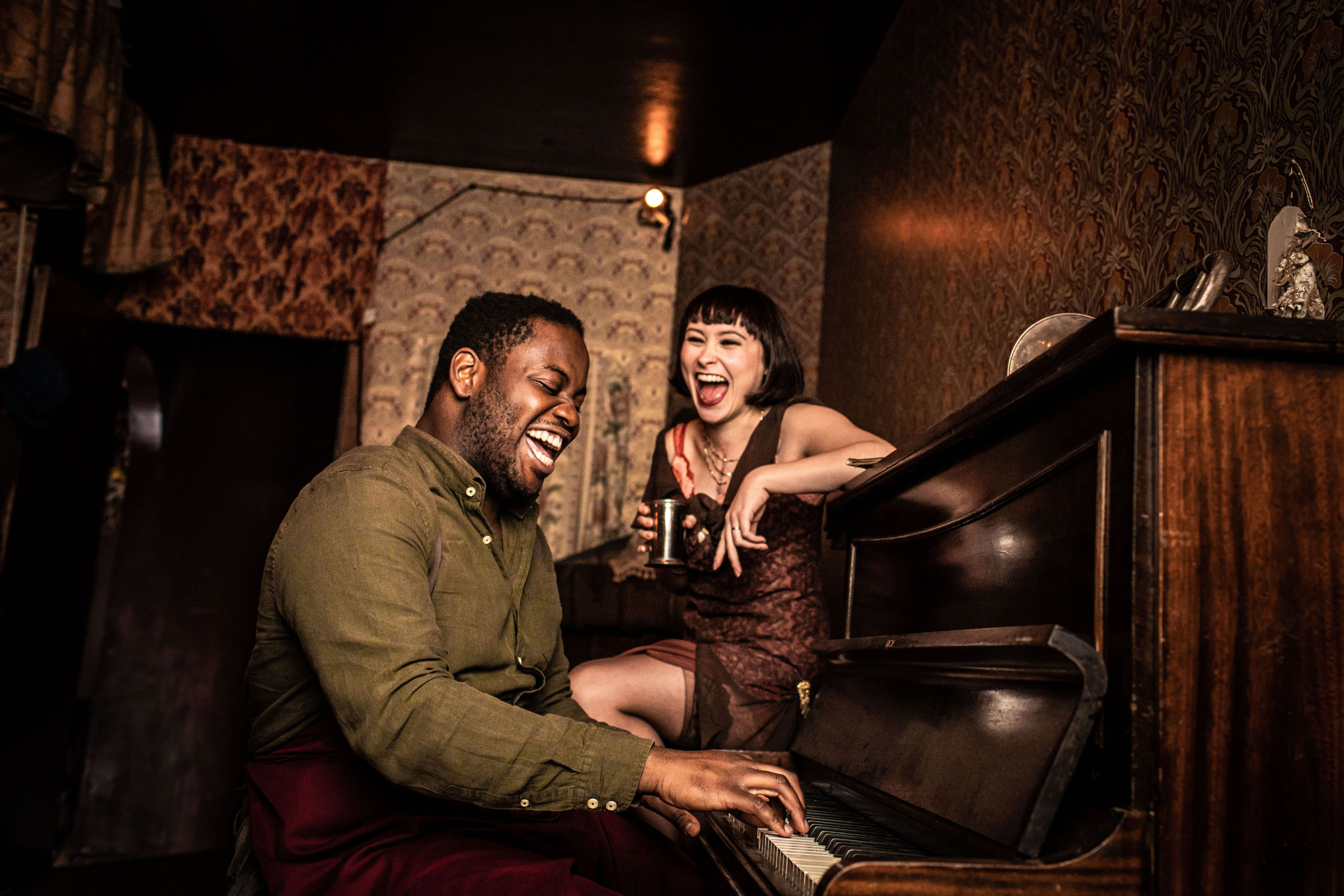 Tendai Humphrey Sitima as George Wilson and Hannah Edwards as Myrtle Wilson
If you're still lost in the delightful swirl of characters coming and going, look out for James Lawrence as affable bond salesman Nick Carraway, a neighbour of Gatsby, and whose cousin Daisy is married to Tom. Nick is a vital source of info – in some cases almost acting as a narrator of unfolding events. He has own issues, tied so close to the marriage infidelities of his cousin Daisy and pal Tom. And if that's not enough, Gatsby invites him to these parties just to get closer to Daisy. So yes, Nick is definitely in the know.
And let's not forget the multi-talented actor-musician Tendai Humphrey Sitima who plays Myrtles's husband. His party-rocking, jazzy stints at the piano in the early scenes, eventually slow to the bluesy, moody, singular tinkling of the ivories that close the play. An apt metaphor for the tragic and tumultuous music of life played out in a hedonistic jazz age when many thought the American Dream would never die.