Lots of gin and very little tea but hardly anyone was complaining. An immersive cocktail experience with a surreal and wacky Alice in Wonderland theme and the hosts delivering a five-star knees-up that mixed theatre with a cocktail party.
The Cheshire Cat bar isn't hard to locate in Notting Hill, minutes from Westbourne Park tube and with a Cheshire Cat sign grinning and swinging in the winter breeze. Upon entry you are led to a noisy, colourful, cocktail reception and presented with a selection of crazy hats to wear. A welcome cocktail is yours before the white rabbit host lets on about what lies beyond the Rabbit Hole. Welcome to Wonderland!
You pick up this is no ordinary party well before the white rabbit starts cussing chatty guests in a bawdy cockney accent for talking over him. All in good spirits. Much talk of riddles and clues and other bizarrely dressed characters contributing to this cocktail conundrum. It's no surprise most of the guests believe the party has started even before we head down the Rabbit's Hole to the actual Mad Hatter's Gin and Tea Party where tables are laid out in a vibrantly coloured room: rainbow-hued neon underscores the wonderland vibe.
There's more riddles and bawdy theatrical comedy broken up by a booze mixologist showing you how to create their specially prepared Boë gin cocktails, which you, of course, get to drink. By the time you get to the fourth, you'd have forgotten the names of them; too absorbed in the nonsensical frivolities and the pantomime atmosphere. Expect a Cheshire Cat Gin, a JaBOëwocky, a 'Drink Me' Boë and Alice's Boë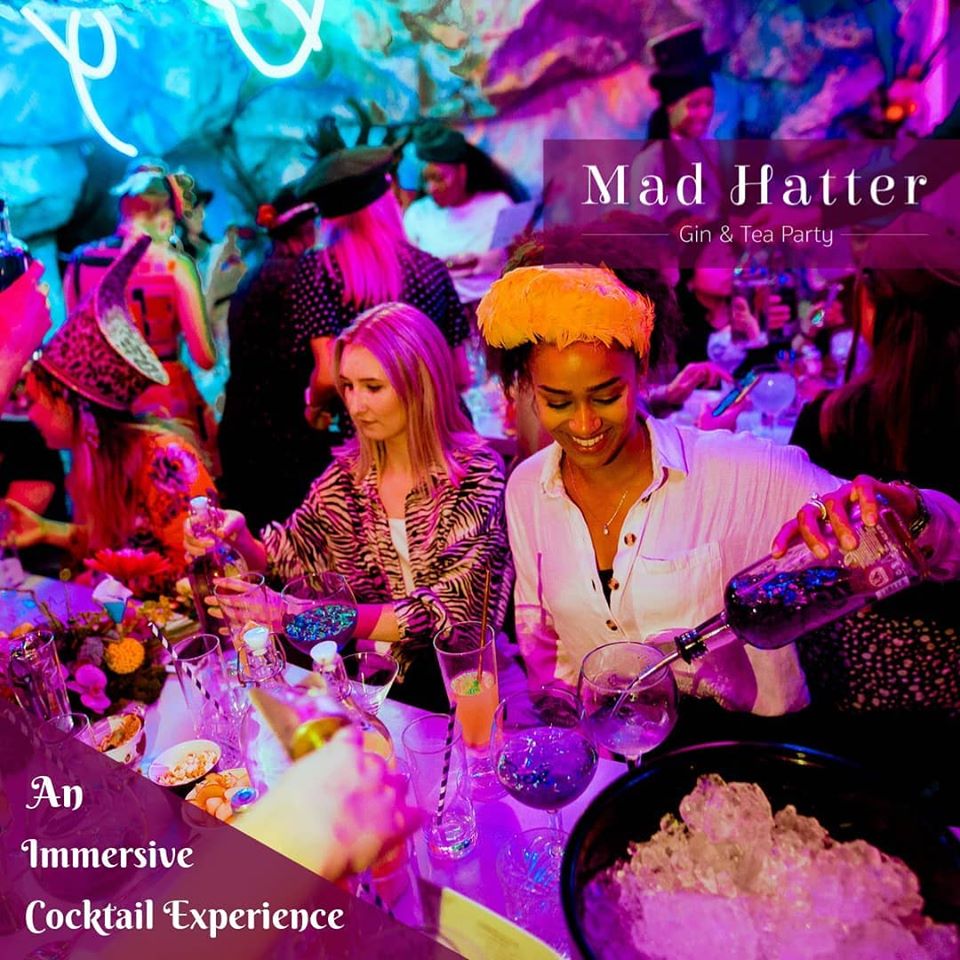 There's a strong participatory element geared at getting you to step away from merely being a pantomime audience member. Not too difficult to do when you're sat at the very table where all the Mad Hatter mayhem is going on but helped in no small measure by the hosts picking out random individuals to engage further in the riddle quest.
By the end of the night, you may find it hard to follow their carefully laid out clues on this Mad Hatter's trail – but only because the riotous party noise soon drowns out the capacity (and desire) for rational thought. But that is a good thing. A crowd too drunk or bonkers to follow what's going on will hardly head the queue of the dissatisfied. In fact, it's further proof the hosts have done a good job.
Also Read Queen of Hoxton, Wizard of Oz Rooftop Bar