The UK's second lockdown threatened to decimate an already rocky theatre sector. It was amongst the worst affected by the restrictions of the pandemic, because of the need for tightly packed audiences in both the Fringe and West End to ensure financial viability. A few days after the ending of second lockdown, arts and culture writer Eddie Saint-Jean sought a closer examination of the new normal for theatre  – and where better than Golden Age Theatre's monologue performance of The New Normal at the Canal Cafe Theatre, Little Venice.
Tales From The Golden Age – The New Normal Canal Cafe Theatre, Delamere Terrace, Little Venice, London W2 6ND. Dec 7- 14th.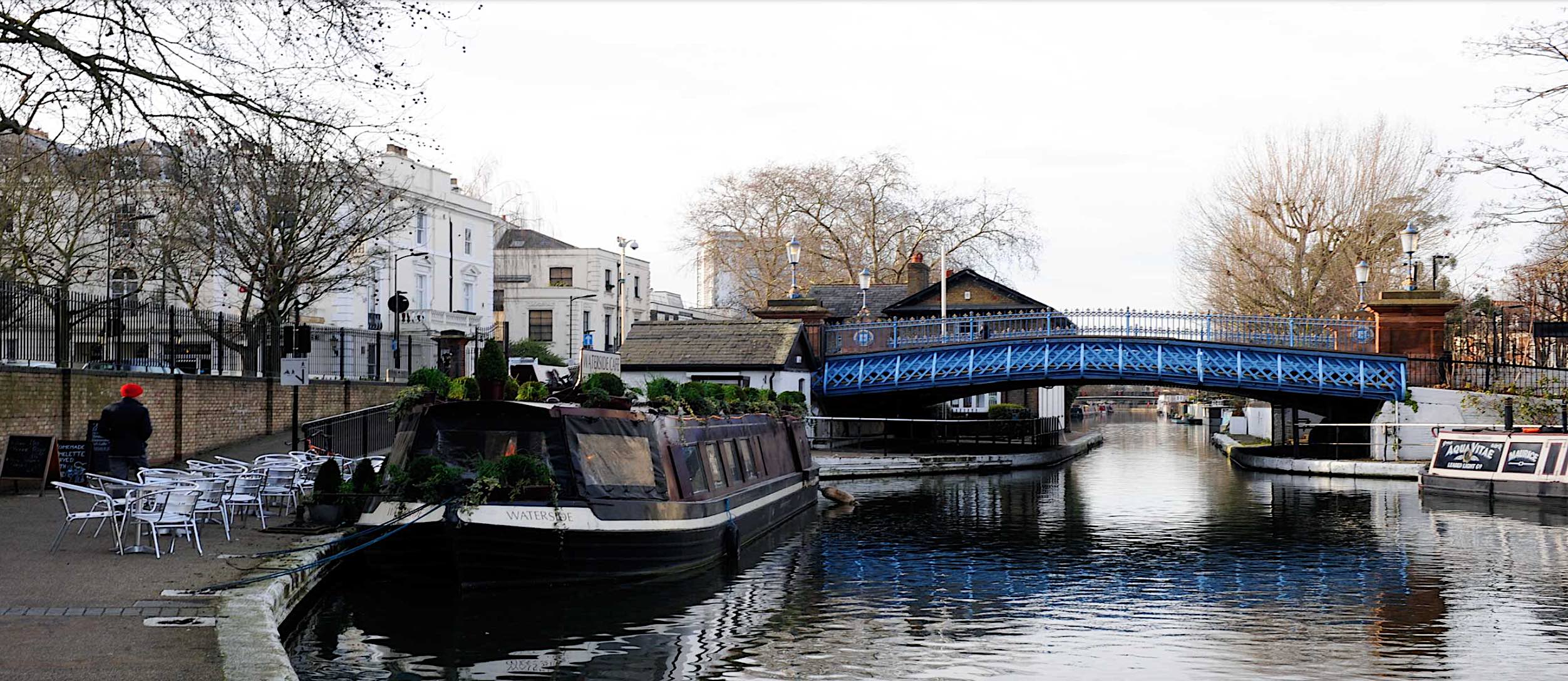 One visit to this impressive white Georgian building with its terrace bar overlooking the canals of Little Venice and you'll see the value of cultural establishments like this and the danger of them being overlooked in the Chancellor's handouts. This 60-seater on Regent's Canal also has a pub-restaurant. Face masks worn on entry to the charming Bridge House bar, social distancing and substantial meals with alcohol are all part of the new normal.
It's no surprise that the Canal Cafe Theatre was one of the first out of the blocks in a sluggish and cautious Covid-era sector, since it does not have the problem of cheek-by-jowl seating. It has always seated its theatre audiences at tables so there has always been some degree of social distancing – although seating capacity has been reduced to 30 during the pandemic.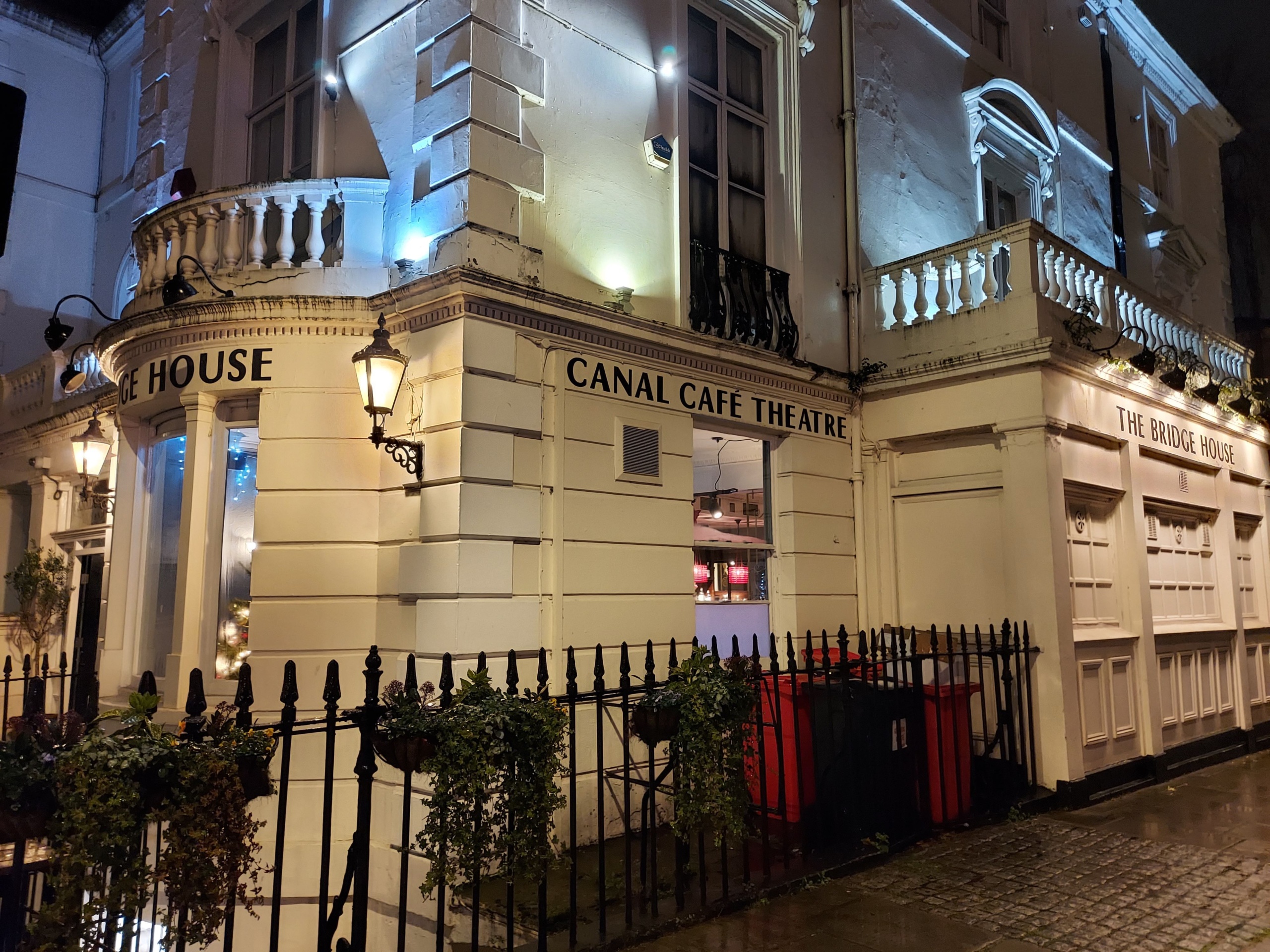 Canal Cafe Theatre
Writer Ian Dixon Potter's topical monologue The New Normal is titled to effect, and its timely interjection during this confluence of Covid-19 panic and Brexit deadlines makes it a must-see if you have any interest at all in Britain's current cultural, social, economic and political state. His Tales From The Golden Age are ten monologues performed on different nights at this theatre but The New Normal stuck out amongst the titles for obvious reasons.
It's set in the future but close enough in time to make you uneasy with its dystopian prescience and captivated by its relevance. It's 2024 and you'll be pleased to know Boris Johnson is no longer PM – but he is our Chancellor, hanging around Cabinet to right the wrongs of economic upheaval caused by Brexit (there's certainly a degree of karma in that appointment).
We already know the Brexit referendum split the country, well the aftermath of that division is played out by elderly Stoke resident Dorothy whose conservative (small and big C) views on the subject are a fascinating hour of in-talk about what really goes on behind closed doors in Middle England. (Voting figures in the last referendum show Stoke-on-Trent is Britain's Brexit capital.)
Kate Carthy's performance as Dorothy is brilliantly disarming because it's delivered in a dark and dour working class conversational style which lulls you into a false sense of familiarity. This is definitely a listening-in job. An elderly woman telling you about the problems of getting a new carer; well, that's easy enough on the ears. But we eventually get to hear her views about foreigners and, yes, one or two audience members start shuffling a little uneasily in their seats despite her harmless demeanour as a Midlands gran. 
You sense her need for validation, almost as if she is trying to present her own right wing views as more centrist and therefore more digestible, by juxtaposing herself between her left-leaning son Ralph and the Farage-supporting Maureen. 'Maureen only voted Brexit because she thought it would get rid of the Muslims' she tells us. There's little in Dorothy's tonality to suggest she totally disagrees with Maureen but her comments about the British being known and respected for their history of tolerance suggest she is wrestling with some sort of redemption. But, tellingly, she believes the Daily Express has got it just about right on Brexit.
And yes, Scotland is now a republic. A beacon of progressive politics emerging from the collapse of the Union, no doubt triggered by Brexit. It's telling and topical that the SNP's push for independence bears fruit in this play but there's a warning to be heeded if The New Normal is also prescient about Brexit divisions in England actually worsening a few years from now. Machine gun wielding, Gestapo-like Brexit police storming the homes of suburban pensioners just because they have pets from foreign-sounding breeds. Surely not!
Tales From The Golden Age – The New Normal Canal Cafe Theatre, Delamere Terrace, Little Venice, London W2 6ND