WESTMINSTER has been a hive of activity in recent months as environmental protestors descend on the political heart of the city. These purposeful pilgrimages by a number of unaligned campaign groups with a common aim are driven by concern, passion and desperation rather than policy consensus. On June 26th, the Climate Coalition attempted to bring all these organisations under one umbrella for a day. Under the hashtag slogan #TheTimeIsNow, campaigners were invited to lobby MPs right there in the streets around Parliament.
It was a fun, peaceful event with protestors in cuddly wildlife costumes and a carnival atmosphere, but the protest was, nonetheless, fervent. The enthusiastic attendance ensured it was the biggest lobby of MPs in UK history. The 16,000-strong coalition visited makeshift constituency bases set up around Parliament, colour-coded according to London constituency. Scottish, Welsh, Northern Irish and regional bases were also erected, with MPs expected to brave the masses outdoors in the Westminster sun.
It was heartening to see the Westminster base right next to the West Ham one: the realities of environmental concern closing social stratification lines. The juxtaposition would not have been lost on current Labour leader Jeremy Corbyn, a passionate advocate for both environmental action and social justice, nor Labour Party founder Keir Hardie, who established their tenets of social justice and was also a West Ham MP.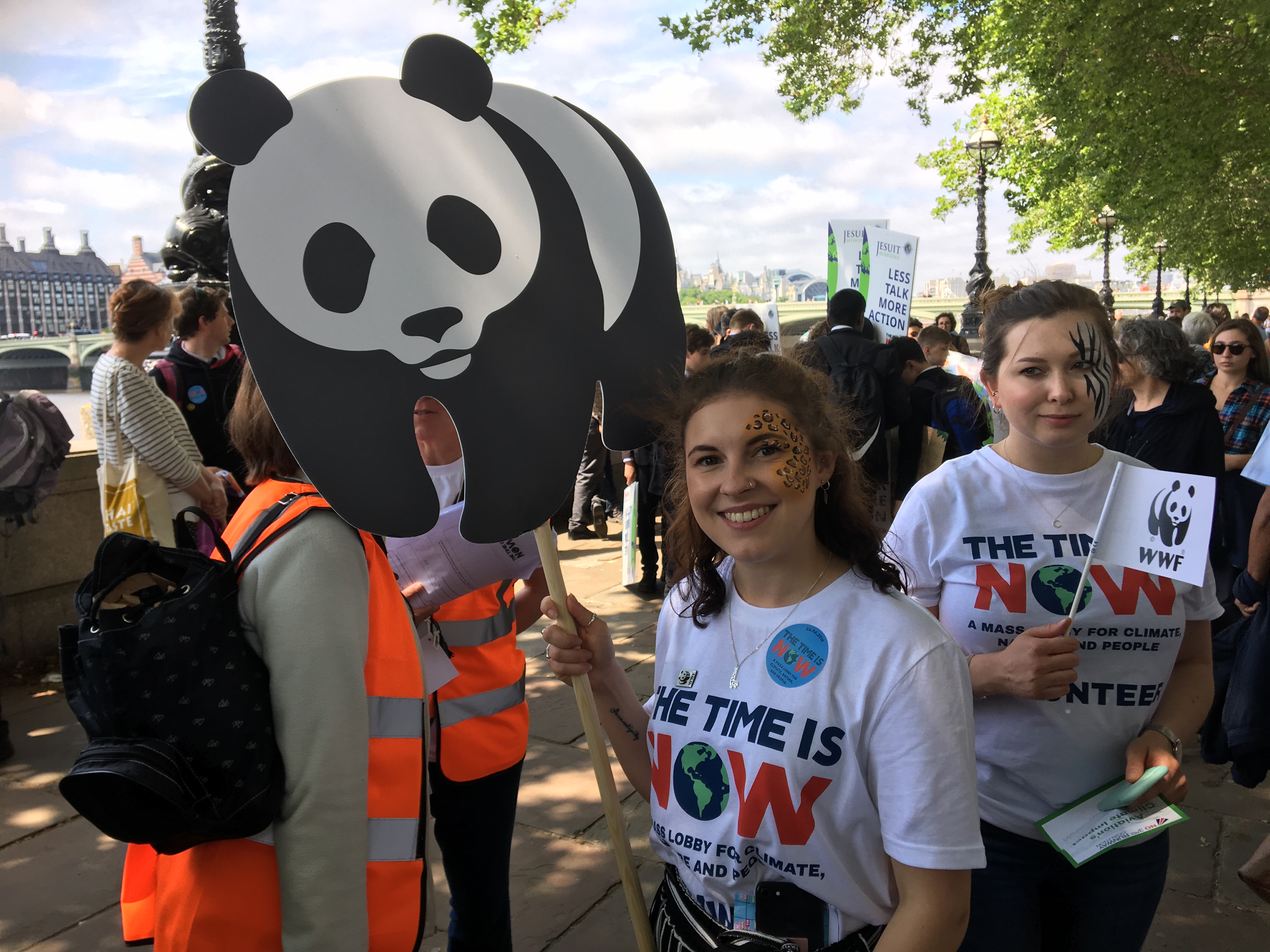 The passionate factional nature of all these protests has stoked concern that it is time for political consensus and legislative action under a Green New Deal, with opposition MPs criticising the foot-dragging by the Government. Back in April 2019, Jeremy Corbyn committed to a Green New Deal in all but name by opening a debate for a 'Green Industrial Revolution' to turn back the centuries of environmental damage since the carbon-driven, labour-intensive Industrial Revolution. He announced: "Today this house must declare an environment and climate emergency." Inspired by the wave of protests in 2019, he observed: "Parliament rarely leads change, it usually drags its feet. The impetus has always come from outside, from social movements and communities while Westminster is often the last place to understand."
So, perhaps, the #TimeIsNow is more than just a catchy slogan to grab headlines and actually a call to whole-scale, policy change with economic directives rather than the scattered campaigns and equally scattered green policies which differ from business to business, street to street with no underlying force of law to underscore such policies. The origin of the term Green New Deal is debatable. Guardian economics editor Larry Elliot is commonly thought to have launched the movement and coined the term over dinner with friends back in 2007.
Former Green Party leader, Caroline Lucas is a founder member of the Green New Deal group and today is unquestioningly at its vanguard. In March 2019, she and Labour Shadow Treasury Secretary Clive Lewis put forward a Green New Deal private members bill just as the idea was gathering traction in the States under US congresswoman Alexandria Ocasio-Cortez.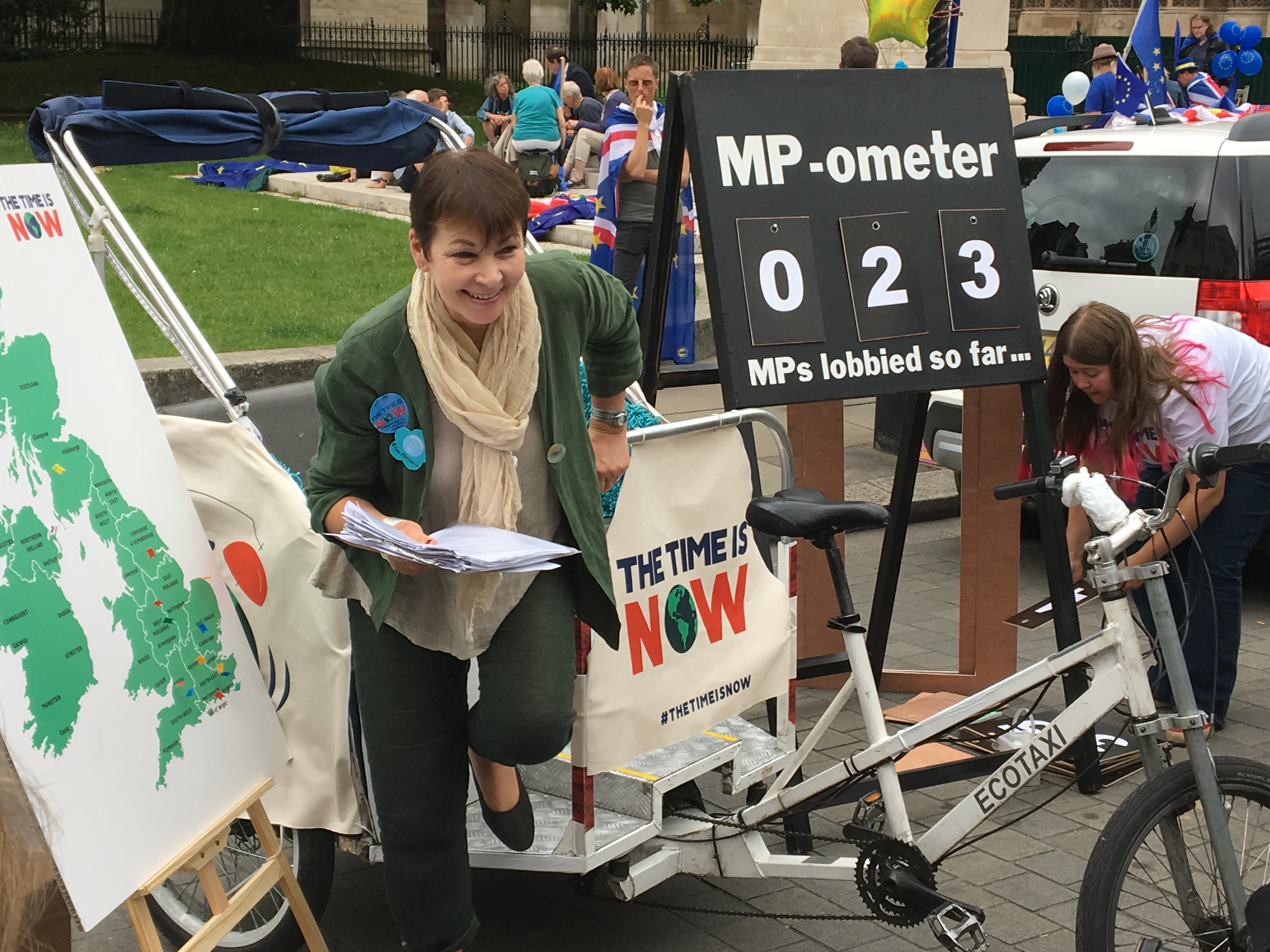 Green Party MP Caroline Lucas exits the MP-Ometer Eco Taxi outside Parliament after giving her support to the Climate Coalition lobbyists.
It has to be noted, that few such bills become actual legislation but it is, nonetheless, an unequivocal call to legislative action and political consensus which may be timely enough to capitalise on the confluence of climate emergency declarations in 2019 – Scotland and Wales both in May 2019. It also has to be noted that Caroline Lucas was amongst the MPs dutiful enough to face the Climate Coalition lobbyists on the streets of Westminster on June 26. What's Hot London? wouldn't dream of naming some of those conspicuous by their absence.