<p
The Down House home to the greatest English scientist Charles Darwin now maintained by the English Heritage is a World Heritage building in what used to be Down in Kent, now part of the London borough of Bromley. Adult tickets are priced at £10. 60 with free entry to members of English Heritage. A 3 storeyed building with a huge garden, greenhouse and a cafe with indoor and garden seating , Down House serves as not only an attraction but a perfect little getaway too. One can get the best out of the ground floor of the house through a self-paced audio tour. The phone like touch screen device with headphones, includes an extremely impressive, comprehensive software giving you detailed chronology on events, description of house objects and directions to the house, while the upper floor consists of a museum displaying exhibits of Darwin's life and works. The uppermost floor is closed to public.
The visit to Down House whilst transporting you back into the 18th century, will give you an insight into Darwin's genius, eccentricities and the single minded focus passion and conviction in his researches in an era of no internet, no phones and no international communication or banking! In retrospect, one can imagine why Darwin chose Down House as his abode for its fullness and solitude, being close to London yet being far removed from its humdrum must have been the perfect setting for his research that spanned decades.
So who really was Charles Darwin? To the less aware, he was an 18th century English scientist, a naturalist  who gave the world the idiom 'Survival of the Fittest' from his best known yet controversial theory of evolution by natural selection in the book 'The Origin of Species' relating to natural history across biology, anthropology, botany, taxonomy, zoology, paleontology, geology. Simply put Darwin's theory states that all organisms are derived through an evolutionary process from a set of predecessors. One can imagine why this theory may have, stirred many a hornet's nest as it challenged religion and conflicted with the view of God as the creator of all species and the denial that all organisms are a result of evolution.
The Darwinian house is preserved as though in a time warp. The Drawing room with giant Piano, fire place and blue settee for long limbed Darwin brings into life the cosy evenings Darwin may have spent with his wife Emma Wedgewood and his ten children.
The Drawing Room
 Next door is the Library the place where Darwin worked and theorised his famous theory. The place where it all happened.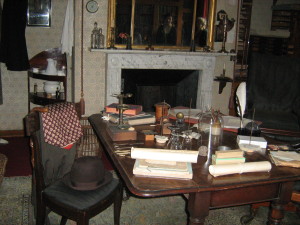 The Library
On the big table is an archaic microscope that is hard to miss and on the next some invertebrate species that Darwin may have been studying as also a huge collection of books on zoology, botany and other sciences in the huge shelves.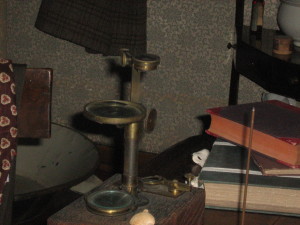 An 18th Century Microscope at Down House Library
A lesser known fact is Darwin suffered many illnesses from skin ailments to arthritis and was almost an invalid.  An  odd spot of a little wet bath type area in the corner of the library was used by Darwin for warm water therapy to relieve joint aches and pains.
A Billiards room where Darwin had a little work corner shows he carried his work to play.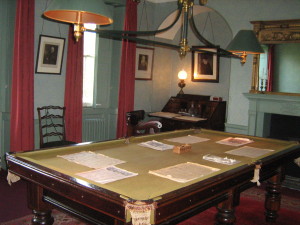 The Billiards Room
 The Dining room with exquisite china on a huge oval table tells you of the many evenings where Darwin and his wife hosted dinners.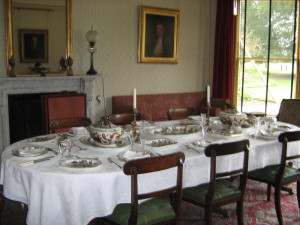 The Dining Room
Snuff jars throughout the house indicate Darwin was an addict. Portraits of Darwin's Father Robert Darwin, grandfather Erasmus and his namesake Darwin's brother Erasmus reflect a family lineage of wealth and aristocracy. That explains why Darwin could dedicate his life to research and science without ever having to worry about earning a living, whilst other scientists from his generation with less than Darwin's affluence supported themselves with teaching related jobs at Universities.
Leading up through a fleet of stairs is the museum. Photography in the museum is prohibited.  Notable is a timeline of Darwin's exploration on the ship HMS Beagle with interesting notes during his journey lasting 57 months mostly sailing through South America, notably the Galapagos and the Pacific ocean where Darwin studied the earth and fossils and collected plant and zoological specimens for research.
A showcase displaying Darwin's bird seeds, hand kerchief, snuff amongst others forms an interesting collection.
There is also a room that appears to be a ship depicting Darwin's stay in the HMS Beagle complete with reverberating sounds of  sea waves with Darwin in the ship. No. A human actor representing a young Darwin is not actually in this room but appears to be courtesy a life size display with replay sequence on an LCD television display. There are also exhibits and information on Social Darwanisim, the Origin of Species and the influences on Darwin's theories.
If you thought the house and museum is all there is to the Down House, think again! Can the home of a famous botanist be devoid of a garden?
Plant taxonomies on display                                                    Greenhouse
The Down House has acres of garden with taxonomies of flowering plants on display, a greenhouse with colourful orchids and carnivorous plants such as the Venus Flytrap finally leading to a path beyond the garden which was Darwin's thinking path.
The Thinking Path                                                        The Garden at Down House
One would require half a day to enjoy this timeless Darwinian Home. Every room, every picture, every object, every flower bears the stamp of one of the world's greatest revolutionary scientists. Is it any wonder that Darwin upon his death was accorded a state funeral at Westminster Abbey even as all the species he spent a lifetime studying continue to evolve!