The summertime vibe and weather has seasonally gone hand-in-hand with London beer festivals keen to show off their latest brews to a thirstier than normal clientele. The Great Beer Festival at Olympia London and the London Craft Beer Festival, Wapping, both on Aug 9, are two of the most prominent this month. To give your festival pub crawl a sliver of culture, here's a list of note-worthy London pubs you should check out this week.
London's Oldest Pubs
There are a few candidates here and any choice will prove contentious. The Spaniards Inn, Hampstead was once the favourite haunt of historic literature figures including Lord Byron, Percy Shelley, Charles Dickens and Bram Stoker. However, the 'pint-sized' Lamb and Flag in Covent Garden, has a history which is just as intriguing. There are various disputed claims about its age, the earliest date of 1623 would make it London's oldest pub but the only verifiable record of a pub on this site is the Coopers Arms back in 1772. It was renamed in 1833, during which time it was used for illegal bare-knuckle fights.
This heritage is proudly displayed inside the pub if you venture upstairs to the Dryden Room and check out the vintage bare-knuckle fight posters. In 1679, the poet John Dryden was attacked in its back alley by assailants under the command of the 2nd Earl orf Rochester. The owners have honoured the poet by naming their upstairs dining room after him. Lamb and Flag, 33 Rose Street, Covent Garden WC2E 9E. The Spaniards Inn, Spaniards Rd, Hampstead, London NW3 7JJ.

Lamb and Flag, Covent  Garden
London's Largest Pubs
Many argue the World's End in Camden has no contenders in this department. It is, without doubt, a considerably-sized establishment with both upstairs and downstairs bar areas. Doubling up as a music venue (The Underword Club), it's certainly made its mark on the area's renowned gig circuit and is easily found just opposite Camden Station. However, the BrewDog in Tower Hill is worth a look. You can't miss it – it takes up almost the whole of the street, certainly the block, but it only has one floor.
The choice of 33 craft ales makes it one for the connoisseurs and they range from the pricey to a decent £6 for a two thirds pint of a full and flavoursome Alice Porter Cask. You'd better get used to one third and two thirds pint measures in these upmarket craft ale pubs. Judging by some of their prices, they are probably doing you a favour. As you'd expect with such a large range of beers, there are taster options. BrewDog, 21 Great Tower Street, London EC3R 5AR. World's End, 174 Camden High St, Camden Town, London NW1 0NE.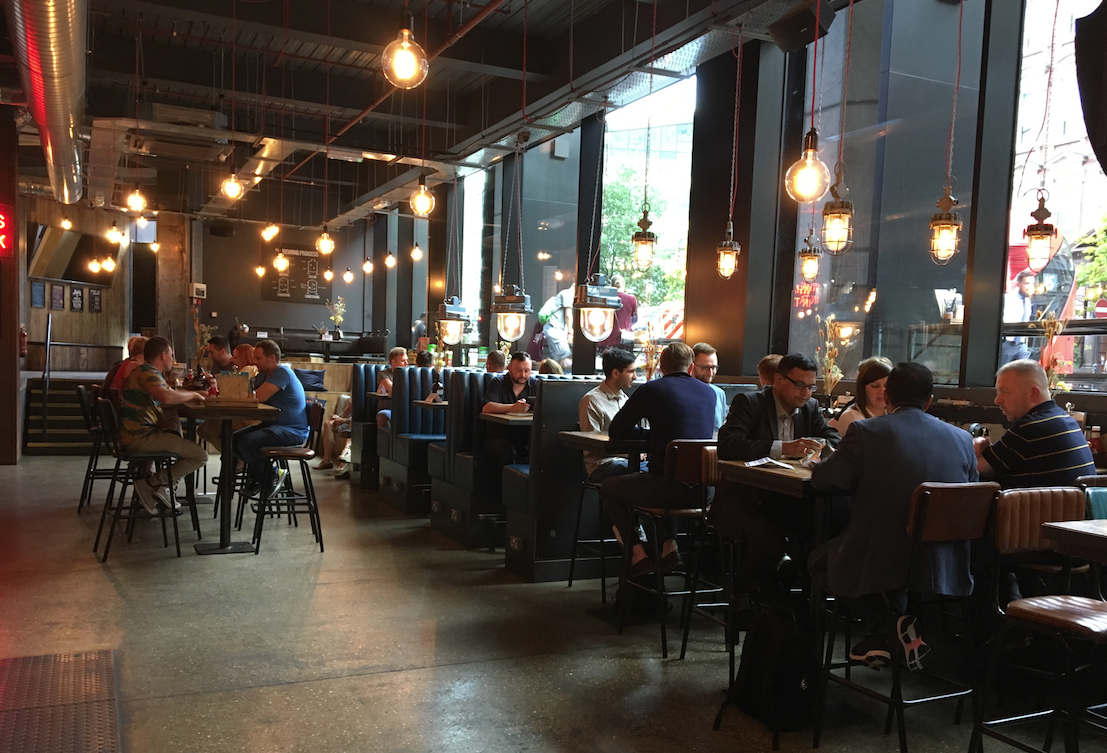 BrewDog, Tower Hill
London's Smallest Pubs
The Rake Pub in Borough is also the capital's most expensive one. The distinctive blue front is a bit of landmark in Borough Market but a decade or so ago it was just a 91 square foot cafe. They've kept the diminutive proportions but now inside you'll find one of the smallest bars in London with a beer range that is a match for any in the city – regardless of size. It made national news several times for its expensive pints but continues to attract the punters because of the dual attractions of size and price.
However, there is disagreement as to whether it holds either distinction in the capital. The argument that The Dove Pub in Hammersmith is more conservatively proportioned might sway the doubters once they visit and fall in love with its romance and history. Charles II frequented the pub with his mistress Nell Gwynne and poet James Thomson composed Rule Britannia here. Once all the tape measures are laid out, you'll find The Dove has the smallest bar in Britain and holds a Guinness World Record for that distinction. But overall, it's a close call.  The Rake, 14 Winchester Walk London SE1 9AG. The Dove, 19 Upper Mall, Hammersmith, W6 9TA.

London's Most Expensive Pubs
Has The Rake been overtaken in the rankings here as well? Certainly, it consistently serves up the most expensive brews but for the most expensive one-off pint head to a Craft Beer Co. pub with your millionaire pals. At £22.50, their Speedway Stout costs around the same as an equivalent measure of champagne. It's an import from the USA and has 12 per cent alcohol content. The ingredients are an exotic mix – the Hawaiian Blue Mountain Coffee content and other mysterious additions make it a worthy indulgence. Craft Beer Co. pubs in Old Street, Covent Garden, Brixton. The Rake, 14 Winchester Walk London SE1 9AG.