SITUATED five minutes from Covent Garden Station and almost next door to The Donmar Warehouse Theatre, this Belgian restaurant certainly can't have any passing custom issues. They've certainly put the capital L into Location! Location! Location! but is the food classy enough to share the big stage with Theatreland and attract tourists and foodies alike?
If your experience of Belgian cuisine is limited to their chocolates, waffles and the odd Stella Artois, Belgo is a good place to start for a gentle initiation into the culinary delights of a country situated between France and Netherlands but with its own distinct gastronomic identity.
As you enter the restaurant you'll notice the brightly coloured stain-glass windows are a cheery sight and contrast the more industrial look of the Beer Hall Dining Area and restaurant downstairs. The factory-chic of the exposed brickwork on the ceiling and the distressed concrete floor are a deliberate, stylistic look.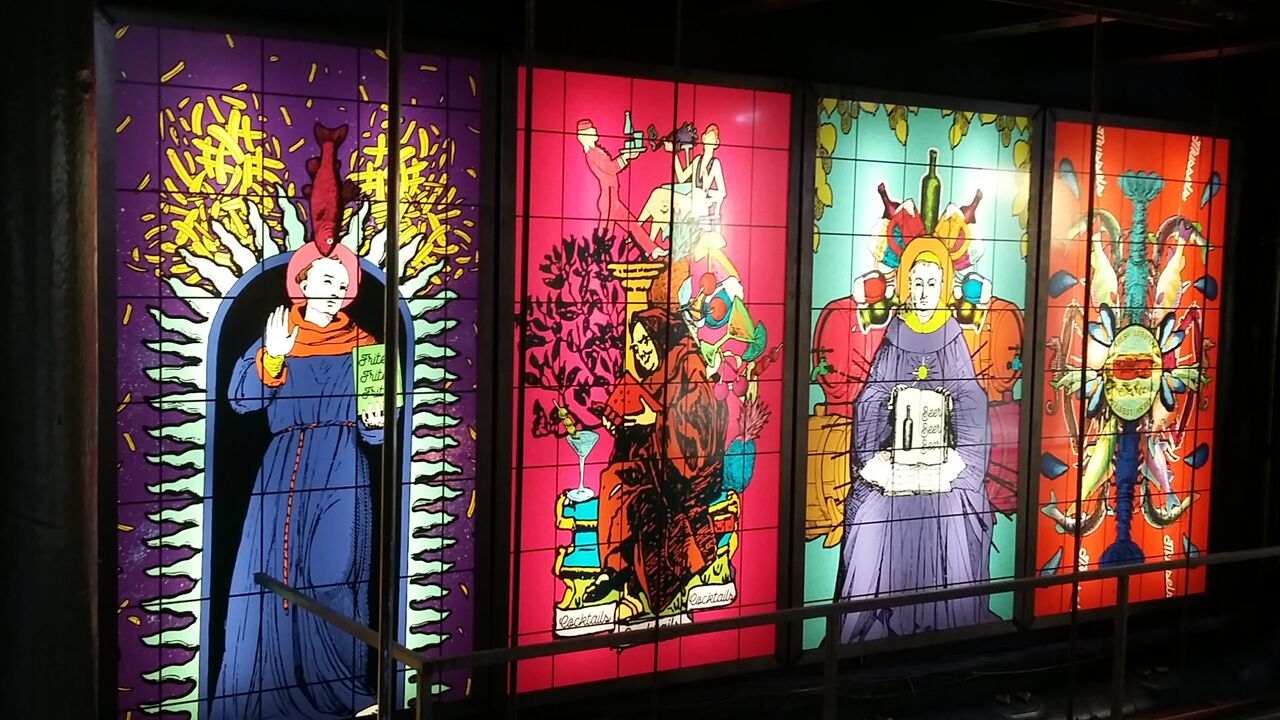 Heavy duty grey pillars accentuate this functional look and compliment the hardwood and industrial metal seating and tables. Even the staff areas are in shiny faux-copper and the drinks menu seems to be made of the real thing! It's quite heavy and your granny may need help lifting it (well before she's hit the alcohol).
Some gourmands regard it as a bad sign when an international restaurant seems to serve everything with chips or 'frites' almost as if you expect them to water down other elements of their national dish to reach a broader custom (because everyone likes French Fries!). But in Belgo this is not the case because frites are a very popular side in their country and served with many of their national dishes.
A starter of Lobster Bisque is recommended for those who want to savour the unknown and do so with a hint of lip-smacking luxury. It's a mild, creamy soup made of lobster, champagne and brandy. There's a vein of richness in amongst all that mildness which one might attribute to a very special Belgian blend of herbs.
The main course of Vol au Vent is a dish borrowed from their French neighbours. The English translation is 'windblown', a term used to describe its lightness but this wasn't the case here. There was a little bit of a wrestling match with the pastry and the savoury ingredients of cream, asparagus, pak choi, leek, St Bernadus beer and Camembert sauce somehow didn't register on the palate as promised.
Similarly, the Stoemp Mash it was served with is an acquired taste. The mixed in cabbage, carrots and other root vegetables left an unusual, slightly soured aftertaste that made it difficult to finish. One might question also the serving temperatures of both the Vol au Vent and the Stoemp Mash. Neither seemed quite right.
This was not the case with the dessert of Madame Blanche Waffle. Here Belgo was in its element, as its exquisite, heavenly pastry was on a melt-in the mouth level and honeyed flavours tickled the palate regardless of how small an amount you ate, a sign of excellent cooking skills. It's impossible to ignore this treat on a dessert menu when the ingredients are Chantilly cream, Vanilla Pod Ice Cream, dark chocolate sauce and cherries.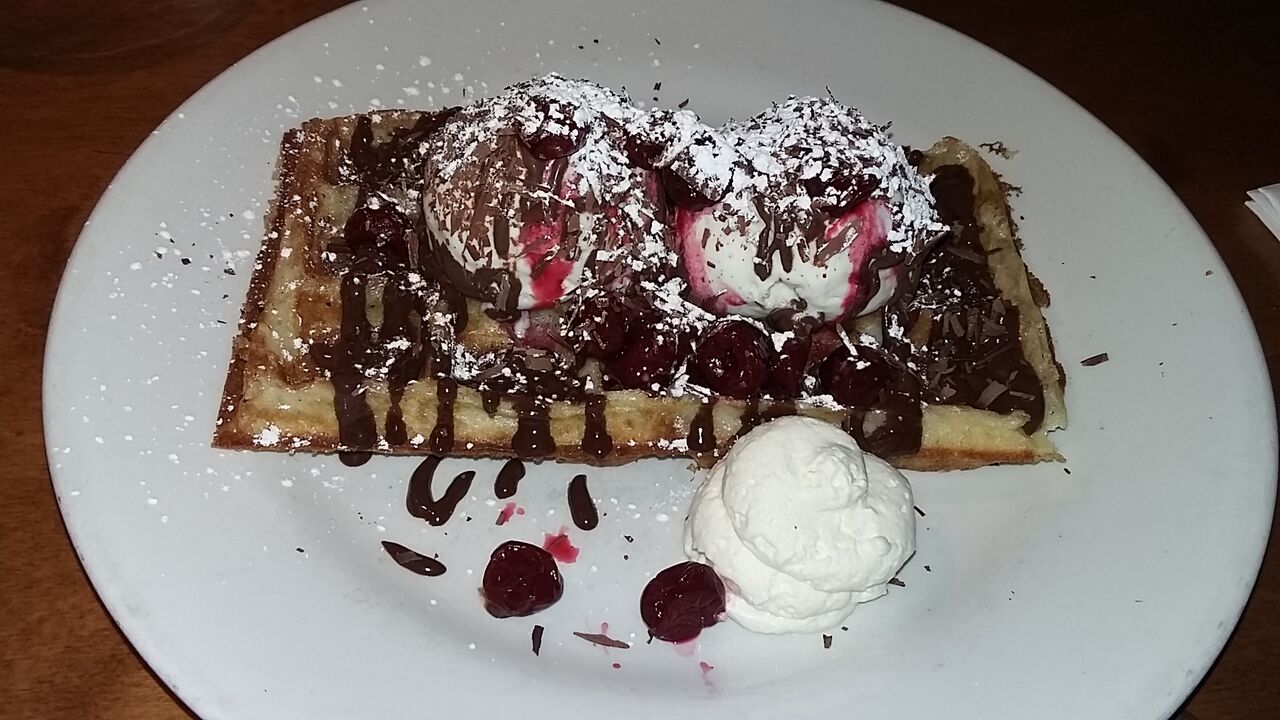 So that's five stars for the dessert alone – and it's no exaggeration to say it may possibly rate amongst the best you'll ever taste. The starter was similarly top rate, but the main perhaps less desirable. For another surprising treat try their pint of Belgo Wit wheat beer. Light, summery, aromatic and will give Stella Artois a run for its money.