With its atmospheric, sweeping location shots and all round high production values, indie horror movie Cain Hill is showing what can be done on a modest budget. Produced and co-written by Tony Cook who is also one of the main actors, it features documentary filmmakers braving an empty asylum building to make a TV special about notorious former patient Chester Lockheart, accused of an arson attack there that killed countless others.
The Cain Hill Psychiatric Hospital takes on a different slant entirely from the institution it was intended for when the filmmakers are locked there for the weekend and even more so with the foreboding drone shots wasping around the building menacingly. And there's little respite in the creepy interior due to cinematographer Andy Poulastide's eye for a shot and Gene Fallaize's direction. You'll also notice the set design elements are certainly comparable with much higher budget productions, the production designers taking their inspiration from the giants of the genre while sticking well within budget.
Talking of giants, 7ft actor Phil Martin made quite an impression at the film's premiere at the Prince Charles Cinema. He plays Chester Lockheart, himself, but thankfully turned up at the premiere minus the nailed club he brandishes in the movie.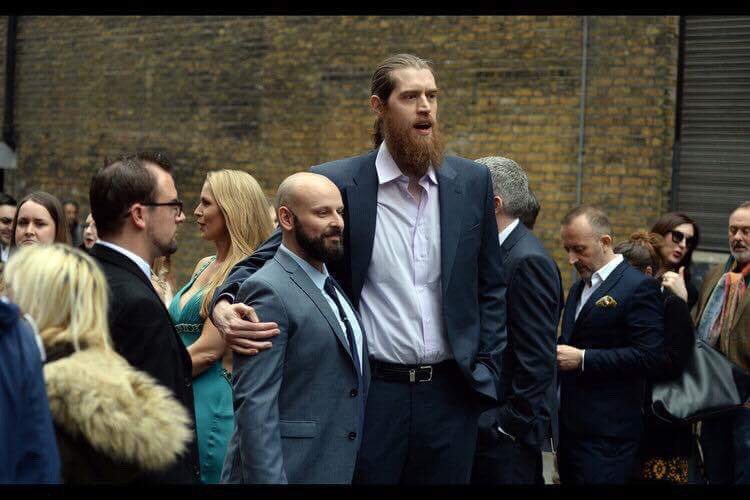 Fans at the red carpet were treated to signed tickets (some of which were previously auctioned out) by a cast yet to touch international fame, but again another example of the way in which they've pushed the indie genre to take on new levels of professionalism.
So fresh from their recent red carpet premiere in Leicester Square cast and crew can bask in the journey from successful indie go-go campaign to the big screen and have started their film festival campaign in earnest with numerous official selections already for the trailer alone.