South African photographer David Lurie captures the urban communities of the Rainbow Nation with an uncompromising focus on the socio-political realities of the post-apartheid era. This self-taught photographer, who studied politics, philosophy and economics at the University of Cape Town, is a conscientious commentator and uses a documentary-style body of work to get his points across.
He explores social isolation, economic exclusion and urbanisation in Cape Town. Writing the City is so titled because the photographed murals, graffiti and signage are the centrepiece pointers to the lives of the unemployed and working poor in the city. We see how the self-appointed scribes of these communities document their struggle using the city walls as their canvas.
You will be immediately drawn to a photograph of a mural of a blue-faced Nelson Mandela. At first, because of its unusual colour but on closer examination you'll notice the 'Remember Marikana' tag scrawled in the bottom corner. This is a reference to a 2012 police massacre of protesting miners that left 41 people dead. So you are presented with an underground, unofficial Cape Town news platform which tells it as it sees it, rather than towing the government line.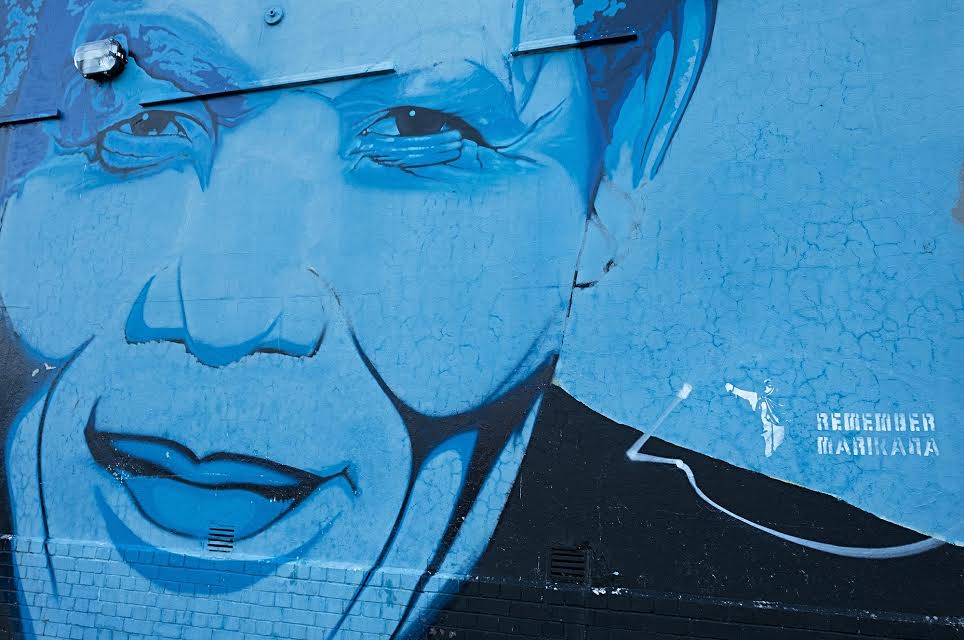 You don't always have to search so hard for the message. In another photograph the words Zuma Must Fall take up the entire front face of a tower block, casting no doubt where their political sympathies lie. Documenting, as it does, the everyday struggles in the provincial capital of the Western Cape, it also stoked the anger of the state authorities who demanded either the slogan comes down or the entire building does.
Does the ANC government have any saving grace under this documentary-style scrutiny? Some photos seem to show the government meeting their manifesto pledges to build houses for the poor. Or do they? The seemingly pretty and bright-coloured houses plonked in the desolate wastelands of 'Wolwerivier" are not so pretty once you are made aware of the politics behind their construction.
The government relocated the poor from their shanty town communities because they were regarded as an eyesore in the countdown to the 2010 World Cup, which South Africa was hosting. The relocated had little in the way of local amenities and their sense of community disappeared overnight.
 David Lurie: Writing the City at The Sulger-Buel Lovell Gallery from Nov 17 to Dec 16.