Those familiar with the term Duppy Conqueror will know that it is a title of one of Bob Marley's songs but may be unaware that 'Duppy' is Jamaican for an evil ghost or demon. Artist Faisal Abdul' Allah uses it as a metaphor for the past spectres within and without the black body. Curator Mark Sealy emphasising: "the violent stains of history and culture, the undead of our past…" but ultimately the cultural and historical reactions to the black form and its identity forged in spite of this ignorance.
A combination of photography, textile work, printmaking, sculpture and installation makes this exhibition a multi-disciplinary examination of history and culture. However, his approach to the Last Supper would make Leonardo Da Vinci shift uneasily at his Florentine easel. Faisal Abdu' Allah transforms Christ and his disciples into black Muslims in the tableaux of Last Supper I, 2012 and as street youths brandishing machine guns and assault rifles in Last Supper II, 2012. In size and magnificence there's a postmodern nod to the great historic works of similar craft – although, obviously, the subject matter markedly different. All of these works in the Last Supper series were originally commissioned photographs from his impressive 1994 portfolio.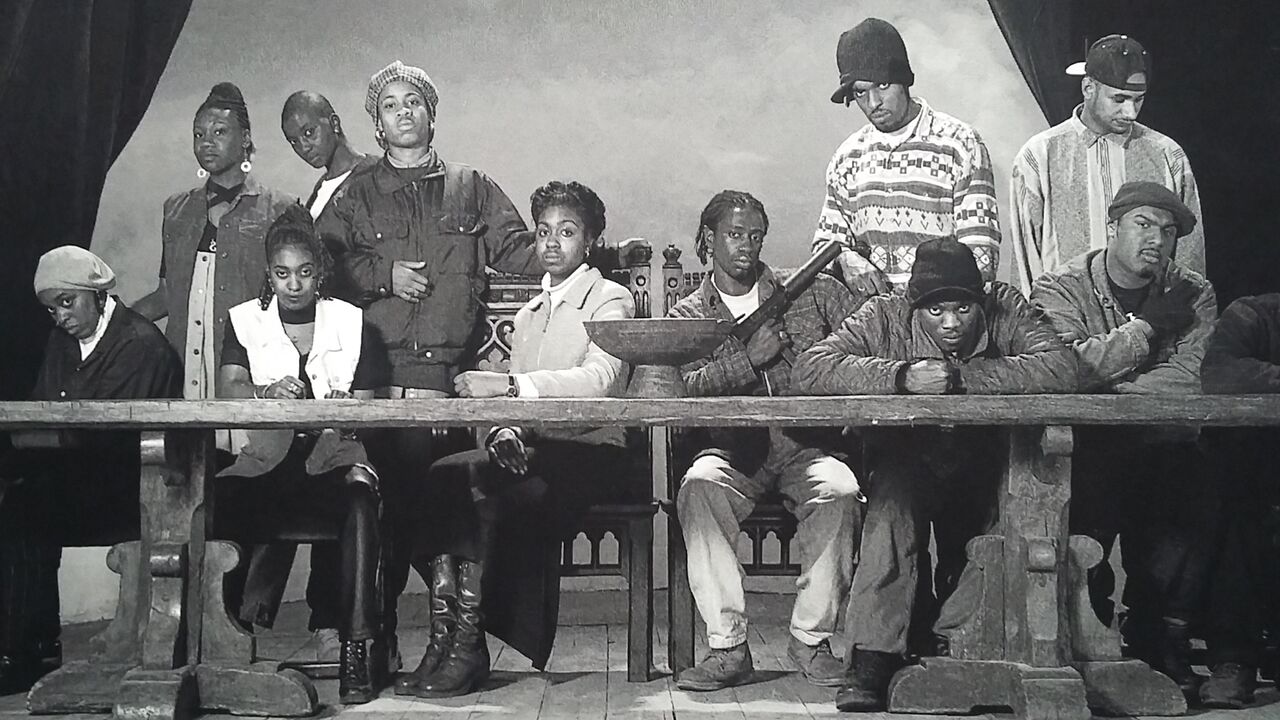 Last Supper II, 2012
The uneasy association of black youths with arms in Last Supper II, 2012 is, perhaps, not presented as a clumsy stereotype but more to provoke the viewer into confronting these issues by shifting their context. And none so confrontational as depicting Christ bearing arms with his disciples! However, the topics of masculinity, violence and history are underscored and discussions on myth and media representation broached.
Abdu' Allah's Jacquard tapestry Duppy Conqueror (2017) depicts him grimacing in top hat and mask like a Regency highwayman. Other self-portraits such as After Kosuth (2012-17) explore new interdisciplinary approaches. There's a marked emphasis on transformation in these works, which culminate in a gold-plated bronze cast of his head. Gold is again the preferred material in his gold-plated sculpture of A Barber's Chair 2017 and The Barber's Clippers (2017). He is a working barber by trade and is well aware of the barber salon's cultural position in the lives of black males.
Faisal Abdu'Allah: The Duppy Conqueror & Other Works Autograph ABP until April 2018.