A century after the word surrealism was first used, a global collective of surrealist filmmakers has reinvented surrealist leader Andre Breton's fold drawings – but this time using film, of course. And they may well be the first in a century to do it this way, using social media connectivity and digital film technology.
In 1917 French poet Guillaume Apollinaire first coined the word surrealism and a few years later Andre Breton started the Surrealist art and literature movement. It first focused on the creative potential of the unconscious but has now come to mean anything bizarrely juxtaposed or dreamlike. His fold drawings involved an artist completing part of a drawing and then folding away the completed part and passing it on to another artist to complete the next section (but of course they cannot see what has been drawn previously). The completed drawing is often disjointed and uniquely random because of this lack of connectivity and communication between the artists.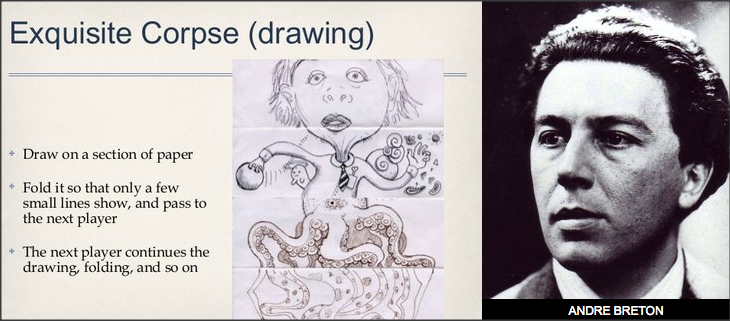 In July 2018 London-based filmmaker and arts writer Eddie Saint-Jean gathered together a group of surrealist filmmakers to attempt this surrealist experiment using similar methods. The group was called F.O.L.D. to reference Andre Breton's fold drawings. The whole point of F.O.L.D. was 'connectedness through being unconnected' so the filmmakers were allowed to be of any experience, background, use any format or aspect ratio. Nothing was restricted or filtered. The only rule was they had to complete a 1min film after seeing only 10 seconds of the previous F.O.L.D. filmmaker's film and had 24 hours to complete it. Finally, all the films are edited together as they are with nothing added. The result: a truly surrealist collective film with a century-long link to the earliest surrealists. A few of the F.O.L.D. filmmakers share their inspirations and methods, regarding this project.
MILOSH HUGHES: is a Polish-American artist and filmmaker living in Ireland. He specializes in stop-motion animation and 2D cartoons as well as live action films on next to no budget. He was awarded a High Commend in the Cinemagic's Young Filmmakers Competition in 2017 for his animated film Man And The Automan.

             (left) Milosh Hughes.         (centre & right) 2 movie stills from his section of the F.O.L.D. film.
What first inspired you to make a film for the F.O.L.D. project?
My idea came from a drawing I had created months ago of two embryos floating with their umbilical cords linked together, a sort of everlasting connection from their very beginning. The film's style was taken from one of my prior animations with the created world being a similar 'sketch' style only this time the character was a stop-motion puppet. I liked the look and it saved time to draw so I reused it here. I wanted to make something, not unlike a David Firth animation, eerie and disturbing in tone with graphic scenes (preferably body horror) but with the underlying story being something less disturbing and in this case somewhat sentimental.
How did you go about creating your film for this project. Did you plan or just randomly freestyle?
The character was created from concept sketches I had around at the time, as was the image of the embryos. The audio was a mix of slowed and reversed water sounds and the flashing segments involved the raging operatics from 2001 A Space Odyssey and static sound effects. The music used was 'Rhubarb" by Aphex Twin.
Who are the filmmakers or artists etc. that inspire you?
My biggest inspiration has always been David Firth, to the point where I'm happy to admit my film was a shameless imitation of his work, something which has always entertained and fascinated me since I first began animating. I've always adored the surrealist work of Terry Gilliam (particularly his talents in 'Brazil') and more recently the animations of Robert Morgan (who once again I may have ever so slightly ripped off but if I'm going to be pretentious I'd call it "interpretation").
TAYLOR SCHOFIELD : is an experimental-surrealist filmmaker from Sacramento, California, USA. He took an interest in filmmaking at a young age and has been honing his voice with the medium for the past 10 years by collaborating with others and producing his own films.

What first inspired you to make a film for the F.O.L.D. project?
I just love the idea behind the F.O.L.D method. I think it really promotes a surrealist way of thinking about your film. I also love that none of us could see the big picture, only a fraction of it.
How did you go about creating your film for this project. Did you plan or just randomly freestyle?
I didn't spend much time planning out shots or actions for my film. I waited till I got the last 10 seconds of the previous film then started thinking how I could transition from that piece. I knew I wanted to use fruit because of the link to the film before mine. Also I wanted a black void and a red practical light as a prop. From there I would set up a shot and an action and I'd shoot it, then figure out what would make sense (to me at least) for the next shot.
Who are the filmmakers or artists etc. that inspire you?
David Lynch is a huge inspiration to me, Stanley Kubrick as well. On the more experimental front, I'm really inspired by Stan Brakhage, Bruce Baillie and Peter Tscherkassky. Music is also a huge influence for me. I wouldn't be making the style of films I am today if it weren't for Animal Collective.
This first F.O.L.D. film involves filmmakers from England, Ireland, Greece, the USA and South Africa and will have its debut screening on August 27th, the birthdate of surrealist artist, photographer and filmmaker Man Ray. After that, expect this special little, one-of-a-kind movie to head for the film festivals and art exhibitions. The title of the film? F.O.L.D.1, of course.