A new exhibition at The British Library celebrates one of the greatest works of Spanish literature and its accompanied illustrations down the centuries. Imagining Don Quixote examines Cervantes' novel Don Quixote with the focus on the artwork because it has become the darling of illustrators throughout history from Gustave Dore through to Salvador Dali. For whatever reason this amusing tale about a nobleman who becomes insanely obsessed with a hopeless quest to champion chivalry became the book they all wanted to draw.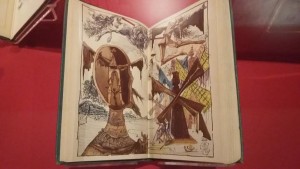 In this regard, the work of artist Gustave Dore needs to be highlighted because not only is it the most reproduced but also the most respected. The drawings shown were first published in 1863 in Louis Viardot's French translation and were available in English from 1864. None other than the great Dostoevsky got his hands on this copy in 1873.
However, it's always worth the bragging rights to get an eyeful of the very first copy and the exhibited woodcut of the 1669 edition is pretty well preserved. It's actually a 2nd edition, the first one a 22 chaptered German copy rolled out in 1648. It shows that memorable scene where Don Quixote arrives at an inn believing it's a castle and the innkeeper a lord. You can see in the drawing his clumsily fitting armour and a helmet that's too big for him. Dodgy fashion-sense turns to slapstick as you discover he made the helmet himself and now can't get it off his head – even at the dinner table!
Salvador Dali's nightmarish paintings would be worth the entry fee alone (if there was one). The Spanish master perhaps sought to etch his own greatness onto that of literature. A marriage of epic Spanish styles befitting his legacy. Certainly his vision of the novel is in keeping with his fascination with dreams and the subconscious because here his Don Quixote seems to be in a bad dream and doesn't know it! But if you've read the book you'll know he soon gets a rude awakening.
Imaging Don Quixote is at The British Library until May 2016. Opening hours are Mon – Thur 9.30am – 8pm, Fri 9.30am-6pm, Sat 9.30am-5pm and Sun 11.00am-5pm.