You're a budding author or poet scraping a living in London, still dreaming of having your unfinished masterpiece completed and taking the literary world by storm some day. That Man Booker Prize may be a good few years away, but how do you stay inspired when faced with the booze and fast food distractions of the capital which seem like a welcome sedative from your creative agonies?
Well if you swop your wining and dining haunts for the ones frequented by your literary heroes it might help build that crucial momentum through those bad days. Those quill-scribbling literary figures probably went through similar creative agonies but ultimately made their mark. They say success leaves clues so give the Big Mac & Coke a miss at lunchtime and grab a table or prop up the bar at these blue plaque and literary landmarks and walk in their footsteps – literally.
There's a blue plaque honouring 19th century romantic poet Percy Shelley at 15 Poland Street, Soho. He lived there in 1811 when he was expelled from Oxford University for writing the pamphlet The Necessity of Atheism. Shelley arrived at the address with best friend William Hogg, who co-wrote the pamphlet. He fell in love with the dwelling as soon as he laid eyes on it and even suggested they sleep on the front steps if they couldn't get a room, declaring: "We must stay here; stay forever."
His work has become fashionable again because of the August anniversary of the 1819 Peterloo Massacre, Manchester. Shelley wrote a poem about it called The Mask of Anarchy which attacked the government for their over the top repression. In 1989, artist Louis Vines painted a Shelley mural over one side of the building and gave the poet a more Indian-looking makeover to reflect the times. It was named after his poem Ode to the West Wind.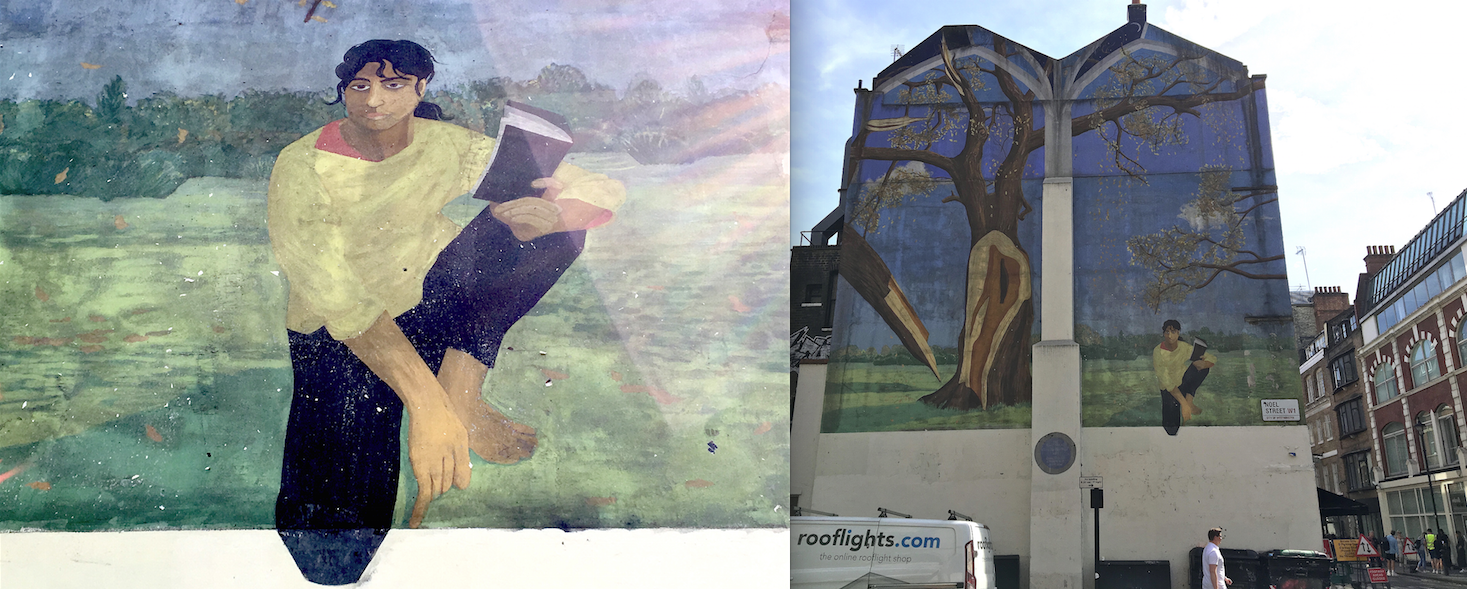 Mural of poet Percy Shelley by Louis Vines
Upmarket Italian restaurant Vasco & Piero's Pavillion now occupies that address and is a convenient dining stop off for inspired eating, knowing that one of Britain's greatest poets lived here. If you're looking for something more laid back there's another Italian eaterie, the Obica Mozzarella Bar, across the street and their roadside tables offer the best view of the mural.

Those seeking alcohol won't easily find any arty absinthe watering holes but you can try Vasco & Piero's selection of Italian wines. Their Primitivo Salento house wine is priced at £6.50. Or if you're still on the literati trail, there's the Pillar of Hercules pub round the corner on Greek Street which was once a favourite haunt of writers such as Charles Dickens and Man Booker prize winners Julian Barnes and Ian McEwan. Dickens even mentioned the pub in A Tale of Two Cities.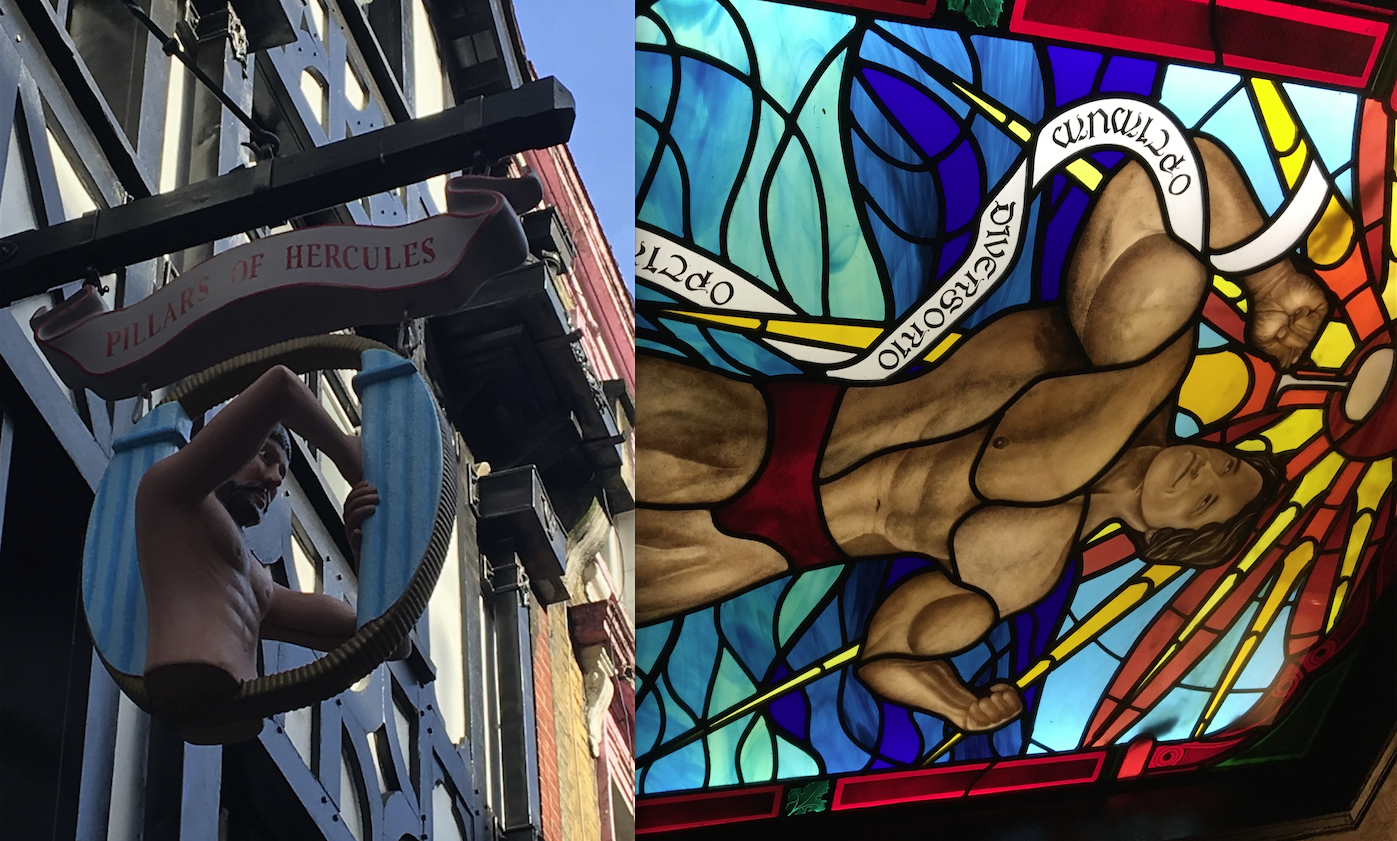 Mural of Arnold Schwarzeneger on the ceiling of Pillars of Hercules pub
Founded in 1733, the pub's name comes from a feat of strength by Roman god Hercules who pushed apart two pillars in the Straits of Gibraltar to create Europe and Africa. However, a mural of modern Hercules Arnold Schwarzenegger is painted on the ceiling of the pub. A quick pint in this inspiring establishment might not make you the next Charles Dickens but will definitely enlighten you about the heritage figures who came before you and paved the way long before the contemporary cultural diet of Arnie and mozzarella bars.