Lewisham-based director Tianna Banton started writing scripts aged 11 and made her first short film at 17. She was inspired to start her own production company after watching a fascinating existential short film called Stray Dog by upcoming director Bertie Gilbert. So far, she has made 10 shorts and two features: Just Remember and Trial And Error. To date, her Hanton Films production company has been true to its aim of presenting diverse storytelling and championing female-led film crews and people of colour.
She talks to What's Hot London? about her third feature Closer I Get To You which is also a predominantly female-crewed film. This latest flick is a romantic comedy with her own tilt on a genre which has proved popular with cinema-goers over the years.
What inspired you to write the Closer I Get To You?
The inspiration actually came from the song, The Closer I Get to You. I was in my third year of my university film studies about to start my final major project and was sitting in the canteen with my friend Aisha and we were listening to music, like we usually did. I'm very much an old school music kind of person and love classics like Motown, 90s RnB etc. The Closer I Get To You comes on the player and I just start visualising a story about a young black couple who are madly in love. It was the Luther Vandross and Beyonce version of the song that I heard but we centred the tone of our film around the Jacci McGhee and John James Version.

Where there any other reasons why you chose the romantic comedy genre? Was it a departure from your previous productions?
Honestly, I've always loved romantic comedies and have always wanted to do one but never felt I had a good enough story or the knowledge to do so. By the time I came up with the idea for this film I had been making films for five years and was about to graduate from film school. I wouldn't necessarily say that it's a departure but it's always good to explore other genres.
What sets your movie apart from other films in the genre?
It's the fact that my film focuses solely on romance. A lot of romantic comedies that I've seen, especially black ones, have had the romance take a back seat to other 'bigger' problems such as infidelity or crime and gang violence, or even domestic abuse, but we don't focus on that at all. It's purely about the love that these two young people have for each other. Not only that, but we haven't really seen many Black British romantic comedies or romantic dramas, so that sets us apart.
Also production-wise, the film was almost entirely female crewed. Both of my assistant directors were female, along with my heads of art, costume, and make up departments. We also had a female gaffer and all the production runners were female. And again, there was a predominantly black crew. With the exception of our DoP, gaffers and behind-the-scenes photographer, everyone else was black.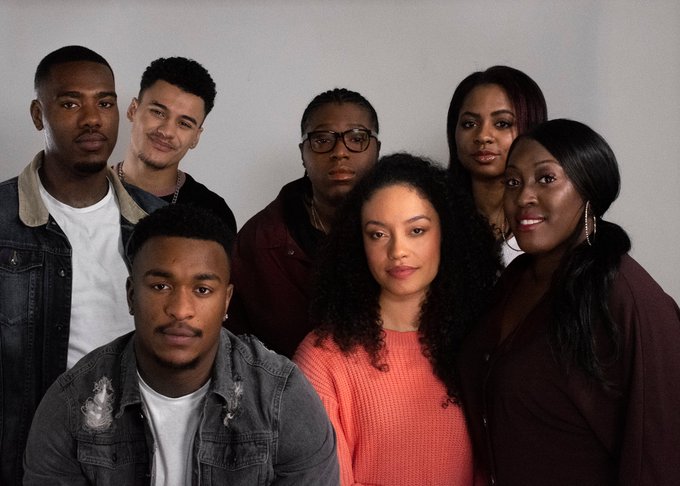 Tianna Banton (centre, back row) with all the cast members
Did you face any challenges or problems in pre-production, production, post-production?
The main challenges in pre-production was scheduling, We had a cast and crew who were working various 9-5 jobs or still at university so having to juggle around all of that was a challenge. Not only that but when you are writing a script and coming up with all these beautiful scenes you then have to make sure you find the right locations that match what you have visioned for months in your head. In production itself I don't think we had any major problems. On one of the days we had to reschedule at the last minute which was frustrating because it was one of the biggest scenes involving extras so we had to change everything literally last minute and pray that everything worked.
Are you marketing your film now and planning film festival strategy? What are your future plans?

So far we have submitted to four festivals here in the UK and now we're just waiting to see what happens. This is both exciting but nerve-wracking because we're all so proud of this film and just want the best for it. As for marketing, we've been doing a lot of promo stuff lately, photo shoots etc and we have a great team who are working on organizing screenings. So you'll see us around at some point this year with announcements with what's happening but we're excited and can't wait to share the film.
FILM SYNOPSIS: A romantic comedy starring Sarah-Maeva Cialec and Louis McSherry-Williams. Nadiene and Devon meet in a club one night while Nadiene is waiting for her best friend Sasha. They soon realise they share a powerful connection and its very much love at first sight. Devon doesn't waste much time and makes his move, asking her out on a date the very next day.