I arrived at Levi Roots Smokehouse at lunchtime but barely a few steps inside the door those appetite-tingling Caribbean aromas convinced me that I was in the mood for more than just lunch. Famous for winning BBC2 entrepreneur pitching show Dragon's Den with his Reggae Reggae Sauce and wooing the judges with his guitar playing, he has now opened his first restaurant in Westfield, Stratford.
'So starter and main course it is!' I decided as I was escorted to the table by a polite member of staff. While taking your seat you'll notice a guitar on the wall which might be vaguely familiar. Surely the same one he strummed on Dragon's Den, strategically placed for diners to catch sight of on entry? Regarding décor, all those who have visited the Caribbean will recognise that the restaurant's theme is based on that environment. The turquoise and wooden design dominates the whole dining area, incorporating the faux corrugated metal fittings which are a warm and charming tribute to the roofing on some homes in the West Indies.
I was particularly taken by how attentive the staff were, without them being overly fussy. It's one of the few times where I felt I could actually relax, check back in my seat in plane-mode and not feel on a constant consumer-watch. Believe me that's a good quality to find while dining out.
The servings were prompt when ordered and presented with grace and professionalism. These are people who obviously care about their job and are not just doing the catering rounds to earn money.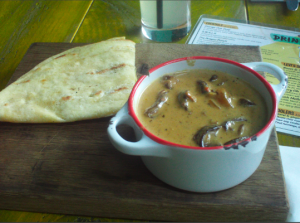 My starter of the scrumptious sounding Creamy Jerk Spiced Mushrooms served with roti didn't disappoint. Cooked to that tender point of silkiness and with the herb symphony of scallions, thyme and garlic making you consider a second portion even before the main – this would have been a 10 even on a five star rating. Go figure!
My Martinique Coconut Chicken Curry order had my mouth-watering even while waiting for it to cool down. In fact it arrived a little too hot but better than it being slightly cold! An exotic blend of aubergines, papaya, mango and tamarind with the coconut a hint too subtle for me but the overall affect a pleasing balance that takes in all diner tastes. Included is a choice of rice and peas or white rice and I opted for the latter because of its appetizing extras. The portions here are just about right. I struggled to finish even though the meal was faultless. Next time a smaller choice of starter for me, I think.
Value for money in every department and the staff present you with an electronic device when you are given your receipt to post comments if you want to contest this. They even disappear for a few moments to make it easier for you to complain freely should the need arise. It's a classy touch. You're made to feel they really do care about your dining experience from the moment you enter and upon exiting.
Starter – Creamy Jerk Spiced Mushrooms served with roti.
Main – Martinique Coconut Chicken Curry served with white rice.
Drink – Dunn's River Cooler, Coconut and Lime.