International Women's Day, March 8th,was celebrated with a number of exhibitions all over London and with many more expected over this coming month also dedicated to women.
Here are two that caught our eye.
1.Women Unlimited Exhibition – Brick Lane
Oxfam's Women Unlimited exhibition shows how women in the developing world are emerging from poverty and discrimination with the help of their organisation. Four female photographers from Magnum Photos were tasked with gathering these global images. The powerfully composed shots of women from villages in Chad capture not only the colourful traditional attire but their dignity in face of struggle. Atare Haggar from the village of Salal, a formidable presence in her yellow veil and robes, has benefitted from the veterinary training introduced by Oxfam who also set up a veterinary pharmacy. Her community's livelihood depends on the rearing of animals so the charity's work here is essential.
In another photo the wizened, hopeful smile of Zanaba Haki, the only female chief in the Bahr el Gazal region of Chad, is also an expression of positivity despite the economic and social realities there. She succeeded her husband's position as chief when he died with the community electing her democratically. She holds out hope for womankind saying: "I haven't seen it with my own eyes, but I believe that in the future, many more women will be leaders."
Women Unlimited Exhibition is at The Old Truman Brewery, 91 Brick Lane, London, Monday 8th March – Sunday 13th March 2016, 11am-6pm
2.The Phenomenal Woman Photographic and Creative Arts Exhibition – Stockwell
Stockwell Community and Resource Centre celebrated International Woman's Day with an exhibition embracing the everyday woman as the 'superstar' of our lives. Normal mums, grandmothers, daughters from the community representing the extraordinary in poems, designs and images. The day's events included short films, performances and tasty homemade dishes for the attendees.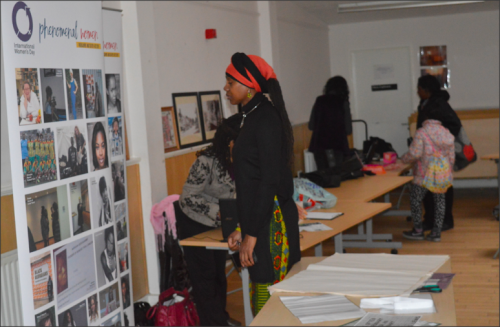 The Phenomenal Woman Photographic and Creative Arts Exhibition. Stockwell Resource Centre, 1 Studley Road, Stockwell, SW4 6RA. London