The ninth London Restaurant Festival presents the best of the capital's cuisine, and reflecting the tastes and population of the city much of it has an international flavour. Ping Pong Restaurant, Southbank is a must-visit for lovers of Chinese food who may relish their offer of seven dishes by the riverside for £20. Well not exactly seven dishes despite the advert on Bookatable saying otherwise. What you actually get is a choice of two set menus, one of which provides 2 mixed vegetable spring rolls, 2 seafood dumplings, one spicy vegetable dumpling, one chicken and cashew nut dumpling and har gaw dumpling. Also there's potato and edamame cake and a honeyed chilli chicken rice pot to go with your white wine.
It's an inspiring location in the heart of Southbank within sight of the Royal Festival Hall and the Hayward Gallery and with floor to ceiling west-facing windows, which flood the restaurant with natural light and the best of riverside views – although you can't actually see the Thames. With Festival Terrace for an address and this promise of an al fresco terrace underscored with such views much is expected of this restaurant. So as you watch the commuters and tourists saunter by make the most of the superb Chinese teahouse-style dim sum dishes. Dim Sum cuisine is as described, smaller portions served in steamer baskets and traditionally served with tea. Essentially, a tea brunch available all hours.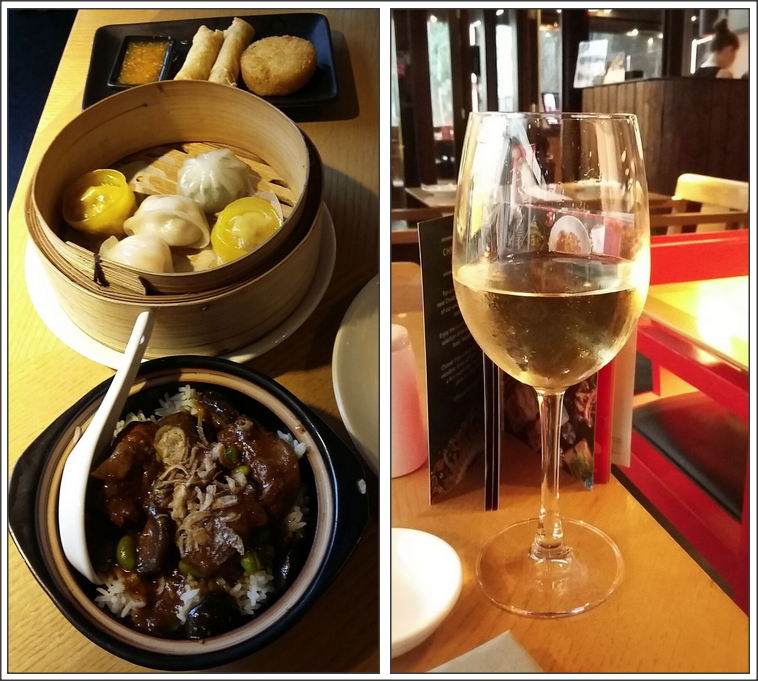 There's also an open plan kitchen to catch the cooks at work to assure you they are up to the job and underscore the lively, on-the-go vibe. And there'll surely be no doubt once you savour the delicious shell-shaped seafood dumplings, which come in appetizing pink and jade colours. The honeyed chilli chicken rice pot is, when stacked with the complete order, pretty filling and the flavouring across the board will have you googling the delicious ingredients before you've barely had time to take the chopsticks out of your mouth.