The title should give it away, but don't worry, this play on words will soon become self explanatory. Prepare for a few surprises because this low budget horror movie has a high budget feel and bridges one or two genres in an inimitable northern style. Filmed in Bradford, Leeds and Manchester, Polterheist draws you into Yorkshire's gangster underworld with tongue firmly in cheek as a psychic medium joins forces with a criminal pair intent on making contact with the dead. It's no easy task producing a comedy-horror that delivers laughs and scares alike, but writer-director David Gilbank has transformed his super-successful, multi-festival winning short film version into a feature film that fills in the gaps and adds even more laughs. This new version was also co-written by Paul Renhard, keeping together the solid gold formula responsible for the successful short.
Tariq (Sid Akbar Ali) and Boxy (Jamie Cymbal) are two hapless drugs money collectors who get double-crossed by one of their colleagues who goes collecting without their knowledge and makes himself £15,000 richer in the process. Drugs boss Uday is none too pleased with his nephew Tariq and gives them four days to find his lost money. And you've got to take his sadistic threats about the repercussions seriously when you see what he does with a cricket bat in the opening scenes. The poster of legendary Pakistan cricket captain Imran Khan on his office wall is a nice touch and makes light of the gory goings on which take place behind closed doors with his henchmen and brutalised victims. Make no mistake, despite the deceivingly innocuous Beethoven-style coiffure, 1970's look, silk boxing robe and red underpants that suggest otherwise, this is a man to be feared….once you stop laughing. Actor Pushpinder Chani tackles the OTT elements of Uday's snarling, bombastic character with a subtlety underscored throughout the film and you immediately pick up on the natural, believable delivery of all the actors.
Boxy is the most bumbling of the comedy duo, with Tariq providing the ruthless, machiavellian edge in this good villain-bad villain routine. Tariq obviously takes after his uncle! They are clued up enough to enlist a psychic medium to help them make contact with a deceased colleague's ghost so they can locate the lost loot before they end up on the local constabulary's missing persons list. You pick up on how likeable Boxy is beneath that nefarious veneer when Frank, the man killed by Boxy, admits as much from beyond the grave. That endorsement is not enough to stop the pair going on a murderous rampage as they discover the depths of Frank's double-dealings.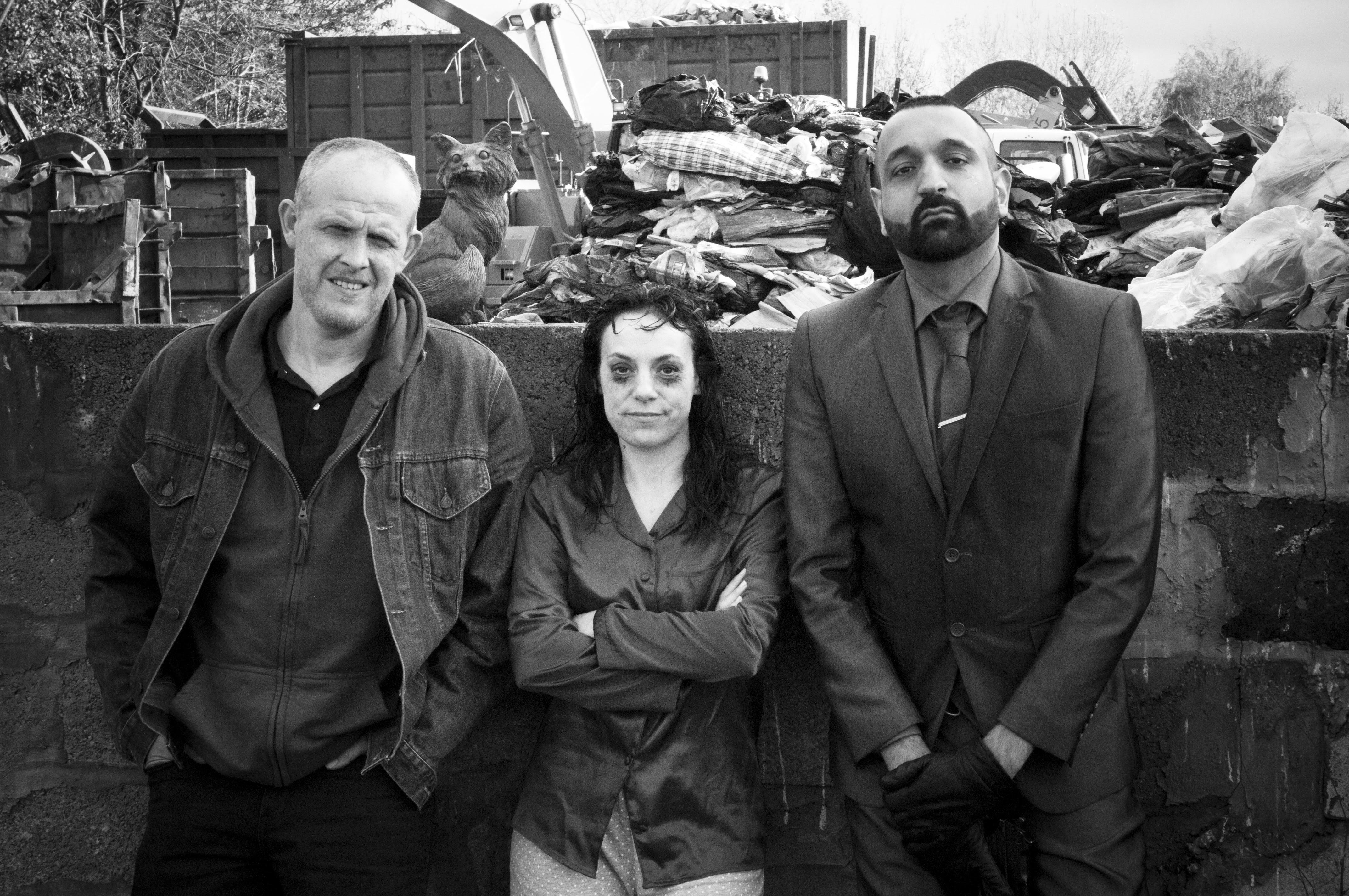 Left to right – Boxy (Jamie Cymbal) Alice (Jo Mousley) Tariq (Sid Akbar Ali)
The gritty northern backdrop as depicted by the Bradford and Leeds skylines and hand held urban shots of the region's less desirable criminal haunts give it edgy authenticity but that hard edge is never there for long. This is after all a black comedy with a well delivered one-liner never far away. One hilarious indicator of this is a scene where the balaclava'd duo are approached by an old dear who thinks they are undercover cops and she wrongly assumes they are staking out some dodgy southerners, remarking: "It's those trendy southern bastards at the end of the street isn't it? Make sure you taser the twats." The northern in-jokes are plentiful.
The horror element of the humour is both slapstick and macabre. Watch out for a memorable scene where psychic villain-tracker Alice Moon (Jo Mousley) gives it some Exorcist-style projectile vomit that will get you reaching for the umbrellas and rain macs. Alice has a few tricks of her own up her sleeve and is not a willing pawn in their supernatural plans regardless of what you're led to believe.
In a nutshell: a creepy crime caper about double crossings and dodgy dealings. A movie with a twist in the tale and one or two surprises in the car boot! A refreshing take on both the comedy and horror genres and testament to the what can be achieved on a limited budget with unlimited vision and great talent.