The regeneration of Stratford, East London has seen it become a centre of transport, communications, retail and commerce as well as a creative hub. Hot on the heels of these housing developments, Stratford International Station, the Olympic Stadium and Queen Elizabeth Olympic Park are a cluster of bars and clubs, hotels and restaurants hoping to scoop up this influx of tourists, new upwardly-mobile residents and 9-to-5ers stopping off at a lunchtime for a bite at a trendy coffee shop or a cheeky pint at the coolest new bar.
And these are no small numbers coming in. National Rail figures show Stratford as the sixth busiest station in Britain and the busiest one of all – if you don't include the central London terminus stations. So location is everything, even in a swarming vortex such as this. Moxy, a sizeable hotel bar and wifi lounge on Great Eastern Street minutes from the station, is ideally placed to benefit from this regeneration and activity.
The most remarkable feature about Moxy is it looks like one big art exhibition/interior design experience. Operated by the Moxy London hotel chain and situated next door to Kings College student accommodation, it combines the appeal of both. The university life vibe blends well with the traveller from out of town or overseas. Life-size sculptures of old-style, authentically battered suitcases dotted around the place suggest the dusty Victorian age traveller daring the Australian Outback or African Plains, rather than a stopover in East London. This certainly gives it a slightly immersive vibe and you're half expecting Sir David Livingstone to come shuffling out of the digs a Stella in each hand.
Continuing the studenty theme; aesthetic piles of books in disparate corners – again interior design elements rather than the mess left by absent-minded students. A display rack with items including Nirvana and The Who album sets, fake FA cups, 70s glam rock boots, and a life-size silver bulldog is the 'exhibition centrepiece and strategically set amongst comfy low-reclining leather seats it's a definite punter favourite. If those self-reclining chairs are not low enough for you there are beachfront –style chairs which are almost ground level so will have you nodding off. Difficult to hold a conversation but certainly decorative.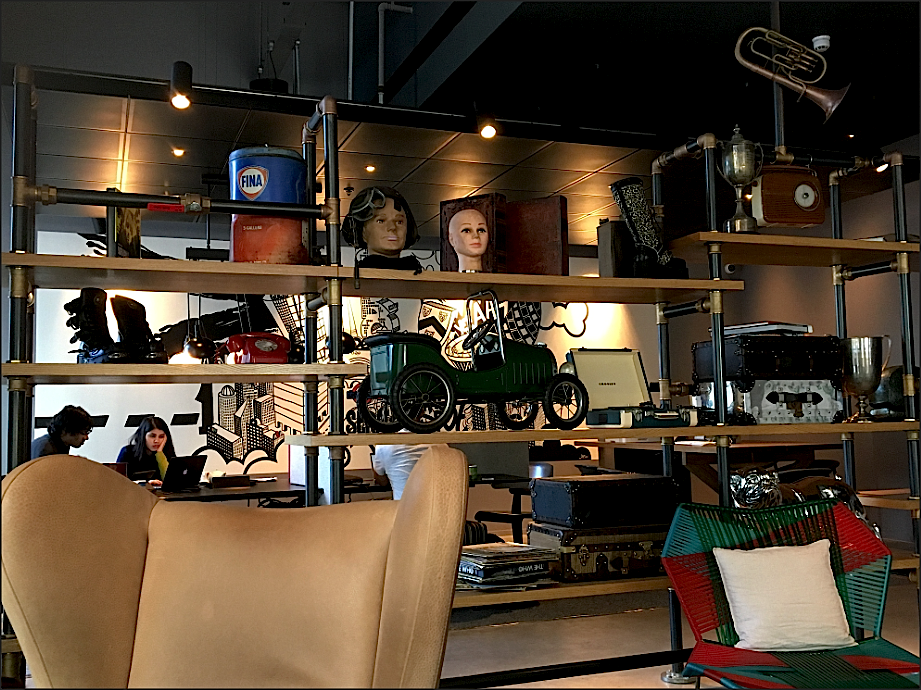 Sat here you'll also be perfectly placed to remark upon a painting/sculpture of a full-sized bike on a nearby wall, bearing the colours and symbolism of the Olympic logo. The Olympics held here in 2012 are a non-too-distant memory and a source of pride amongst locals. And there are gymnastic rings hanging from the ceiling to drum the sporty message home.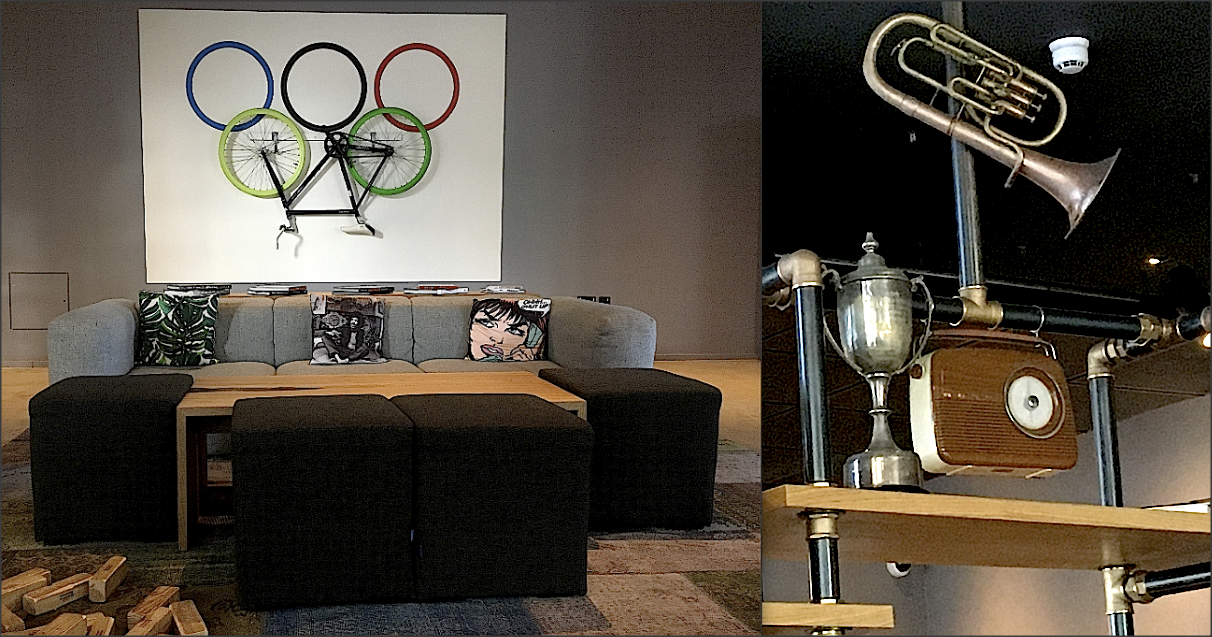 Bar lovers in and out of the area will recognize it as one of the stand out joints for nightlife based on interior design alone.