Nestled in the borough of Islington about 200 yards from Angel underground station is The Gate. In comparison to the Hammersmith location of the restaurant known to have been graced by the crème de la crème of diners such as Madonna, Paul McCartney, Stella McCartney, Gwyneth Paltrow, the Islington branch is slightly low profile. The specialty and emphasis of the restaurant is vegetarian world cuisine.  As more and more Londoners adopt vegetarianism and veganism into their diet and lifestyle, is it any wonder we have vegetarian and vegan menus and restaurants mushrooming all over? The Gate came with a good reputation of being one of the high end restaurants and so it was time to put the hearsay to test.
On a fine Thursday evening at about 7.30pm, I pushed open a sturdy glass paneled door with green borders to be greeted by the Manager who directed me to my table of 9 dining companions. The restaurant has a ground level seating  and an upper deck over a short flight of stairs with an enormously well stocked bar.
After introductions and some general chit chat, one of my dining companions complained how it took a good two hours for them to reach this restaurant from their Gloucester Road residence. When told about the Hammersmith branch they wished they'd known about it. So be warned. Choose the right location of this restaurant that makes for easy travel and if possible, ditch the car in favour of public transport especially if you are tired and hungry after a long day at work and not in the mood to negotiate traffic in central London.
Soon enough, we ordered starters, my choice being the grilled chipotle king oyster. It seemed like forever to arrive and when it did, I was a bit shocked by the density of the meal. Not only was the potion size miniscule with lots of quinoa and other disparate ingredients, there was no real 'meat' to bite into. The small potion size of the starter only left me feeling more hungry.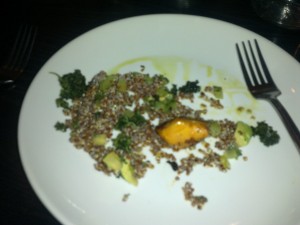 Starter: Chipotle King Oyster
My dinner mates had similar woes. Two of them who decided to order the Mezze platter and who were warned by the Waitress that it is ideally suitable for two were also disappointed by the platter potion size with two small falafels and small bits of everything else and concluded that it certainly wasn't worth £19. We all then consoled ourselves thinking this is what they call 'fine dining' translated as small potion sizes in well presented plates.
After a wait of twenty odd minutes we placed our orders for the mains. I ordered the pan fried broccoli flower ravioli. And again after an enormously long wait my plate arrived. The potion size looked about right. The meal was a bit greasy and tasted just ok. However, by the end of it my hunger had been sated. But not nearly enough as I still had cravings for a dessert. I played it safe with a sticky toffee pudding. This was the most delicious fare and made up for everything else.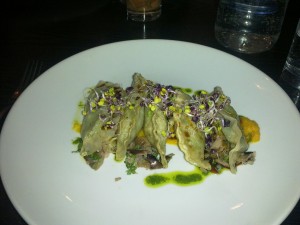 Main course: Pan fried broccoli flower ravioli
We then waited for our bill and as I glanced at my wrist watch the time had fast forwarded to 10.35pm. That's nearly 3 hours over a 3 course meal!  I then watched my group mates hurriedly say their goodbyes and rush off within minutes.
Overall, the staff and service was really good. The overall taste of food was average, some good and some neither good nor bad. The potion size of the meals on an average was small. The wait times were incredibly long. The prices were decent for a high end restaurant about £28 approximately for a 3 course meal. Not long ago, The Gate ran a deal on Groupon offering a 3 course meal for a throw away £17.50. I wasn't overly satisfied. But wasn't exactly dissatisfied with the food as I did wipe the plates clean.
Come here for the ambiance, some fine dining, good service and if you have plenty of time to gaze into a date as you get to know 'em over a long conversation or if you want to catch up reading on that book as you dine.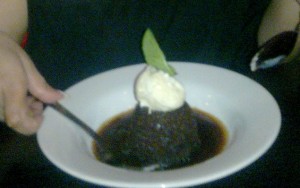 Dessert: Sticky Toffee Pudding