LEADING City of London finance and law spokesperson Barney Reynolds recently called for Theresa May to rethink her Brexit strategy, fearful of the impact it will have on one of the world's largest financial centres. May 2018 has brought to a head a number of contentious political issues that have called the PM to account here in London, in some cases leading to demands for her resignation. As the longest-serving former Home Secretary for over half a century, she is tied to the Windrush deportation crisis and other home and foreign issues that challenge her ongoing status as the 2nd female PM in UK history.
Theresa May's term will, inevitably, be judged by her handling of Brexit as her rise to the position of PM was tied to its referendum result and David Cameron resigning in 2016. The minority government hung in balance after the 2017 snap elections aimed at shoring up Brexit negotiations and she was forced to go cap in hand to the DUP in hope of a face-saving coalition. The sometimes difficult partnership has stood its many tests, not least of these has been the surge in popularity of Boris Johnson and his threat to her leadership, which she appeased by giving him the position of Foreign Secretary. 
Under her stewardship we have seen qualities emerge which are useful in identifying leadership brands within the political mix. Britain's 2nd female PM doesn't have the steely, authoritarian charisma of Margaret Thatcher or the populist statesmanship of Cameron but is pragmatic, and cool-headed. Her lack of showmanship may well prove to be an asset if she can steer past the ostentatious Rees-Moggs and Johnsons within her ranks and offer a sounder shoulder to lean on than Corbyn's leftist manifesto which has won over Labour by a landslide but left the rest of the nation unsure.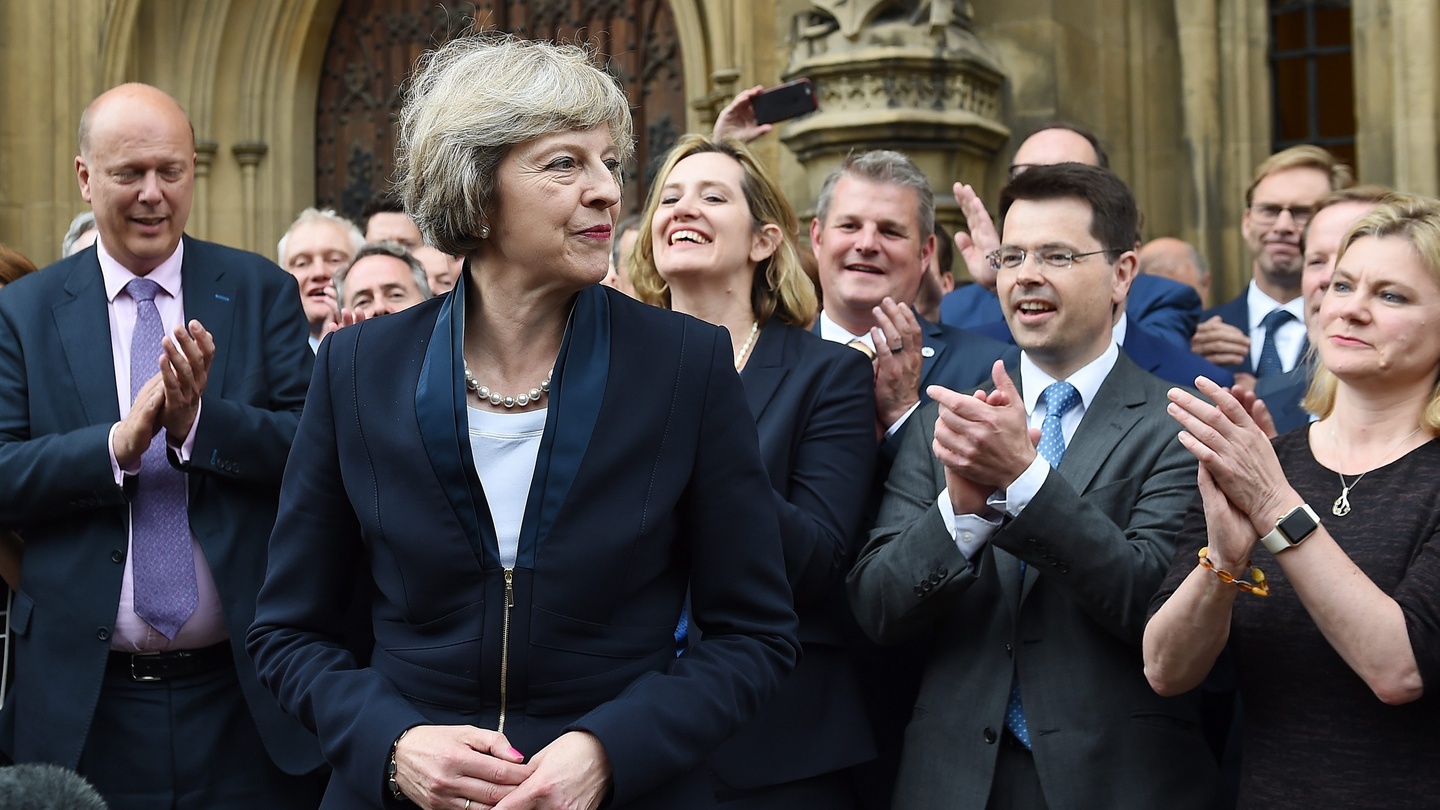 Her recent tussles with the Russian military around British waters and now the Salisbury poisoning of double agent Sergei Skripal and his daughter were crucial tests of her handling of defence and foreign policy. It was the first time since the Second World War that a nerve agent had been used on the UK mainland by a foreign power so her actions were expected to be pretty impactful. The expected extensive economic measures did not come, but there was unprecedented action by Nato nations in removing diplomats from Russia.
Perhaps, May was aware of the thin line between overacting and inaction and this ultimately steeled her hand when giving the go ahead to join France and the US in bombing Syria when President Assad used chemical weapons against his own people. This was done without a MPs' vote but Royal Prerogative gives her that option – one taken more successfully than a similar attempt to trigger Brexit without a vote. Only a quarter of the British public supported these airstrikes on the two chemical storage facilities near Homs and Damascus so she can't be accused of being indecisive or scared of antagonising her voter base.
Closer to home, the treatment of the Windrush generation during the deportation crisis has dominated the headlines. It was during her tenure as Home Secretary, 2010 -2016, that a decision was made to destroy their immigration landing cards. Her government had pushed for clearer identification of those who had legal stay and therefore access to social security and healthcare, which was why landing cards were introduced.
These same immigrants are now caught up in this identification muddle with some carted off to deportation centres and awaiting flights to countries in the Caribbean that in some cases they have never revisited in 50 years. This is particularly galling when you consider they were first invited during the 1950s at the government's behest when they were seeking workers willing to do jobs that others wouldn't. And with added irony, it was Enoch Powell's Health Ministry who oversaw the invitation of Commonwealth workers to the National Health Service. Amber Rudd resigned as Home Secretary because of the fall out but, inevitably, the buck stops with the PM.