THE EAST END of London has had its fair number of cockney rockers and crooners. The London Borough of Newham is notable among East London districts for producing an Iron Maiden guitarist who turned down the chance to play professional soccer for West Ham as well as a rock guitar-playing West Ham manager who turned down the chance to play with Iron Maiden. Here are three famous bands with links to Newham, East London.

The Small Faces
This influential psychedelic rock band was formed in East London in 1965 with an original line up of Ronnie Lane, Steve Marriot, Kenney Jones and founder Jimmy Winston. Jimmy was born in the Pigeon's Hotel, Stratford, E15 and his father was the publican of the Ruskin Arms in Eastham. He met the other members of the band in the pub and the rest is history. Ronnie only lived a couple of minutes away in Plaistow, E13 and turned up with Steve for a drink and then asked to join in with musicians jamming. They performed a couple of Beatles songs and formed an immediate bond. That same evening they went back to Jimmy's flat in Stratford and formed the Small Faces. Six weeks later they were in the charts! One of their biggest hits was Itchycoo Park, written by Ronnie Lane. Although filled with drug references, they claimed the song was about parkland in the East End where they used to go to as kids and recall constantly getting stung by nettles. There are many guesses as to its exact location with even the band members disagreeing! Little Ilford Park or the Manor Park end of Wanstead Flats has been mentioned. Newham Council named a Manor Park road Ronnie Lane in honour of the songwriter who died in 1997.

Bands influenced by The Small Faces: The Jam, Blur, Oasis, The Black Crowes.
Iron Maiden
This heavy metal band was actually formed in the East London district of Leyton, just next door to Newham, but spent their formative years in Newham. They were based at the Ruskin Arms, East Ham, a live rock pub owned by the father of Small Faces founder Jimmy Winston. Fans recall their regular shows at the pub in the late 70s before they were famous. They also played their earliest gigs at the Cart and Horses Pub in Maryland Point, Stratford. Bassist Steve Harris is a diehard West Ham United fan and even has the club's crest on his guitar. He was a talented footballer as a youth and also almost became a West Ham player before choosing the rock path instead. However, his children became club mascots; compensation for missing out on stardom with The Hammers. The band also invited the club's former defender and manager Slaven Bilic (also a guitarist) to join them on stage during their Book of Souls World Tour 2008, which had gig dates in his birthplace of Croatia. This jam was to be held in Bilic's hometown of Split at the Poljud Stadium but Bilic turned it down even though he is one of their biggest fans. Instead, he joined the cheering fans in the stadium.
Bands influenced by Iron Maiden: Metallica, Slayer, Anthrax, Nirvana
The Beatles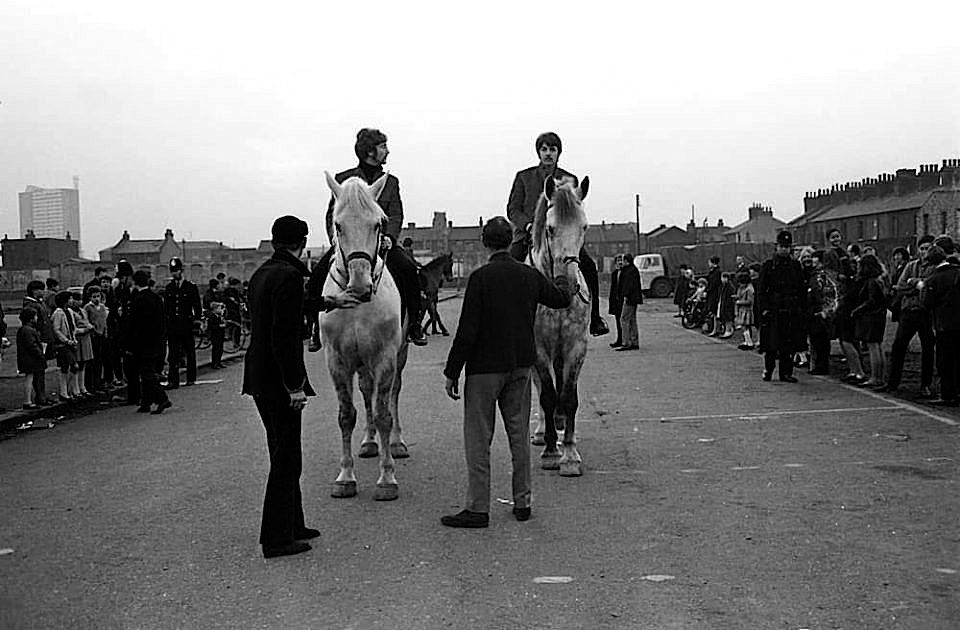 The video for Penny Lane (Liverpool) was filmed on Angel Lane (Stratford). Well actually the filmmakers shot some footage around Liverpool and the rest in this part of Newham. At first glance, the switch of locations makes little sense. Transporting production kit hundreds of miles from Merseyside to the East End of London to make a promotional film about a song reminiscing a Liverpool street from Lennon's childhood seems counter-logistical. Whatever the reason, in 1967 John Lennon, Paul McCartney, George Harrison and Ringo Starr rode around Angel Lane, Stratford on white horses while the police kept the curious crowds at bay. After filming, John Lennon escaped the crowds by grabbing a smoke outside Stratford's Theatre Royal while waiting for the rest of the band.