To mark 400 years since Shakespeare's Twelfth Night was first performed at Middle Temple Hall, the British Council's What You Will: Celebrating 400 Years of Shakespeare saw a repeat performance at the same 16th century venue in Temple, London. Much of the atmosphere of that opening night on February 2nd 1602 was resurrected in this historic building which still has a 1000 year old long table – carved from 600 year old oak and completed 400 years ago. It was thought that Elizabeth I was in the audience that night and some local tour guides claim she actually donned a cloak and mask and joined the cast. But today there were no such illustrious guests with thespian ambitions although this was adequately compensated by the assembled writers, English teachers, Shakespeare fans, linguists and lovers of the English language who had come to pay homage.
The event was hosted by the brilliant double act of linguist Professor David Crystal OBE and his actor son Ben whose Shakespearian Ensemble performed Twelfth Night while his father interrupted the performance every now and then with fascinating insights about the bard in particular and the English language in general. For example did you know that Shakespeare invented over 1000 words that are now in common use? His words such as 'amazement' and the Facebook term 'unfriend' were the first recorded use as cross referenced with the Oxford Dictionary.
And here's where I am a bit confused, and keeping to the theme of words well I have a problem with that word invented. A form of unrecorded English language must have existed so who is to say he just took words that were already in common use? I had a conversation with the professor about this during the after-show reception. He pointed out that every time historians find Elizabethan (or pre-Elizabethan) text which uses a word before Shakespeare then he loses another on his credited 1000 word list. He also points out that it is recorded words not spoken words. Another strange titbit is that during this period people just made up words on the spot to fit their purpose! Not until hard text such as Shakespeare's plays or the first English dictionary in 1604 did the language become fixed.
The Shakespeare Ensemble actually attempted a live world record – saying all of those 1000-odd invented words in 11min 8secs. A call to the Guinness Book followed shortly after. World records aside the Ensemble spent little time just reciting words. They were energetic, expressive, inventive engaging the audience whenever they could (one or two seated guests were actually involved in the record attempt).
The Ensemble's combination of actors and musicians were perfect for setting the mood with those haunting tones and traditional accordions immediately reminding one of Elizabethan England whether you were clued up about history or not. It was non-stop interaction and communication from the word go – broadcast live and receiving messages all over the globe which they answered on the spot (one from South Korea asked what was Shakespeare's favourite drink?) Did someone mention drink? On that note the event was closed by the director of the British Council thanking all the attendees and pointing the way to the aftershow cuisine which had more than a hint of Elizabethan flavour.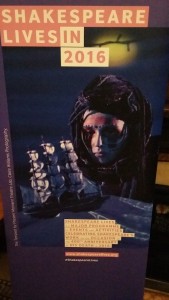 Learn more about What You Will: Celebrating 400 Years of Shakespeare