Brazilian artist Alexandre Gondim celebrates 'Connections to the Mind' his first solo exhibition in the UK. Displayed at the Willesden Library Gallery until April 29th, it's a collection of abstract works with more than a touch of South American colour.  What's Hot London? interviewed him to find out what inspired his latest work.
Congratulations on your first solo exhibition in the UK. What's your background and what's your relationship with London and the UK?
Thanks! I'm very happy indeed.  I was born in Salvador, a beautiful and inspiring city in the Northeast of Brazil, where we celebrate the best carnival in the world. In general, Brazilians have this "magic", a very accurate sense of creativity, either to create and come up with amazing things, or to face and overcome the difficulties of life. I came to London in 2012 as an AIESEC intern in a British company. After the internship they hired me and I work as a graphic designer. In the UK, I found a fertile ground to develop my artwork, without losing my origins. London connects me and my art to the world.
 How has your background shaped the way you approach your art?
My tropical roots, definitely, influence me a lot. Most of my paintings are vibrant, colourful and energetic. Also, the fact that I studied Advertising at university, and my previous career as an art director in some advertising agencies in Brazil. It is about creativity, an inventive mind or maybe a gift that I've been nurturing all the while.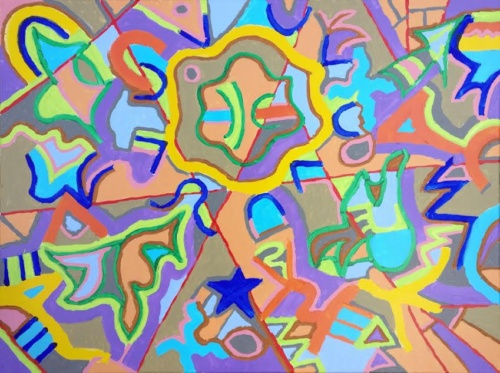 What triggered your journey to become an artist? Did you study art?
All my friends in childhood thought that I would be an engineer because I used to build the best toys. So, I started painting more seriously at the age of 13 and figurative themes with an impressionist style, in an art school. It was my first contact with many materials and styles.  However, after a while, I stopped painting. No apparent reason, I just stopped.
 At what stage in your creative development did you decide upon abstract art as your preferred medium and why?
So, after a 10-year hiatus, I started painting again. There was some sort of turbulence in my life and I found in the paints and canvases a way to express my feelings. A drop of paint fell on the canvas accidentally, then another one, then another one, so at that moment, I naturally discovered my way and my future as an artist. A harmonic chaos: Abstract Art. I named that first painting "The Eye of the Phoenix".
 What inspired your current exhibition? How did this collection of work emerge?
Connections to the Mind" is a set of 23 paintings of abstract art. They represent my effort and pleasure to make art and reach people from different backgrounds. My work has a consistent language, even though I try to diversify them so as not to become repetitive. Each exhibited painting brings a story, an emotion; they are portraits of my unconscious in the moment of their production. It was a big challenge indeed because I had a deadline to paint and produce everything.
 Do any particular famous or unknown artists influence or resonate in your work?
I'm a big fan of contemporary art. My main influences are Picasso, Kandinsky, Pollock, Miró and Romero Britto.
 How does the London art scene differ from Brazil? Can you recommend any galleries there for tourists and art lovers?
I could say London and Sao Paulo (where I lived for 3 years) have some similarities. You will find lots of galleries showing remarkable Brazilian artists. I would recommend two museums. The first one is "MASP", in the financial heart of the city, where you can find art made by masters from all over the world.  And "Museu Afro Brasil", which is dedicated to the black cultural universe in Brazil.
Alexandre Gondim: Connections to the Mind, Willesden Library Gallery, Willesden Green, 95 High Road, NW10 2SF until April 29  www.alegondim.com