With Brexit hindering artist travel to Europe and lockdown affecting countries further afield, artist Denise Wyllie reflects on her paused international connections. We discuss the importance of such influences in her work.
International artist Denise Wyllie is amongst the many UK artists bound by the restrictions of the pandemic but looks forward to revisiting the countries that inspire her work. The roadmap to the new normal couldn't come quicker for this North-London-based visual artist and filmmaker whose creative sojourns to the likes of Japan and Russia have produced some of the most striking works in her impressive portfolio.
The painter-printmaker likes to work outdoors feeding off the energy of her landscapes. Although a familiar face at David Austin's Rose Garden Centre in Shropshire, her landscapes and floral prints are also inspired by traditional Japanese cherry blossom and wisteria. Her paintings of Japan's national flower and her expressive take on the English flower garden capture the abundance of nature yet with each new print from these works there is an exfoliation of darker more sombre elements and then again the light play of spring and summer.
One might surmise that the striking commentaries across her body of work would not be so expressive without inspiration from her home country and these international trips. There's also a reciprocal spirit at play – the artist is both influenced by the countries she visits and exports her own creative and cultural stamp. Notably, she had a series of exhibitions in Petrozavodsk, in the republic of Karelia, Russia after they fell in love with her traditional English flower gardens, although her approach was anything but traditional.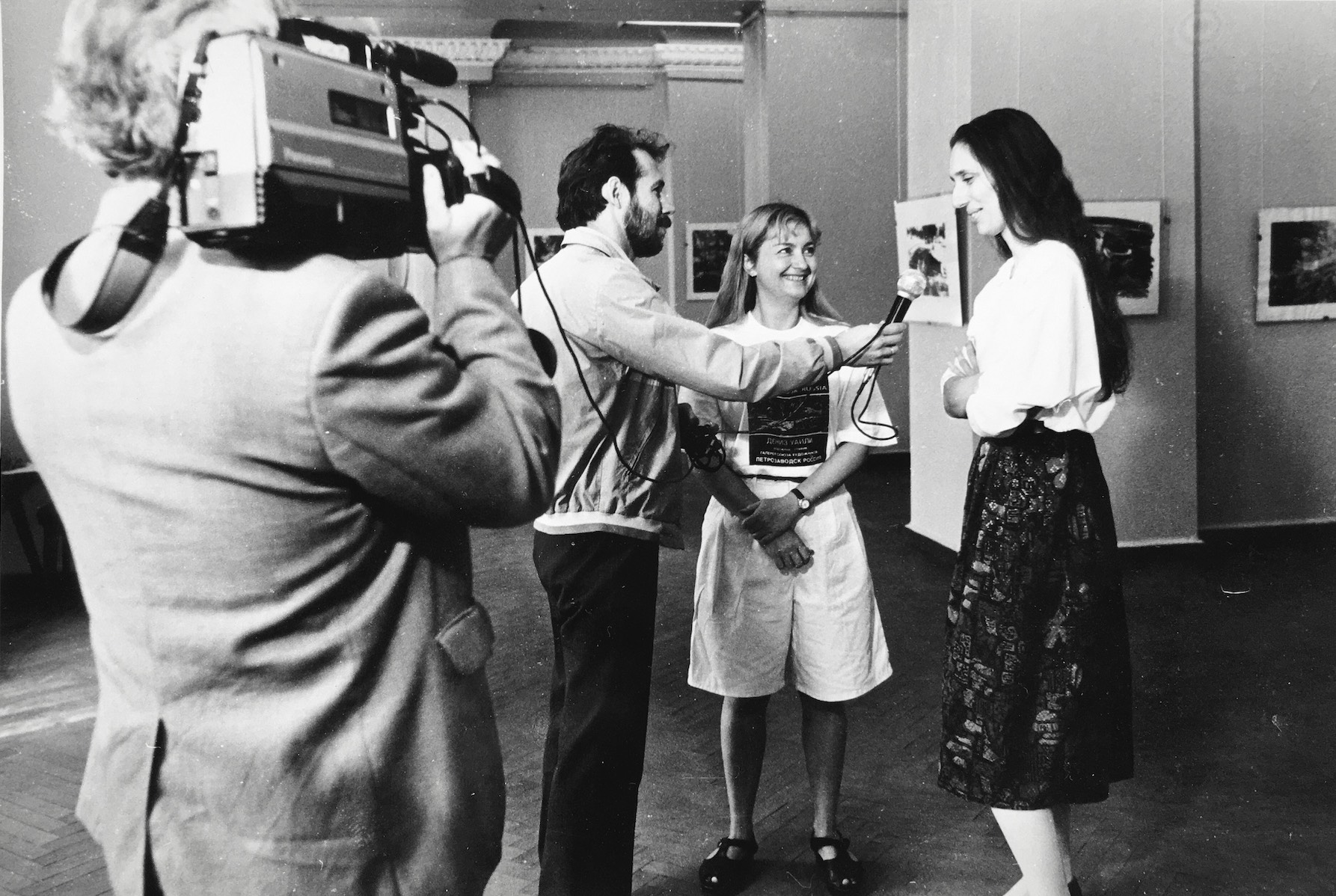 Denise Wyllie (centre), the first non-Russian woman artist to exhibit in Karelia, Petrozavodsk after the fall of the Soviet Union. TV interview with art critic Masha Yufa.
Wyllie first exhibited there in the early 1990s under the aegis of the Art Contact collective run by curators Maria Yufa and Sergei Terentjev. Her Wild Garden exhibition was held at the Artists Union Gallery in 1992 and by then she had become one of the first women artists from the West to exhibit in the region. It was an exciting time for art movements in Russia as the fall of the Soviet Union opened up cultural dialogue between the West and Eastern Bloc.
Her connection with Art Contact and Karelia has now spanned thirty years  with mutual creative exchanges and events bringing their nations and artists closer together. Her most recent, a show in autumn 2019 at the Petrozavodsk State University Karelia Dreaming. That exhibition featured prints inspired by Russian landscapes and pastel drawings of the Sacred Lakes in Karelia, now explored as photographs. The confluence between nations is clear to see in these works which show how one inspired the other. The global pandemic meant she was unable to return to the region to attend her winter 2020 exhibition at the Vyhod Media Centre, Petrozavodsk Denise Wyllie: Gardens of Paradise. Those who attended found  the floral prints 'meditative and sombre' – the expressive lights and darks through the seasons and layered thematically are a reflection of both Wylie's unique approach to her art and the UK's oscillating spring to winter weather.

So has the pandemic impeded her as an international artist? We hear from the artist herself.
Denise Wyllie: Yes, I am very much an international artist. I exhibit and interact with artists and friends living abroad in countries such as Russia, Japan, Australia, America, Italy, Puerto Rico to name a few. Some of these relationships are deep, long term and fulfilling in many ways. London is the place where I grew up. In nursery school aged 3 I became aware that I had only experienced a microcosm of the world. It's only natural that I look outside my home in the UK in the same way I did as a three year old.
The pandemic affected me in a number of ways but as a solitary painter I have been very happy focusing on my creativity. I paint all day and night until 4am. I connect with family and friends with Zoom and Facetime and go walking with friends. Yes, I felt a sad longing at not being permitted to make cherry blossom painting trips to Japan this and last spring.
In truth, I think I missed the people I usually meet and stay with more than the exhausting travelling and work I put myself through. Ordinarily, I would have been fuelled by the experiences of travelling solo through Japan and following the news reports on the areas where cherry blossom is flowering. Instead, I was cosy with my family, painting the wild, hidden nature spots in Bristol.
Also, I look forward to my annual French printmaking event  Fête d l'estampe, which is a London open studio event in May held in my studio. It keeps me connected to the international community – even during Brexit and lockdown. I  have produced a lively video clip for the festival that shows my solidarity with fellow European printmakers. 
One expects your creative flow to be somehow tied to your overseas cultural and creative sojourns. Is this so?
Denise Wyllie: It is true that I have missed the inspiration I usually get from being in Japan and Russia this year, but it simply meant my interviews and correspondence has been virtual. I am driven to excel in my creative endeavours with authenticity of expression and technique. I am seriously making an effort to stop working so hard and the lockdown has given me time to focus and stay put.
Unlike most people, I have an alarm that tells me I should be going to bed rather than get up in the morning. I am so full of ideas and projects I yearn to do that it makes me restless, so keeping in one place has been a blessing.
And the international show rolls on despite the disconnection of Brexit and the Covid 19 pandemic. There's an upcoming exhibition of her printwork in Finland, The Summer 2021 Möhkönvirta Contemporary Art Exhibition featuring 19 artists from five different countries.  Also, an invitation to take part in the 10th International Printmaking Biennnal Douro 2021.