PERUVIAN CULTURE has a bright and colourful element most obviously seen in their traditional costume but even their intricately decorated national dishes. The rain-swept London streets could certainly do with a touch of sunny Latin America. The Casita Andina on Great Windmill Street, Soho is not entirely swamped by gastronomical competitors hailing from this western South American republic, although Super Ceviche in the Kingly Court restaurant square in Carnaby Street and Old Street's Ceviche UK are just a few underground stops away.
The exterior of the restaurant suggests a small-scale establishment tucked away on the corner of Soho but looks can be deceiving. However, The small size and the building's golden hue shimmering under the Soho street lights at night are clues to the quality and quantity of service on offer. You'll literally squeeze in the door with the nearest tables to the entrance situated a compact door swing out of range. However, beyond the front restaurant there is an additional dining area and also more of the same upstairs.
If you're expecting something exotic by way of the country's multi-coloured image and South America's association with mouth-watering dishes you won't be disappointed. Perhaps with the portions though. The starter, at least, can be forgiven its economical size. However, by way of compensation few can match the delicious, melt-in the mouth flavour of their Chilaso nibbles; with tempura fried amarillo chilli and bacon fresco cheese fillings, they look a lot like bite-size corncobs but taste nothing like. Divine!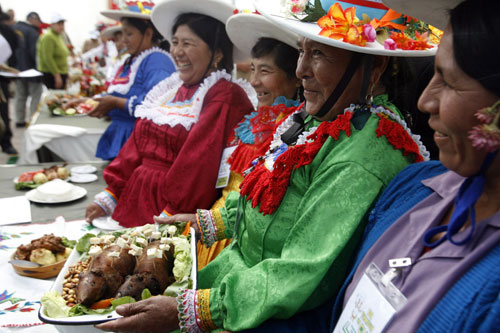 The waiter advises you early on that all portions are small so one would suppose the early warning should be a concern. He actually advises three to four dishes per person but you'll probably need more. Small + delicious = moreish (or still starving and pretty tormented!) Typically, your second dish should be a cultural introduction to the Peruvian ceviche signature dishes. Fishing is one of the nation's main industries so these ceviche seafood dishes are a proud and valuable export.
Still, you might want to put the seafood on hold once you realise the alternative is a Causa Trujillana mash potato like you've never had before. A snake of a dish peppered in multi-coloured herbs and spices, yes the presentation is a thing of beauty but it's still noticeably small. Once you savour that heavenly blend of artichokes, mangos, avocados and rocoto cream, size will be forgotten. At least until you finish.
The third and final dish is a welcome sight when those rumblings in the stomach have you thinking of a Burger King munch once you're out the door. It cannot, however, match the exquisite values of their Bistec Pachamanca, which is grilled fillet steak of the highest order. You'll quite literally be mumbling "delicious" through mouthfuls. Faultless, succulent, the compliments are endless. It comes served with aubergine, chia pudding and escabeche gelee. Yep, everything's still small though. Tiny perhaps, even by gourmet standards.
For those of you who want to try out Peruvian alcohol their Chilcano cocktail is a dazzling mix of lime, ginger ale, Barchol acholado pisco (wine), and Peruvian Chuncho bitters. There are no red wines available from the home country but a decent range of Malbecs, Pinot Noir and Merlots etc. Adventurous teetotalers can opt for some Emoliente Cold Tea, pressed with quinoa, linseed, horsetail (not a real one) and alfalfa sprouts. Top that for exotic! If you still leave hungry at least you've dined in one of the best restaurants you'll find anywhere in London and one can probably get a midweek table without booking.