Claude Monet's painting of the harbour at Le Havre Impression: Sunrise (1872) gave its name to the Impressionist movement which emerged in France, led by Monet, Renoir, Degas, and Cezanne. Art critic Louis Leroy poured scorn on a joint exhibition held by these four artists in 1874. However, his scathing attack and the title of his review 'Exhibition of the Impressionists' struck a chord in the artistic community and public consciousness because the name stuck. Monet was certainly the most prominent among them as regards Impressionism and his painting's title certainly helped.
A few years before this he sought refuge in London from the Franco-Prussian War. While avoiding conscription he intended to continue his painting with the help of art dealer Paul Durand-Ruel whom he met in London. It was Durand-Ruel who transported Monet's paintings from Paris to London and later became an avid purchaser of Impressionist work. The French men he bumped into in London would have a big impact on his career – including artist Charles-Francois Daubigny whose contribution as his mentor was so significant that he vies with Monet as the founding father of Impressionism.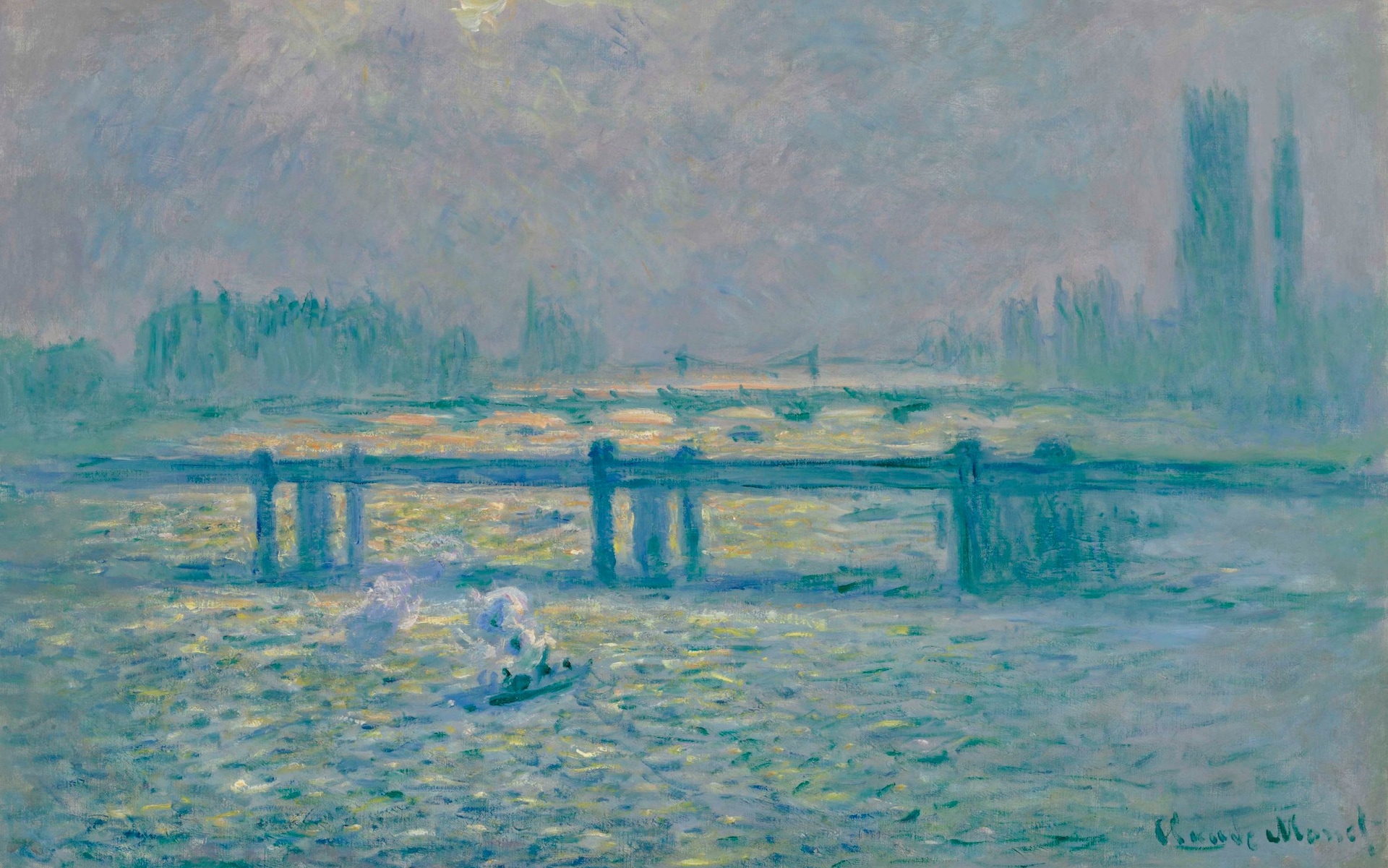 Charing Cross Bridge (1903)
However, Monet painted only three paintings in seven months here and sold none. It was a difficult period for him because despite his family's wealthy background, income from his work was severely disrupted. Also, he had the added anxiety of the financial welfare of his wife and young child who had travelled with him. To add to his discomfort, his father died while he was away. This was such a dark period that it would be 30 years before Monet would return to London but by then his workload would be more prolific and cover the major London landmarks. His visits in 1899, 1900 and 1901 were in stark contrast in other ways. Now a rich man, he stayed at the Savoy Hotel and sat on its balcony where he painted 37 views of the Thames including Waterloo Bridge (1903). He exhibited all 37 at Durand-Ruel's gallery in Paris, a show that later became recognised as one of his most impactful. There were also hauntingly misty paintings of the Houses of Parliament, which he made while working from a terrace at St Thomas' Hospital.
'Early this morning there was an extraordinary fog, completely yellow; I think I did not too bad an impression of it; it's always beautiful, in fact, but so very variable that I've had to start a lot of canvases of Waterloo Bridge and the Houses of Parliament'
Notably, Monet was not afraid to be unflattering in his depictions of London in a way British artists never dared. He painted the London smog but gave its grim appearance aesthetic relevance. Even though he maintained: "Without fog, London would not be so beautiful," such a murky depiction was considered a no-go by the capital's artistic community. From these comments you can see his wealthier standing had a positive impact on both his mood and workload. Indeed, American artist John Singer visited him at the Savoy and found him working on almost 100 paintings at once. It's no surprise he was unable to complete them all and had to take these sketched and half-painted canvases back to France.
And the final word from Monet about the unpredictable British weather (diary extract): 'Here comes the sun again, though, is it going to stay this time?'