A cluster of East and South East Asian eateries on Old Street within a stone's throw of each other are testament to the growing popularity of Vietnamese and Korean cuisine amongst Shoreditch clubbers and pubbers. Their strategic location has much to do with the confluence of nightclubs, bars and other late night entertainment outlets particularly at this mid-section of the stretch of road approaching Charlotte Road.
There's a growing preference for quick fix, but nonetheless mouthwatering, street food menus which have the dish selection of comparable restaurants but none of the ingredients and cooking methods of fast food joints. Vietnamese cuisine is one of the healthiest choices on the high street
As with most gastronomical fads and trends that prove successful, these proprietors have been blessed with a combination of factors, beyond location and client footfall. Chief amongst them is curiosity about Vietnamese and Korean culture and a desire to share in it, if only briefly, and without stepping on a plane.
For those unfamiliar with Vietnamese food, they focus on the five elements of Water, Fire, Metal, Wood and Earth which cover balance in taste, fragrance and presentation. Water refers to salty food, Earth is sweet, Fire is bitter, Metal is spicy and Wood is green food. There's a hint of influence from China and France as  Vietnam was a colony of both these countries and they left their mark on the Vietnamese staple.
Korean cuisine has the flavours of Southern Manchuria filtering into the traditional dishes. Their street eats have other national blends, with their fried chicken emerging from the Korean War and the diets of the American soldiers stationed there.
It wasn't an exaggeration when we said that the three main eateries are right next to each other. The Cay Tre (Vietnamese Kitchen) and On The Bab (Korean Street Food) are almost right next door to each other, while the Keu serves up more Vietnamese street food directly opposite, just across the road.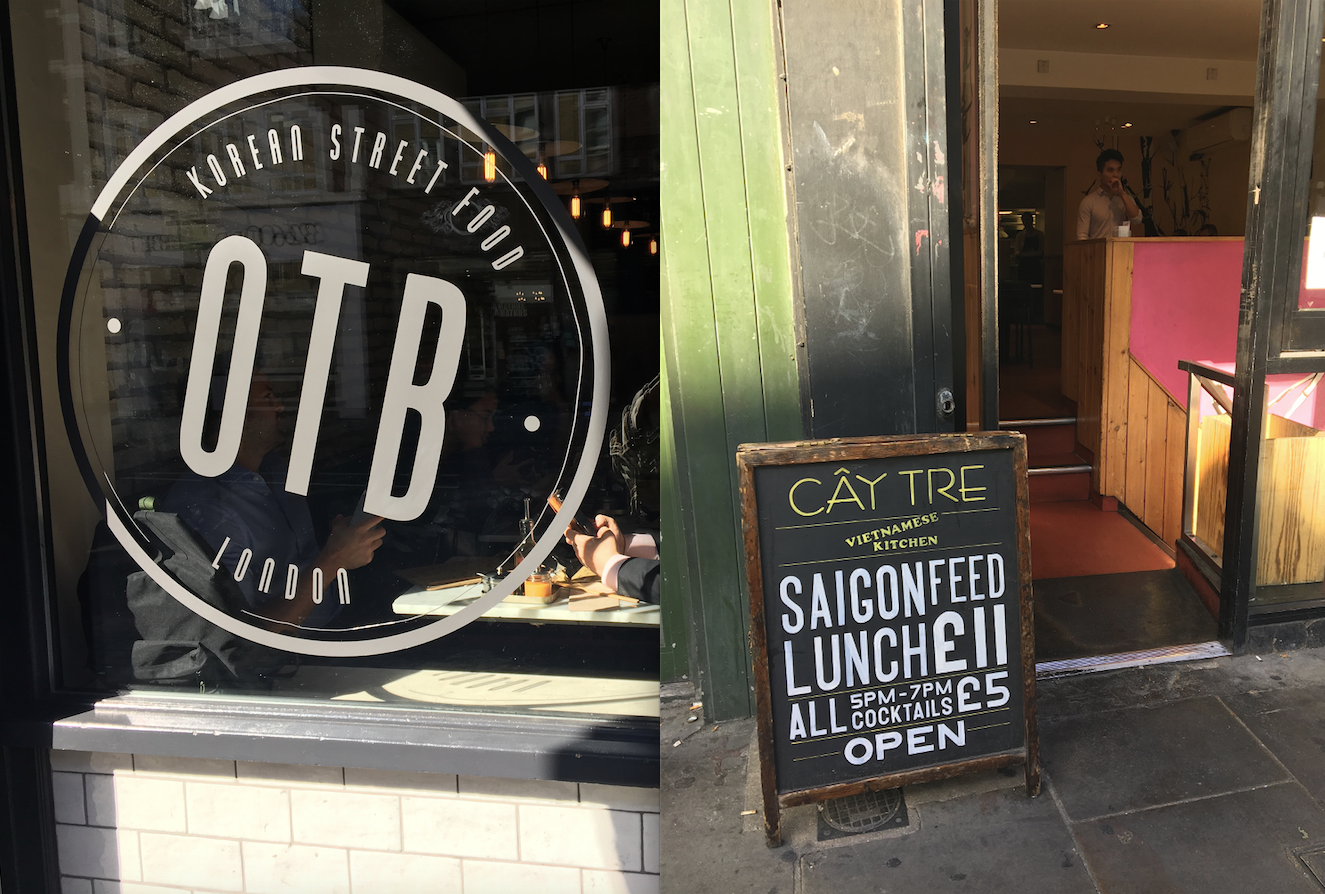 On The Bab (Korean) and Cay Tre (Vietnamese) are right next to each other on Old Street.
The Cay Tre and Keu are both branches of Vietnamese Kitchen. The deli menu at Keu brings Saigon into the heart of East Central London while the Cay Tre serves up specialist dishes from Hanoi. The culinary differences from city to city present an intriguing opportunity to sample and see.
The £12 Saigon Lunch deal offered by Cay Tre might tilt the choice in that city's favour if you are on a budget but price ranges across Vietnamese Kitchen and On The Bab eateries are pretty decent. Described as a 'Saigon Feed', this set lunch includes a side and a main dish.
Vegans and those seeking the folate and nitrate benefits of leafy greens might opt for the Choy Sum side dish which some might recognise from Chinese cuisine. This leafy plant is served with the stalk an essential part of the meal and not just with leaves as with the spinach and cabbage British diners are more familiar with.
The Vietnamese Chicken Curry is a delicious filler of sticky white rice (which makes it easier with chopsticks) and creamy yet pretty spicy curry. Hot enough to have a bit of a bite – but what do you expect from a curry dish? Not so much a lunch special as a full-on dinner that gets you your money's worth. You won't feel like returning to work after a lunch time munch of this size but there'll be little else to complain about.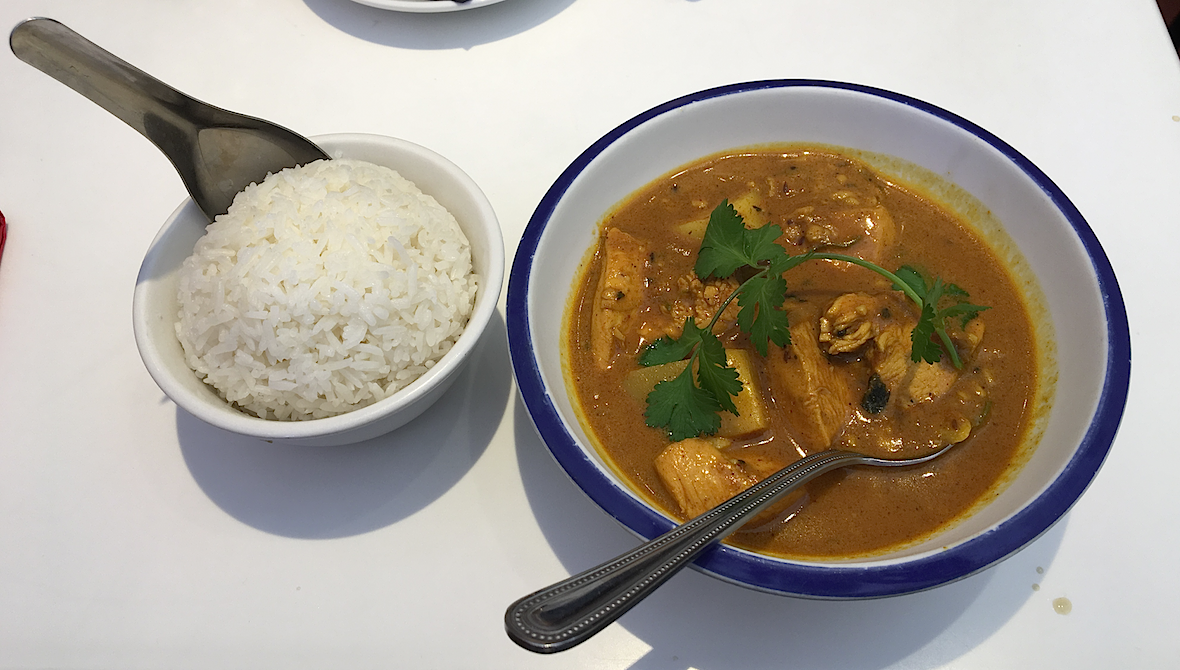 Vietnamese Chicken Curry with Rice
This early autumn is more like late summer with all the warm weather so you may desire a cool beer instead of the traditional Vietnamese Drip Coffee but you really should go for the latter, if only to sample their filter process and how a light base of condense milk fits into the final beverage.
More What's Hot London? restauarants