Damien Hirst found fame in the nineties as leader/curator of the pivotal British artist movement the YBAs (Young British Artists) well now he's invested that entrepreneurial spirit into his own gallery. His Newport Street Gallery opened mid-October on, yes, Newport Street, Vauxhall after three years of development and with much media fanfare.
Voluminous and clinically simplistic it is very much an artist's vision of the kind of space required by fellow artists to bring out the best in their work. The five buildings comprising the exhibition space were once his studios but Hirst will be curating work from his extensive collection – 3,000 or so at the last count!
The exhibition will kick off with paintings by John Hyland produced from 1964 to 1982, each floor covering a different decade in his artistic evolution, ranging from Rothkoesque geometric paintings developed as an abstract expressionist to jarringly original colourist work with poignant gestures of dripping paint. All of these large scale pieces lean towards the broader appeal of abstraction without distraction and are an ideal choice for the launch.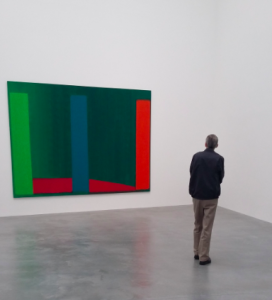 Next year, there are plans for an adjoining restaurant called Pharmacy 2. (Hirst once had a restaurant and bar in Notting Hill Gate called 'The Pharmacy').
Entry to the Newport gallery is free. The gallery is open Tuesday to Sunday 10am-6pm.