With Women's History Month in its second week, it is important to remember the woman who wrote the first book advocating the rights of women and is rightly recognised as the first feminist. Mary Wollstonecraft was born in Spitalfields in 1759 and her social and political views emerged during the age of the Enlightenment when reasoning and logic began to challenge superstition, religion and tradition. Titled A Vindication of the Rights of Women, her book became a bestseller and thrust her into the limelight with its demands for a just society based on reason, with women central to this political philosophy.
Her reputation as an outspoken social campaigner multiplied when she married William Godwin, the founder of the anarchist movement. During this period she moved to an address in Somers Town, St Pancras which would become the established family home. She died 11 days after giving birth to a daughter who would grow up to be even more famous and etch her own legacy. That woman was Mary Shelley, writer of Frankenstein and wife of poet Percy Shelley.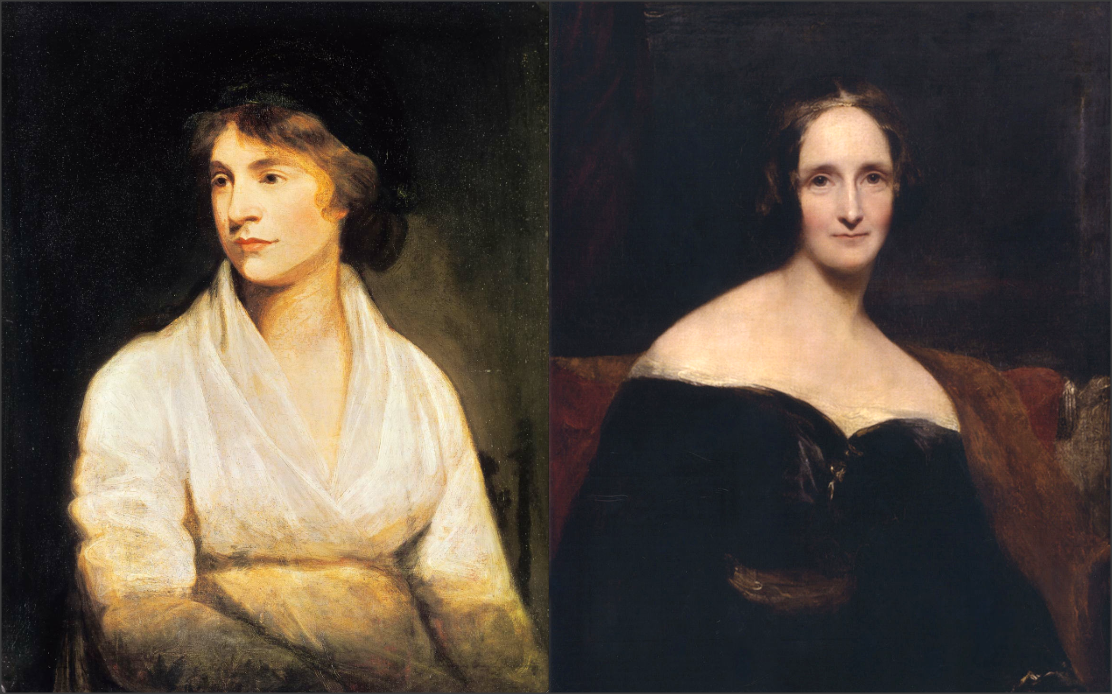 Mary Wollenstonecraft (left) Mary Shelley (right)
Two members of one family but with very different contributions as regards the achievement of women during the Enlightenment and beyond. In 2015, Camden Council wary of the way a gothic horror novel had eclipsed Wollstonecraft's equality campaigning, announced they were naming a Kings Cross street after her. The council made her a nominee in a street-naming competition which attracted 10,000 entries, with the public vote leaving no room for doubt.
There were initial concerns that her three-syllabled name might be a bit of an effort for taxi drivers and pizza delivery men and the like but with great prescience, the global consciousness decided otherwise and predicted it wouldn't be such a tongue twister. And it really was global. Nominations came in all over the world from India to Russia. Councillor Sarah Hayward Leader of Camden Council, said after the decision was made: "She paved the way for me to be Leader of Camden Council, and for all our political parties in Camden to be led by women. It's a wonderful decision and I celebrate it"
________
The family home in Somers Town, Kings Cross, where Oakshott Court now stands, was not the one named after her. Set on a residential square somewhere between Euston and St Pancras it's hard to picture such pivotal figures striding these streets with all the societal change and architectural transformation. But a brown heritage plaque has pride of place above the street sign. Notably, it points out Wollstonecraft lived here but, for once, there is no mention of her more famous daughter or her creation Frankenstein.
A brief walk around Oakshott Court reveals lots of red-bricked urban functionality. Even though Hungarian architect Peter Tabori's design has a post-modern, ubiquitous quality which he intended to bridge the divide between middle and working-classes, it certainly no longer has any essence of the Polygon residential area where Wollstonecraft recalled walking across fields to get home. In the 18th century, it was a magnet for the middle classes escaping the French Revolution.
________
Today Polygon Rd is round the corner, just off Oakshott Court. Some local lads with the demeanour of a street gang huddle together chatting furtively but with none of the menace of poorer and more dangerous parts of London. No graffiti anywhere and not a crisp bag or cigarette butt in sight. Perhaps this type of anodyne yet easy-on-the-eye social housing should be copied all over London and might contribute to a fall in crime rates. Not the social equality Wollstonecroft imagined but still a fascinating look at how that particular address may have changed over the centuries and how her legacy lives on.