If you haven't heard of Tattoo London by now then you must have nodded off in the city that never sleeps! This three month-long exhibition is significant enough to warrant recent TV coverage on the major channels all hailing London's proud history as a centre for tattooists and this celebration of their work. It runs alongside Punk London, an exploration of that subculture's connection to body illustrations and punk rock's emergence as the most significant canvas for the art since tattooed sailors!
Talking of tattoos and sailors, the exhibition charts its beginnings before even Christopher Columbus set sail but points out London's first professional tattooist –Sutherland MacDonald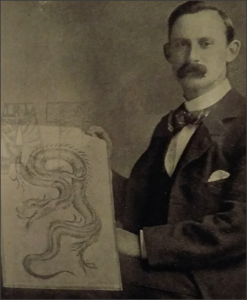 – did not set up shop till the 1880s. His full time job was as a supervisor at Westminster's Hammam Turkish Baths but he freelanced between hours showcasing his illustrations on the bodies of the rich and influential. Monarchs such as George V and Edward II soon made it fashionable in royal circles and MacDonald's business prospered quickly as a result.
With the onset of World War I his position as King of the Tattooists had been usurped by George Burnett who also benefited from his association with powerful clients. Denmark's King Fredrick IX was rumoured to be a visitor to his Waterloo Rd parlour. However, he also catered to a wider, loyal client base that included members of the Armed Services. He loved the glamour and spotlight that came with the job and as well as the constant stream of press interviews there was TV appearances and even his likeness in a movie.
The exhibition also looks at the work of more contemporary names and their metropolitan take on the art and none more so than Claudia de Sabe. She was born in Italy, works in London but her tattoos are often inspired by classic Japanese illustrations. Now there's an international mix for you!
The Tattoo London exhibition is on at the Museum of London until May 8.