Essex-born photographer Ian Treherne has a degenerative eye condition which vignettes out most of his peripheral vision. This perspective on the world echoes some of the creative choices in his work. You'll notice pretty quickly which of his works best capture this unique perspective.
Indeed, 'Simi' one of the first photos you see as you enter the front gallery, is the portrait of a black male and cropped so tightly that his hairline, ears and chin disappear in the darkness. This spotlit face breaches the shadows with an expression one can best describe as contemplative.
'Sleep', which captures a female nude's back as she lies on her side, also has this cameo lighting style and there's a hint of it in 'Back' with the female nude now sitting upright. However, apart from these, his eye condition's perspective is never obvious in any of the other singularly titled works on display.
What is more apparent is his self-confessed love of vintage cinema. The sepia-toned filter on Gaze captures a 1930s woman in a flapper girl hat gazing through a window on the upper floors of an undisclosed building. The sunlight marks out her headwear with a halo effect and bathes the wallpaper in gold.
The natural lighting in Gaze is in stark contrast to the strong, intense directional chiaroscuro in the portrait of a bearded male (Beard) on the wall opposite. This brighter lighting is also used in his portrait of singer Lisa Stansfield, with the glare so uncompromising that it dares to light up the true character beyond the veils of celebrity.
"My mission as an artist is to find my place in the ever evolving society in which we live. I have never felt I 'fitted" Ian Treherne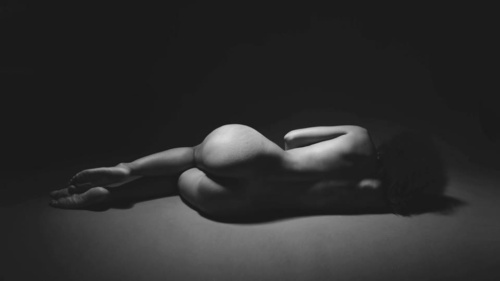 Ian Treherne: Release at Fiumano Projects Wren St, WC1X 0HF. 5th Feb-10th March