Croydon-based comedian and rapper Michael Dapaah, more widely known as

Big Shaq

, burst onto the scene in 2017 with his viral hit Man's Not Hot which peaked at number 3 in the UK charts. He now returns with the much awaited Buss It Down which he hopes will emulate the great success of his Youtube smash, which achieved 320 million views! Below are his achievements since Man's Not Hot topped the charts.

* Man's Not Hot in the UK charts for 25 weeks
* Michael Dappah listed at No.28 in the 'Top 100 UK influencers' by the Sunday Times Magazine
* Wrote, directed and starred in the SWIL Youtube series which amassed 1.2 million views
* Ambassador for Jeans for Genes
* Nomination for 'Hero of The Year' for NME Awards
* Wins GUBA's 'Rising Star Award'
* 'Personality of the Year' on GRM Daily Rated Awards
What's Hot London? editor Eddie Saint-Jean speaks to him about the factors behind his success and whether Buss It Down can match the dizzy heights of Man's Not Hot.
We've seen the different characters you play in your Youtube mockumentary SWIL (Somewhere In London). You're a pretty good actor. How did you get into comedy and acting?
Being funny is a gift I realised I was given from a very early age. I didn't ask for it, to be frank I wanted to be a footballer and a doctor when I was in school. I loved football and played as a striker. With medicine, I wanted to emulate my father's footsteps, but realised early on I don't like blood so that was a myth. Being funny came naturally to me, it is God-given and I'm grateful for it. A car ran over my foot, so my football dreams got shut down. It eventually healed but I realised 'nah'. I was a class clown since sixth form so everyone agreed. I shut down the talent show when I performed and I knew then I had a gift for entertainment, I wanted to be a part of the arts. 
Coming from a lineage of first generation immigrant parents, the only vehicle they knew to success was education so that was instilled in me. The challenge was escaping the entanglement of physics, chemistry and biology, which I had lost the love for. I'd overstayed my welcome. It was like staying at a job for too long, it begins to become a nuisance rather than a blessing! I also saw the joy that I brought when I was performing, which encouraged me to pursue it.
Would you describe yourself as primarily a rapper or a comedian?
I'm an actor who is a comedian and can rap. Primarily, my gift is in comedy, I'm gifted in those areas. Creativity is subjective, you may not like it but if the masses do, do you think I'm paying attention to the minute percentage of people that don't? Come on!
Would you ever do a straight, non-comedy rap? 
Yes, for sure. I think I've got some songs that are more straight up, but may have sprinkles of comedic references. It's my style though, that's what's makes me unique. I'm not trying to be 50 Cent, Jay Z or the rest, I'm trying to be the best Michael Dapaah and express myself through the vehicle of music how I want to.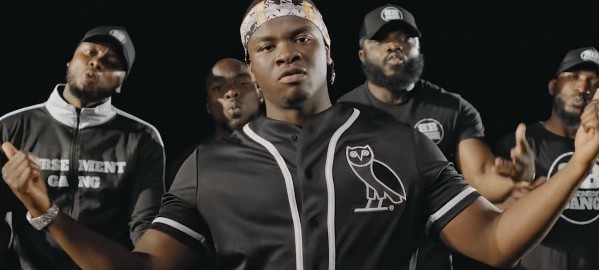 Man's Not Hot was a great success. Why do you think it proved so popular and went viral, and did it take you by surprise?
It's different, it's entertaining, it's authentic as to where it comes from and has the blessings of God on it. I'm a man of faith, we create from a happy place, irrespective of being broke or not having much going on. I create with the people in mind – how's this going to affect the audience, the consumers, my fans, my supporters? I have four pillars upon which my work has to abide by – love, joy, motivation & inspiration. 
Do you think Buss It Down will repeat that success and what are your promotional plans for this single?

Buss It Down will do what it's suppose to do. It's a different track to Man's Not Hot and I'm not trying to compare it in anyway. I just want people to enjoy and vibe to it. 
In terms of promo, we have a bus going around London and when the video comes there will be some content activations around it!