There are only three Marco Pierre White Steakhouses in existence and you'll find the first of these to open tucked away on Middlesex Road just a few minutes from Liverpool Street station. In operation since 2008, it is an award-winning restaurant with its pièce de résistance steak similarly decorated for being a class above the rest.
Of course, the clued-up diner comes to such a steakhouse tipped off about the Aubrey Allen master butcher cuts of Sirloin medium rare, Fillet rare, Rump medium rare and Tail-on-Rib medium and you can appreciate that a Marco Pierre White Steakhouse will approach these classic British dishes with some Michelin-starred attention to the discerning palate.
A four-course meal with a starter of Cream of Celeriac (roast garlic) is a fitting signature for the richness that runs through every meal to come with our selection. Indeed, that includes the recommended glass of 10-year-old port which is so sweet it goes down well with the starter, hors d'oeuvres, main and dessert alike.
Don't be surprised to discover that this starter is so silky and creamy it might prove a little filling even at this early stage, but not enough to put you off the three courses to come. It's remarkable how these tiny gourmet portions are so well-rounded that by the time you get to the fourth course you begin to wonder whether you can finish dessert. Yes, they've got the amounts just right no matter how much the eye deceives.
And you might just want to cast that eye around this refined establishment a couple of times and notice the framed cartoons in every corner lampooning the Tory government (the John Major era). Hopefully, one particular drawing of a naked John Major parading on a canvassing catwalk won't put you off your hors d'oeuvres – Chicken Liver Parfait with Toasted Brioche, in this case.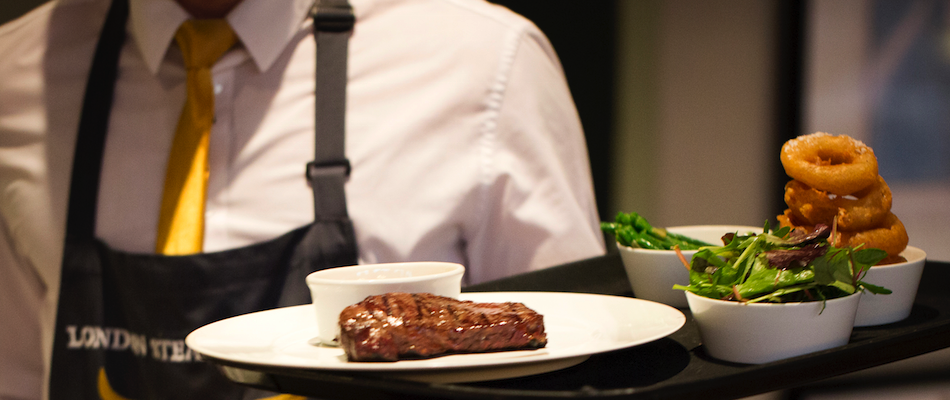 If you decide to forego the customary rump steak and plump instead for Honey Roast Pork Belly Marco Polo, the difference in size might irk but not if you've chosen a side dish of creamy spinach to round it off. At this stage, one will not fail to notice the Marco Pierre White signature style is the concentrated richness with an element of indulgent wickedness served in these tiny refined portions and with a dotted elegance about their presentation.
And if you can finish your dessert try the Chocolate and Chestnut Truffle Cake with Griottine Cherries as your 'tah dah' moment. Even former PM/Chancellor John Major would approve your final fiscal dalliance with little need for quantitative easing. And with Major's Supreme Court appearance still fresh in the memory, it's good to know that even in Brexit Britain first-class dining Remains just that. 
Marco Pierre White London Steakhouse 109-117 Middlesex St, City of London E1 7LF