The YBAs (Young British Artists) first came to prominence in the Freeze exhibition (1988) organised by Damien Hirst. In the 1990s Tracy Emin emerged as one its stars. Here we look at the movement's remarkable ascent and creative legacy.
LONDON art movements are few and far between but when they have emerged it was with a creative fission that left an indelible cultural mark. The Pre-Raphaelites of Bloomsbury are particularly notable over the last 200 hundred years and more recently the 20th-century Pop Art movement, despite prominent links with Americans Andy Warhol and Roy Lichtenstein, was started by the Independent Group, based at the London Institute of Creative Arts.
These are all important demarcations in UK culture and art history, but there's been a dearth of contemporary headline-making manifestos and the few that have emerged have been transient and lacking vitality and originality. That wasn't the case back in May 1992 when art historian Michael Corris used the term Young British Artists in contemporary art magazine Artforum, to describe a crop of exciting new artists led by Damien Hirst. The brand name stuck when repeated in 1996 by Art Monthly.
Damien Hirst is now a multi-millionaire household name who can price his work at $100 million, but in the late 1980s he was at the vanguard of this loosely-tied group of artists who had just graduated in BA Fine Art at Goldsmiths. He organized their exhibitions in empty industrial properties across the capital, beginning with Freeze in 1988. Despite it being their first as a group, it attracted one or two high profile art collectors. Charles Saatchi attended and purchased 'Bullet Hole' by Mat Collisaw, a photograph of a bullet wound assembled as fifteen different transparent snaps on individual lightboxes. The Freeze show's title came from a description of Collishaw's piece in the exhibition catalogue.
Hirst and Collisaw were not the only notable exhibitors. Sarah Lucas went on to become a prominent member of the YBA's, recognized for her erotic visual puns, substituting fruit, veg and other suggestive objects for body parts. Interestingly, Lucas was, for a while, the partner of artist Angus Fairhurst. He was in the same year as Hirst at Goldsmith's but organized a group exhibition before the YBA's Freeze. However, it was the Hirst-led movement that rose to prominence, although he and Fairhurst would later became colleagues socially and artistically. This is a remarkable illustration of how movements emerge on their own momentum as if somehow pre-destined but on closer scrutiny linked to the more powerful contacts and serendipitous timing of the more successful.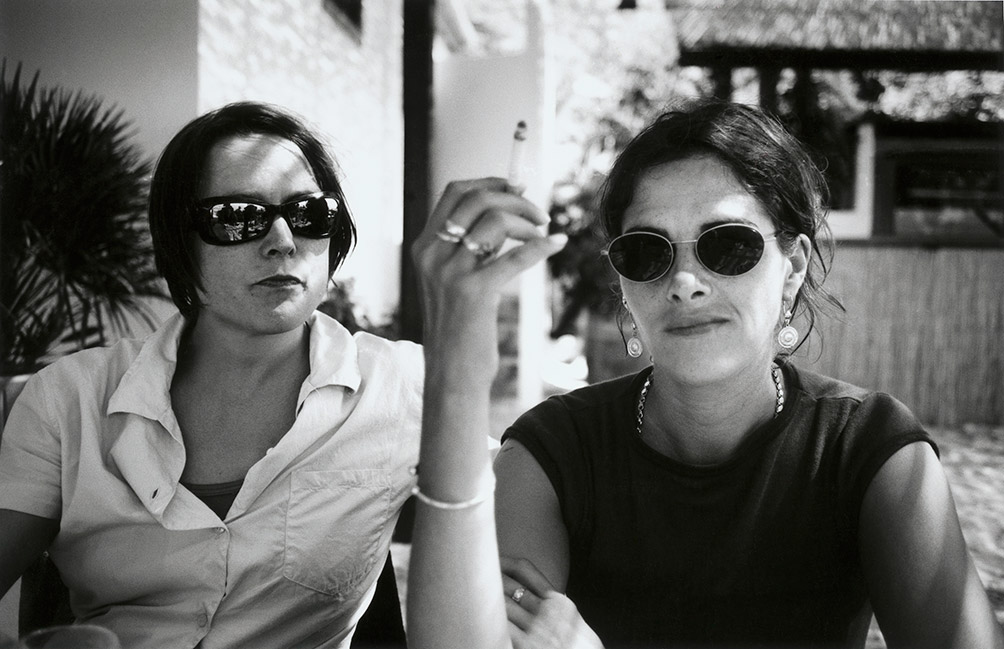 Sarah Lucas (left) Tracy Emin (right)
In June 1990, Sarah Lucas and art writer Henry Bond organized the East Country Yard Show at a warehouse in Surrey Docks, as the YBAs formed tributaries off the energy of Freeze. Their unstoppable entrepreneurial spirit can be seen by the choice of exhibition space. The building in South Dock was four times the size of Saatchi Gallery and each artist was given a 200-foot-long space. Michael Craig-Martin, Hirst's tutor at Goldsmith's, certainly, carried influence in the art community because he convinced Nicholas Serota, the director of the Tate, to attend the next YBA exhibition. Neither, Saatchi nor Serota can be considered lightweights, so the YBAs were beginning to build superstar traction even at this early stage.
Tracy Emin would eventually become the movement's second biggest name after Hirst. Since those heady early days as YBA 'enfant terrible', she has gone on to become Professor of Drawing at the Royal Academy. This is quite ironic when you consider another notable art movement, the Stuckists, was formed by her ex-boyfriend Billy Childish in 1999 as a backlash against the post-modern, anti-art drawing she is known for. The Royal Academy finds itself juxtaposed in the tussle between art movements and their disruptive manifestos. The Pre-Raphaelites had their own backlash against Academy principles and caused a stir in 1848 by rejecting the Raphaelite (Raphael and Michelangelo) Renaissance aesthetics of the Academy's founder Sir Joshua Reynolds. Today, by its very history and architecture, it is still a bastion of tradition but has learned to embrace new and revolutionary young British artists – unabbreviated.