A murder-mystery unfolds on the Murdér Express steam train departing from a reconstructed early 20th-century train station at the Pedley Street Arches, Brick Lane. Is it theatre? Is it a pop-up restaurant? Well, few before have 'popped up' with the lavish attention to detail and period grandeur of this immersive dining experience presented by award-winning creative collective Funicular.
From the moment you check in with your tickets at the station entrance and wander onto the 1930's-style platform, you are transformed back in time, sharing this immersive stage with an array of colourful characters before beginning your fateful but fun-filled journey to the fictional town of Murdér in France. Like the distinguished guests of the Titanic, you are aware of your privileged position on this historic maiden journey but, similarly, sense disaster is just around the corner. Train travel can be a pain at the best of times but back then it was Murdér.
While waiting for your luggage to be loaded and the signalman's whistle, you can grab an exotic, train-themed cocktail at the Pedley Street Station Bar on the platform. Don't worry, it's a real bar. All the platform's your stage but while the thespians are probably on the coloured soda water, the Murdér Expresso Martinis and such like are for the passengers. That's an exotic mix of vodka, espresso and coffee liqueur and there are other steam train-themed cocktails with names such as The Conductor, Loco Motive and Piston Sour.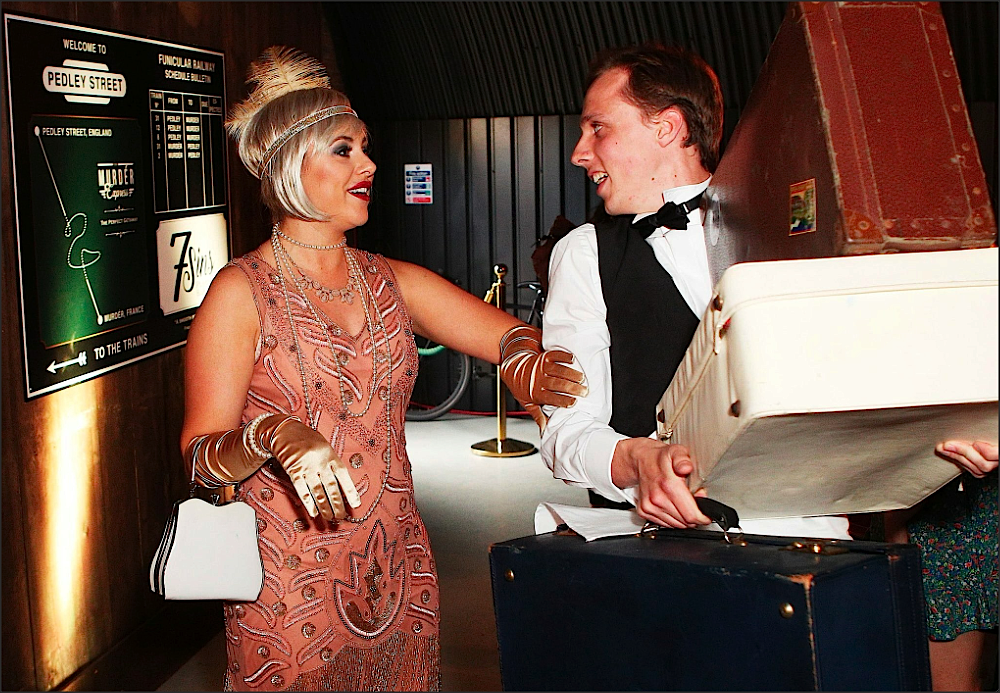 After cocktails, the conductor instructs the passengers to board the train's luxury dining carriages where they are served first-class meals prepared by Masterchef 2016 finalists Billy and Jack. If the period table lamps and projections of French countryside through the carriage windows are a reminder of the delights of early 20th century first-class travel, the green napkins with the word Murder in gold are an ever-present sign that murder, mystery and adventure are only a few bites away.
And what delicious bites they are! The three-course meal consisted of Mulligatawny soup and Indian spiced open cucumber sandwich to whet the appetite before the drum roll main: Butler's Steak, stuffed pressed scallop potatoes and Savoy cabbage. Vegetarians can opt for the spring vegetable pithivier and seasonal vegetables. The dessert – apple tart with clotted cream, a la Lady Portarlington.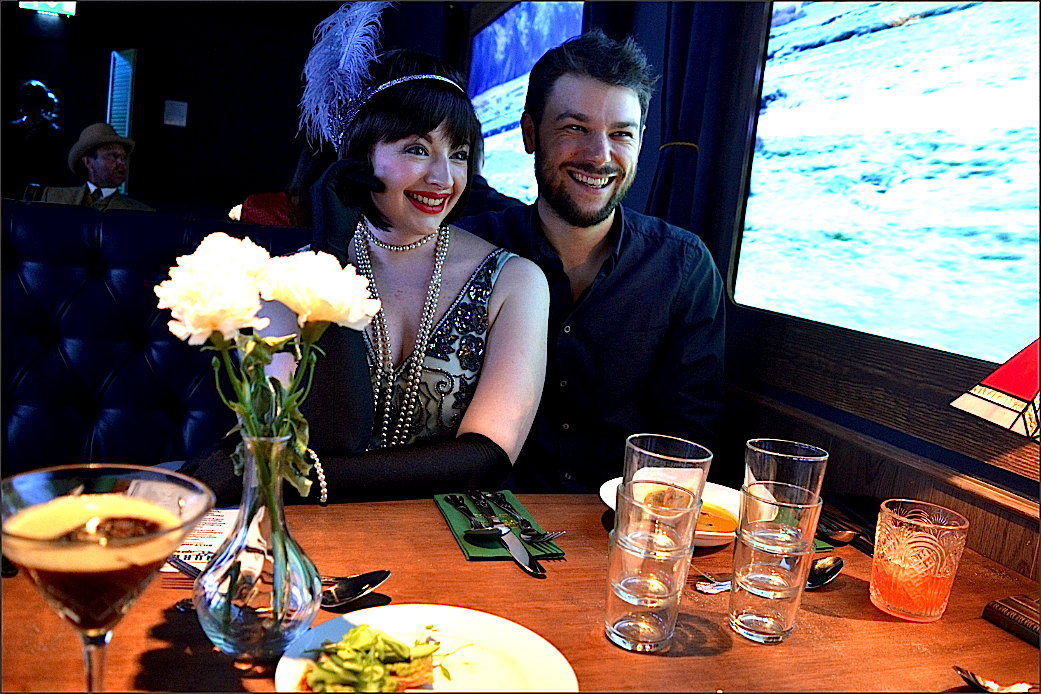 East End spiv Frank Fletcher, upper-class widow Vera Valentine and fashionable flapper girl Tilly Tulip are a few of the characters who might turn up on the seat next to you as this whodunnit unfolds. A murder is committed. With no detective onboard it is down to the conductor to find the villain. Watch out for the vial of poison that lands on your table. Once the unfortunate victim cops it, the passengers just might cop the blame. Unless, of course, they can help solve this murder-mystery.
The Murdér Express Pedley Street Station, Arch 63 Pedley Street, London E2 6GS, from May 25