ITV's Sunday evening tribute to entertainer Sammy Davis Jr was a combination of dazzling tap dancing skills and commentary on the racial politics of 1950s and 60s America. Host Bruce Forsyth described him as the best black tap dancer ever – pointing out that the hunched shoulder style differed from the stiff, upright style of white tap dancers.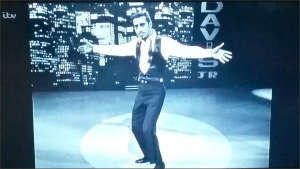 Archive black and white footage of Davis's Harlem hometown showed the mean streets of a thriving jazz environment where he was born into a showbiz family, including a Cuban dancer mother who left the family fold when he was still young. This seemed to have little effect on his creative development as he was a TV star at five years old showcasing his prodigious dancing skills to an awe-struck American audience.
His biggest break came when he joined the Will Mastin Trio and they capitalised on this new fascination with television. One indicator of the times came in 1952 when the Trio wowed the Colgate Comedy Hour, a variety series hosted by Eddie Cantor. Forsyth points out Cantor was so overwhelmed by their performance he pulled out a handkerchief and mopped Sammy's brow. This caused uproar in America because of black-white power relations. Davis Jr received hundreds of offensive letters while Cantor's bosses threatened to sack him. Cantor refused to back down and instead threw his weight behind the Trio and even encouraged Davis to embrace his own Jewish faith.
However, the threats increased. Forsyth tells how in 1957 Sammy Davis was in love with white actress Kim Novak but death threats crashed the relationship. This was despite the fact that his immense popularity was already causing America's racial divide in the entertainment industry to wane. Harry Cohn, head of Columbia allegedly ordered the Mafia to put the heat on him and 'encourage ' him to marry black singer Loray White instead. Which he did, unsurprisingly!
Nonetheless, his star continued to ascend, culminating in a starring role in the movie Oceans 11 with best pal Frank Sinatra. During this memorable golden period the RatPackers shot the movie during the day and performed a now legendary impro session at the Sands Hotel and Casino. It turned down 18,000 reservation requests and none other than John K Kennedy was in the audience. Many of their gags walked a thin line regarding the racial politics of the day – including one where Dean Martin put a white sheet over Davis Jr's head.
For a man so loved and reviled equally, it was no surprise to him when this treatment continued on the other side of the Atlantic. The programme makes no apologies for stating that he broke racial barriers in entertainment but the relationship ones refused to fall. Forsyth interviews contemporaries who claim that Oswald Mosley's blackshirts waited for him outside London's Pigalle Club while he was performing, furious that he was in the UK with his white Swedish wife. Also President Kennedy banned him and this same wife from his inaugural and told his best pal Sinatra to pass the message on. Sinatra, it has to be said, never let his pal down and was even best man at his wedding.
Although the 1970s saw him lose his way a bit as new trends emerged and a record deal with Motown fell through after one flopped album, it was in this decade that he had his biggest hit "Mr Bojangles' ironically about an entertainer who didn't want to accept his vaudeville career was over. In 1990 he died aged 64 in his new home in the Hollywood Hills after a three year battle with throat cancer.
Perspectives: Bruce Forsyth On Sammy Davis Jr. ITV 11.15pm.