Budding playwrights who want to get their work out there will appreciate this pitching event with a difference. Hosted by the award-winning Coin Theatre Company, ten selected writers get their opportunity to pitch before an audience who get to vote on their winner. But wait – all of this takes place on a 20th-century Dutch barge The Battersea Barge, moored on the Thames with the winner sailing away with prize money taken from a percentage of ticket sales.
The event itself is 'pitched' as a networking opportunity for theatre professionals and amateurs with live music to entertain between nominees and VIP tables available for parties of five with a bottle of Prosecco thrown in for the £85 price. Those choosing this option also get a photo package of the night. A standard ticket costs £8.
Everyone wins on the night when you consider these ten playwrights have been shortlisted from thirty long-listed entries. And even the losers get to be consoled by the attending directors and producers who may yet still show interest in their work regardless of audience vote.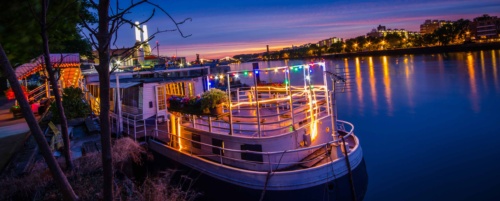 Playwright's Speed Pitching Thu, March 9, 7.00pm-10.30pm, The Battersea Barge, Nine Elms Lane, London SW8 5BP