The first Cat café originated somewhere in Asia. The western world was quick to catch up. While there are a handful of cat cafes and some more mushrooming in the UK, Lady Dinah's Cat Emporium is the first of its kind in London. Opened in 2014 amidst much curiosity and hype, like all other cafes of its kind, Lady Dinah's too charges a cover fee. The visits are slotted and timed up to 90 minutes. Compensation of time for late arrivals is solely at the discretion of the café staff as the venue is usually pre-booked days or months in advance and heavily so on weekends.
The café on Bethnal Green Road is easily accessible, a 10-15 minute walk from Liverpool Street station and a shorter one from Shoreditch High Street station.
Spread over two floors at basement and ground level, cats are of course the star attraction of the café. As you make your way through the light green glass paneled door, you will be asked to wash your hands at the sink for Health & Safety reasons before you are led to your table. The ground floor is well designed with a window at one end, a wall mounted stair case allowing cats to hop easily while the far end of the wall has a cute little cat tree with diwans, beds and settees where cats rest forming a beautiful display through the glass facing the road inviting curious and amused glances from pedestrians.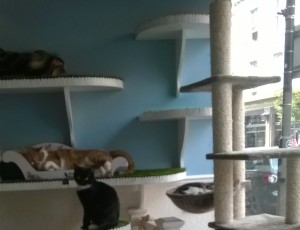 Many cat toys and cat hiding burrows are strewn across the floor. Cat brushes and colourful feather wagglers can be used by visitors to brush the Cat coat or draw a Cat's attention. Dim lights from a chandelier and piano music in the air lend quaint feeling to the café.
A spiraling staircase leads to a basement with parapeted floor of sofa tables and regular table-chairs evenly spread. A huge wheel for cats to spin stands out with another cat tree. You are allowed to take as many photos and videos as you wish but do turn off the flash light on your device. Do not awaken a sleeping Cat or disturb them in any manner.
The café's website lists all their cats but you may see up to 5-7 on any one floor or all if you check out both floors. Some might be hiding behind a sofa or in a cylindrical cat scratcher on the floor. Each cat has a name giving them an identity. If you look them up before going to the café, you might recognise 'em.
The café accepts booking for standard a-la carte as well as a set menu for high tea in tiered plates. No cooking in their kitchen, so no hot food. That explains why the tomato hummus bagel was a bit too hard and so very cold. The sticky toffee pudding cupcake couldn't possibly have gone wrong but it did! The icing was a bit hard and dry suggesting it might not have been fresh. The Americano was the only consolation with milk provided in a cute bottle.
The waitresses are attentive, prompt and spin you with many cute cat tales. They even provide you with shredded fish for cat feed should you wish to feed a Cat while some have the unpleasant job of spraying the air freshener following a cat fart or cat poop. Oh yes the stench can be unbearable. Be prepared! It is relieving to see the cats are trained to poop in special containers. Do wash your hands before you exit the café!
Despite the cold hard food and if you don't mind the cat hair and litter, the experience can be absolutely delightful.Whether a cat lover or not, the cuteness and antics of cats will amuse you, enthrall you and bring out your nurturing instincts.
A cute little café for that awkward first date too where you can discuss cats to break the ice or get distracted by them if the date isn't going to well.  And if you're coupled up, cuddle up with the cats together! To make a booking, visit Lady Dinah's Cat Emporium website.