German artist Magnus Plessen new exhibition at the White Cube follows on from his earliest show '1914' which was influenced by Ernest Friedrich's anti-war book War Against War whose graphic photographs revealed the horrific realities of the battlefield and showed bodies maimed by automatic weapons. In this new exhibition this dislocation of body parts is still a running theme with his figurative and abstract work presenting the human form as disjointed, unashamedly 2D and with limbs, heads and eyes breaking all the rules as regards compositional and spatial relationships.
The drawn out, scraped back colour of these paintings still convey the disembodied, hollowed out atmosphere of the '1914' battlefields. With the oils saturated to the point they almost have a watercolour-like feel in parts, the harsh lateral brushwork removes all semblance of beauty from the work and flattens the figures. Without a three dimensional element you are left with the aesthetics of representation, not the reality. And that representation is gloomy, bordering on the ghoulish. There are unannounced bursts of saturated colour but then again there are also fried eggs and vases. This theme runs frequently – as if an ironic play on still life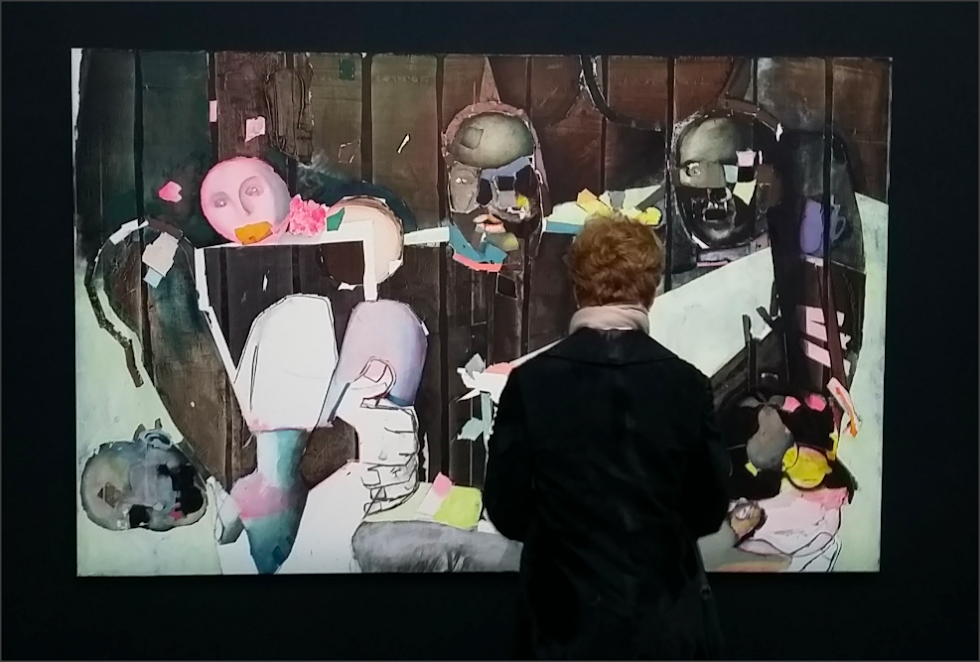 The cut-out of body parts such as eyes, which randomly appear anywhere give them a ghoulish, frankenstein feel. 3D form is only found in the uncompromisingly pink-hued naked figures in the centre ground, positioned to draw the eye yet still moored in Plessen's signature – an uneasy, straight-edged scaffold of abstraction around these figures. You'll notice there is wooden board or fencing in the background of each one, here marked and intentional as a device to hold the composition. It reminds the viewer in an uncompromising way that there are rules that exist to be broken even where you have set a compositional standard.
Summing up, if  Ernest Friedrich's anti-war book was so impactful because it stripped away the glory of war by showing stark, undoctored photos, this exhibition will make you consider the traditional beautification of art in general and the human figure in particular. The uncomfortable shadows we like to keep hidden are often the most impactful.
 Magnus Plessen: The Skin of Volume is at The White Cube, Mason's Yard, St James's until 14 Jan 2017