The 10th anniversary of the Sunday Art Fair, Oct 3-6 promises a celebration of international young and emerging talent, with 30 galleries from all over the world exhibiting at Ambika P3, Marylebone. Amongst the UK contingent are London-based galleries Annka Kulty, Hackney and Roman Road, Bethnal Green.

The art fair encourages experimentation and unfettered artistic expression, priding itself on the discovery of innovators and free spirits. The aforementioned Roman Road gallery is chief amongst those pushing the boundaries of what's considered art, with their featured artist Dennis Buck's canvases in some cases looking to all extent and purposes like the booth walls. Well certainly sizeable enough to cover these walls, pointedly draped over them, as they are, to invite discourse on the themes literally stamped on the art.
His work is a comment on the signature of the artist which is often seen as more important than the work itself. You'll notice these sun-bleached canvases and sculptures of household items branded with his name in disparate corners.
His gallerists point out that a recent Botticelli exhibition fits this bracket of signature-powered art, but artist Marcel Duchamp was closer to the truth back in 1913 when his Readymades ushered in a radical form of anti-art which sold based on the label/brand/signature of the artist rather then the object itself – 'object' being the literal description of the urinals and bicycle wheels that Duchamp exhibited. So idea-based art, a world away from the likes of Botticelli. It's with some cockney pride we find this East End gallery holding its own with the cream of Europe and North America – but since the artist is a Berliner it's a truly international effort.
Talking of international efforts, Alex Foxton is a born n' bred Londoner, represented by Galerie Derouillon, Paris whose entire body of work (for the Sunday Art Fair, at least) is a series of portraits of Spanish bullfighters. Portraits in the broadest sense of the word, as there is an expressionist (small and capital E) aesthetic in the deliberately gangly, bandy forms of these glamorous toreadors. These figures never seem to lose their grace despite the skewed and introspective depictions.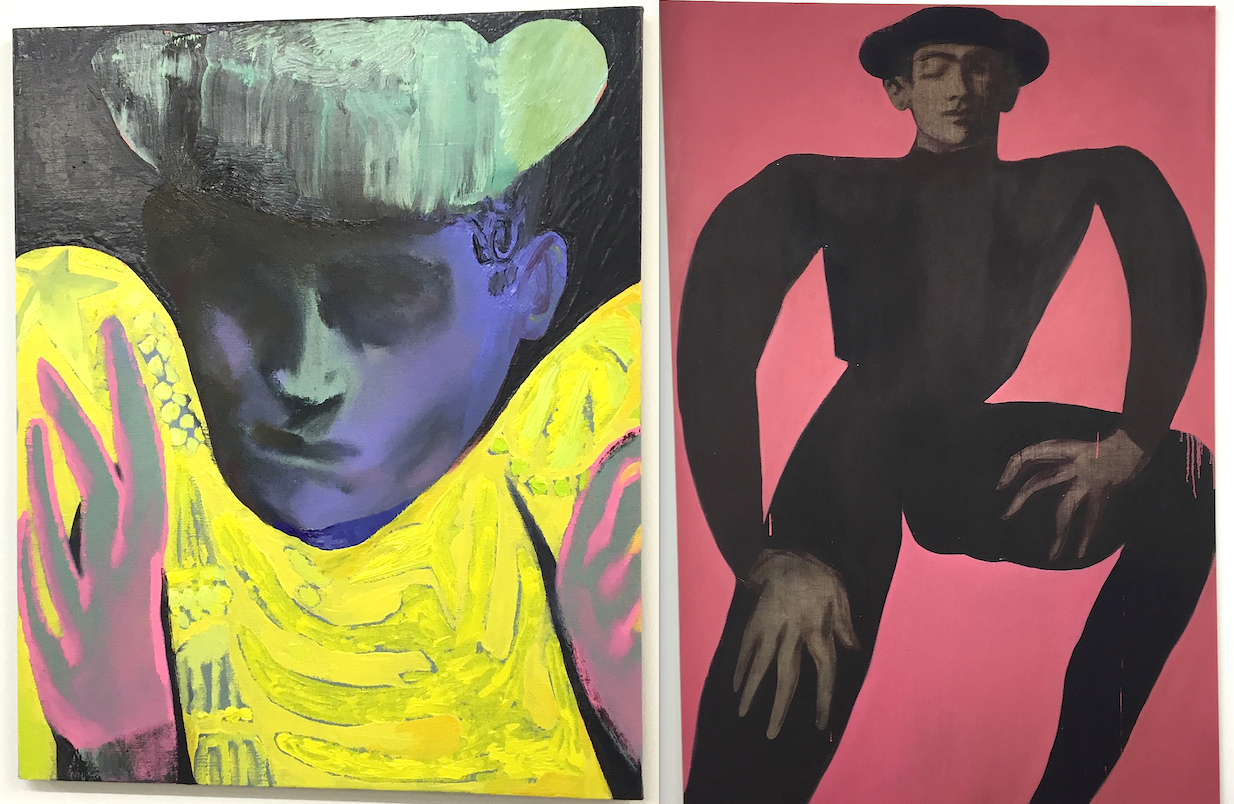 Artist Alex Foxton, Galerie Derouillon, Sunday Art Fair 2019
There's an obvious Picasso influence. Picasso also featured toreadors and Spanish bulls symbolically in his work, but Foxton goes a step further in a clever homage, and one of his 'portraits' even looks similar to the Spanish master.
Engage in a conversation with LA gallerists ltdlosangeles about the Abstract Expressionist feel in the work of Spencer Lewis and they will put you right about the importance of material as well as medium, compounded with the historical and social context of the paintings. There's an undoubted influence from the Clement Greenberg-led 1950s art movement, but this contemporary artist creates using his African-American ancestors at the heart of his work.
He paints on a canvas of sackcloth called jute which was historically used by impoverished slaves and freed slaves to make clothes when they couldn't afford to buy or sew their own. Therefore, a comment on their socio-economic status and Lewis' connection to his heritage from the vantage point of a 21st-century black male artist.