Britain's history as a global naval power during the era of empire is preserved in splendid grandeur in Greenwich's National Maritime Museum and ideally located within walking distance of the harboured Cutty Sark so you can make a day of it.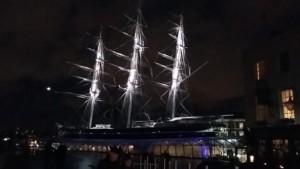 It's surprising to learn that at its height the British empire covered a quarter of the globe and for over a century used its naval supremacy to remain the most powerful military force on Earth. However, on the ground floor the variety of exhibited ship's figureheads (found on the front of ships) have an almost fairground feel about them, light and colourful and sometimes garish. Kids pose with them playfully as their tourist parents snap away but on the upper floors there is a little less frivolity.
Britain's involvement in the transatlantic slave trade is so considerable that it required an exhibits room to itself. Its entry into the trade is marked by a portrait of Sir John Hawkins (1532-95) a merchant and naval commander who made his name fighting against the Spanish Armada, later becoming the first Englishman involved in the trading of African slaves. In his four trips to Sierra Leone he transported 1200 slaves to Spanish buyers in the Caribbean.The mock-up models of ships in display cabinets and numerous oil paintings of slavers on the high seas indicate how Britain's naval prowess would eventually make it the world's no.1 trafficker of this terrible human cargo. These ships transporting 3.4 million Africans as against the 12 million total for all countries.
The navy sought to underline this global dominance in a Seven Year War with France in North America (1756-63) over slave territories. The two countries were both super powers of their day whose skirmishes would continue on and off until 1815 but Britain would gain most.The many presentation swords on view are testimony to that: to Admiral Sir John Thomas for victory in the Battle of San Domingo, West Indies, Captain William Rogers for outmaneuvering French pirateers near Barbados even when outnumbered and Vice Admiral Sir John Duckworth's sword was presented by the Jamaican Assembly for defeating a French fleet at Saint Dominique.
Gruesome relics of slave rebellion are also exhibited. A rusty guillotine dated 1790 was used on royalists in Guadeloupe as the French Revolution triggered uprisings in Caribbean territories. Also covering the same period, a wooden bust of Jean-Jacques Dessalines, the deputy to Haitian revolutionary leader Toussaint L'Ouverture. Dessalines would eventually become the island's first head of state in 1804.
Lord Nelson's emergence as Britain's greatest naval hero is celebrated with magnificent full length oil paintings which give him a sensitive almost scholarly demeanour.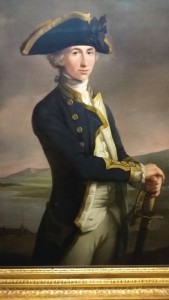 One painting strips away the glamour and shows him traumatised by battle with an amputated arm and wearing a blood splattered shirt. This injury, we are informed, occurred during the Battle of Santa Cruz de Tenerife (1797) in The Canary Islands. He lost hundreds of men during this defeat and museum exhibits such as these leave you in no doubt that officers were fair game in the throes of war. The amputation affected him emotionally and physically and his exhibited letters reveal a sense of failure here. In those same letters he refers to his arm stump as his fin.
Interactive devices provide a running commentary on every aspect of naval life. Cartoon depictions of the way in which the notorious press gangs virtually kidnapped the common man into service hardly serve as recruitment posters but nonetheless did not hinder Britain's ability to assemble the most formidable navy the world had ever seen.