Throughout autumn the Victoria and Albert Museum will be hosting a festival that celebrates the art, artefacts, textiles and culture of South Asia from the 3rd century to the present day with a variety of exhibitions and events, including the opportunity to win a dream two week holiday in India. The winner will also get items of authentic handmade Lena cashmere. The TV personalities are here too – on December 3rd, Monty Python's Michael Palin shares his experiences travelling India for his BBC series Michael Palin: Around the World in 80 Days.
However, on November 13th indo jazz musicians The Arun Ghosh Quintet were the main attraction in the Gamble Room. Led by clarinetist/composer Arun Ghosh this internationally renowned outfit play a distinct blend of Indian-influenced rhythms with a hint of rock and funk but mesmerisingly conducted by Ghosh's feverish and passionate clarinet playing. You can feel the energy before you even enter the venue – this isn't for the fainthearted. It's full on and hotblooded and you cannot help but be absorbed into the leading man's stomping, whirling genius. Wow! This is entertainment with a capital E! Packed to the rafters and the audience craning their necks through the crowd to catch any glimpse, not wanting to miss a moment. If you are of the digital generation that doesn't 'get' live music then you will be converted in one evening.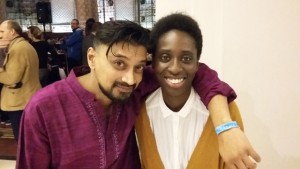 Ghosh's band are a Benetton ad's brand of India. A black female on guitar, white male on tabla drums, oriental female on trumpet, an Indian male on guitar and Ghosh himself fronting the band on clarinet. Universal representation not just in race but gender. The mixture of styles, races and heritage are so strong that when he tells you that the song Rain is inspired by the weather in his hometown Manchester but was actually written in China during a downpour you don't even shrug.
The song set will have you asking for more, which is exactly what I enquired about during a chat with the band in the mid-session recess. The festival runs from Nov 6, 2015 to Jan 31, 2016.