Lots of cool things happening in East London. In previous years its low business rents and rates made it a magnet for artists. This cultural influx has spread into other areas, with the East End now a magnet for pop-up eateries and alternative restaurants like no other corner of London. Standing out amongst these is the curiously named Temple of Seitan which holds the proud title of being the world's first vegan fried chicken shop.
Although the shop is just off Mare Street in Hackney, it's pop-up roots also began in East London. Plucky, food loving entrepreneurs Rebecca McGuiness and Pat O' Shea had a stall in Brick Lane where they sold this chicken alternative called seitan, a form of wheat protein with the chewy texture and taste of meat. It proved so successful that a fixed outlet seemed the natural progression.
McGuiness has experience of the fast food sector, having worked for KFC 10 years ago before turning vegan. She and her partner have answered a need for the passing public's cravings for the high street bite, focusing on those who won't compromise their values and eating habits. And judging by the ridiculously large queues outside their shop on opening day, they have successfully identified this niche.
The shop's name, however, has attracted a little controversy. Some Christians on social media seemed a little irked about the play on words. But one visit to the joint will tell you the name has seemed to have changed overnight. It's now called Temple of Hackney. Was that due to public pressure?
The bottom line is you'll find their vegan 'chicken' burger pretty decent. If it's your first time sampling seitan you'll find it indistinguishable from chicken. No doughy, or grainy aftertaste as many meat eaters fear. Vegans, no doubt, are more clued up here but for the rest of us it's an initiation of pure delight. And £6 for a seitan 'chicken' burger is reasonable, all things considered, because you know you're not eating a stressed out, battery caged chicken pumped full of growth chemicals you've got little knowledge of. Reason enough.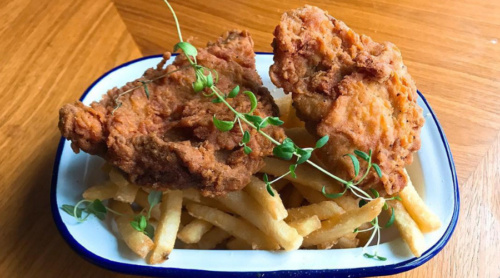 Temple of Hackney, Vegan Fried Chicken. 10 Morning Lane, Hackney E9 6NA
_______________________________________________________________
Want to be featured or want to advertise to a jet-setting audience worldwide?