Looking more like a white-walled Roman villa with its impressive architecture and winding staircases, The Halcyon Gallery, New Bond Street was a fittingly vainglorious venue for this exhibition of superstars. Artist Russell Young has put a post-modern twist on the pop art phenomenon that Andy Warhol popularised in the 60s. Every iconic star from Grace Kelly to Muhammad Ali is depicted using Young's trademark 'diamond dust' that shimmers like sequinned attire. He freely admits that his evolution as a celebrity pop artist came from a desire to embrace and understand the lifestyle of the rich and famous. A journey that would take him away from his native North England to a new life in Hollywood where these stars had fashioned that American Dream.
And Marilyn Monroe, of course. How can you miss her, she's outside on the gallery window next to the artist's name. Her link with the work of Warhol not to be overlooked and the artist is letting everyone know she's the one selling the show. However, it's all homage rather than pastiche, his art is a glittering update on Warhol's factory-style reproductions. The tiny pieces of glass he uses for this 'diamond dust' a stylistic element that gives a new aesthetic tilt to celebrity and, incidentally, lifts the whole gallery – it really does have the feel of a red carpet film premiere or Paris cat walk. Indeed, as you enter the front gallery there's a catwalk-style raised platform lined with glamorous silver spotlights. You're tempted to try it. Today everyone's a superstar.
Audrey Hepburn's diamond dust depiction is to be expected but there's also a pink Muhammad Ali and a youthful Clint Eastwood looking a little like James Dean.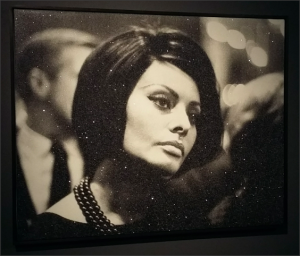 Those 'diamond dust' sequins look best on Sophia Loren but an androgynous looking Mick Jagger puts up a fierce and pouting challenge – losing every time. Isn't it strange how Kate Moss has emerged as every modern artist's favourite muse? She's up against some heavyweight celebrity names here but somehow maintains her status as the iconic figurehead for this generation. Perhaps this may have something to do with her familiar yet equally detached celebrity presence. The ubiquitous superstar you think you know personally but you don't.
There's one image that stands out as slightly out of place. Native American 'Bull Chief Apsaroke' doesn't have a limousine or hit movie.
He certainly isn't a household name but his inclusion can probably be explained on two counts. First, a throwback to an age when the totemic, central figure we all looked up to was not a superstar but a spiritual leader. Sitting amongst you and pointing the way rather than living away from you and setting impossible standards. But more importantly he represents a question. Why superstardom at all? However, that elusive dream of glory can't be meaningless merely because its appears indulgent to others. He asks of us greater commitment to inner growth and finding one's own soul before taking the first step on that road. All that glitters….
Russell Young: Superstar runs at The Halcyon Gallery, New Bond Street, from  January 27 to February 14. Monday to Saturday 10am to 6pm, Sunday 11am to 5pm.