Described by his publicist as Malaysia's most successful independent book publisher, Amir Mohammed is also the brains behind not one but three anthologies each one bearing a slightly provocative title taken from an Andy Warhol movie. He put the call out for writers asking them to use the title as their short story's theme in whichever way they interpreted it, the only other precondition was that it had to be set in a Southeast Asian country. Thousands of entries later Amir and his team of exhausted but devoted editors have whittled it down to the best of the bunch with the book now hot off the press.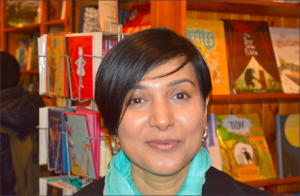 One of the writers, Damyanti Biswas, typifies the international appeal of this anthology call out. She was born in India, lives in Singapore but her story Thorax of a Blowfly is based in Malaysia, where she has also lived. Her short is about a forensic scientist who uses her medical skills to do away with a lover. Does she get away with murder? Say no more until you buy the book which is priced a decent £7.99. Times that by three and you're guaranteed a decent couple of months with your head buried in a book.
The Heat, Flesh and Trash anthologies were launched on April 11th at Daunt Books, 61 Cheapside EC2V 6AX.