Fans of TinTin will love this new exhibition at Somerset House in Temple. Families with young kids will find the wallpaper style floor to ceiling length prints a welcome alternative to the heavier fare at other galleries and it's a little like walking into a comic book. Created by Belgian illustrator Georges Remi, more commonly known by his pen-name Herge, you'll find the kids' favourite easy on a weary adult eye and the cartoon-like colour fills the two exhibiting rooms with a remarkable energy that will delight both young and old.
Herge was a self taught artist who polished these skills on personal projects. He grew into an accomplished illustrator who broadened his artistic vision to draw in influences from cinema and architecture. His evolution as a cartoonist is shown by his first comic book sketch at seven years old of a street urchin, scribbles on the back of exercise books and eventually his first illustrations published in Le Boy Scout magazine in 1925. The public was first introduced to TinTin in 1929 and you get to see this original publication Adventures of TinTin in children's supplement Le Petit Vingtienne dated Jan 29. He would later go on to produce 23 other adventures over the 50 years that followed. Don't miss the first black and white edition of TinTin in America (1931) which we are informed was drawn using Indian ink, watercolour and gouache.
One interesting thing to note is how the real windows in the exhibition rooms have been transformed into comic book versions.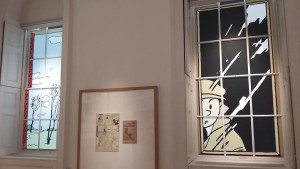 The reasons for this is that Herge used windows as a stylistic device in the TinTin adventures and many pivotal scenes occur where windows are featured. (What was that I was saying about stepping into a comic-book?) Has to be experienced to be believed but fans will love it.
Entry to the exhibition is free and runs until January 31 2016 alongside the release of a book of the same name. You"ll find the exhibition ideally located a few minutes away from Temple Station at the Terrace Rooms, Somerset House, London.